Hachette Book Group Is Shutting Down Their Weinstein Books Imprint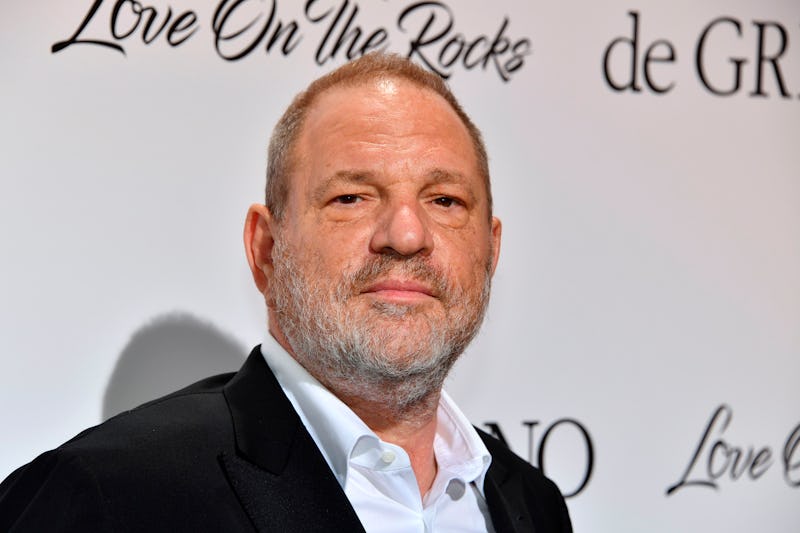 YANN COATSALIOU/AFP/Getty Images
In the latest round of fallout surrounding Harvey Weinstein and his myriad of sexual abuse charges, Hachette Book Group is shutting down their Weinstein Books imprint, effective immediately. In a statement issued this afternoon and confirmed in an email to Bustle, Hachette announced that, moving forward, all books set to be published under the Weinstein Imprint will now be released by Hachette Books, which will also absorb current Weinstein imprint employees.
Hachette Book Group has terminated the Weinstein Books imprint, effective immediately (Perseus Books has had a co-publishing agreement with The Weinstein Company, under which we published around ten new books a year). Going forward, titles currently under the Weinstein Books imprint will be published by our Hachette Books imprint, and the Weinstein Books imprint team will join Hachette Books.
The first on the publishing docket is, ironically, comedian Ilisa Schlesinger's Girl Logic (set to hit shelves Nov. 7) which "celebrates women, feminism, and our right to be bold." Just yesterday, Schlesinger took to Instagram to explain her decision to continue forward with Weinstein Books, citing its "all female" leadership and history of publishing "many works of female empowerment written by strong women." Her decision came on the heels of Hachette's previous statement to Publisher's Weekly that they would be honoring all writer's contracts with Weinstein Books.
News anchor Mika Brzezinski, on the other hand, who published the health and nutrition memoir, Obsessed, with Weinstein Books in 2014, along with Knowing Your Value in 2012 and Grow Your Value in 2015, publicly stated last week that she would terminate her three-book contract with Weinstein Books unless Harvey Weinstein resigned from The Weinstein Company. As of three days ago, her deal was still off, though she remains listed on Weinstein Books' author list.
Weinstein Books was initially launched by Bob and Harvey Weinstein in 2001 as the boutique Miramax Books, so named for their powerhouse film production company. They published work by Rudy Guiliani, Madeleine Albright and Queen Noor of Jordan.
In 2009, the publishing house began a joint venture with Perseus Books, an imprint of Hachette. In addition to memoirs by media figures like Dick Van Dyke and Larry King, Weinstein Books published "movie tie-ins" related to projects produced by The Weinstein Company, such as the novelization of Crouching Tiger, Hidden Dragon: The Green Legend, as well self-help, fiction and Young Adult novels, including the well-received The Haunting of the Sunshine Girl series.
Weinstein Books, whose website and Twitter account are still live, is currently headed by Editorial Director Amanda Murray and Publishing Director Georgina Levitt. The last update posted yesterday by the Weinstein Books' Twitter account was a re-tweet of author Melissa Francis, who voiced her support for Levitt and Weinstein Books.
Neither Murray nor Levitt has released a statement as to their involvement with Hachette moving forward.
If you or someone you know has been sexually assaulted, call the National Sexual Assault Telephone Hotline at 800-656-HOPE (4673) or visit online.rainn.org.