Sarah Hyland & Wells Are Taking A Major Step Forward In Their Relationship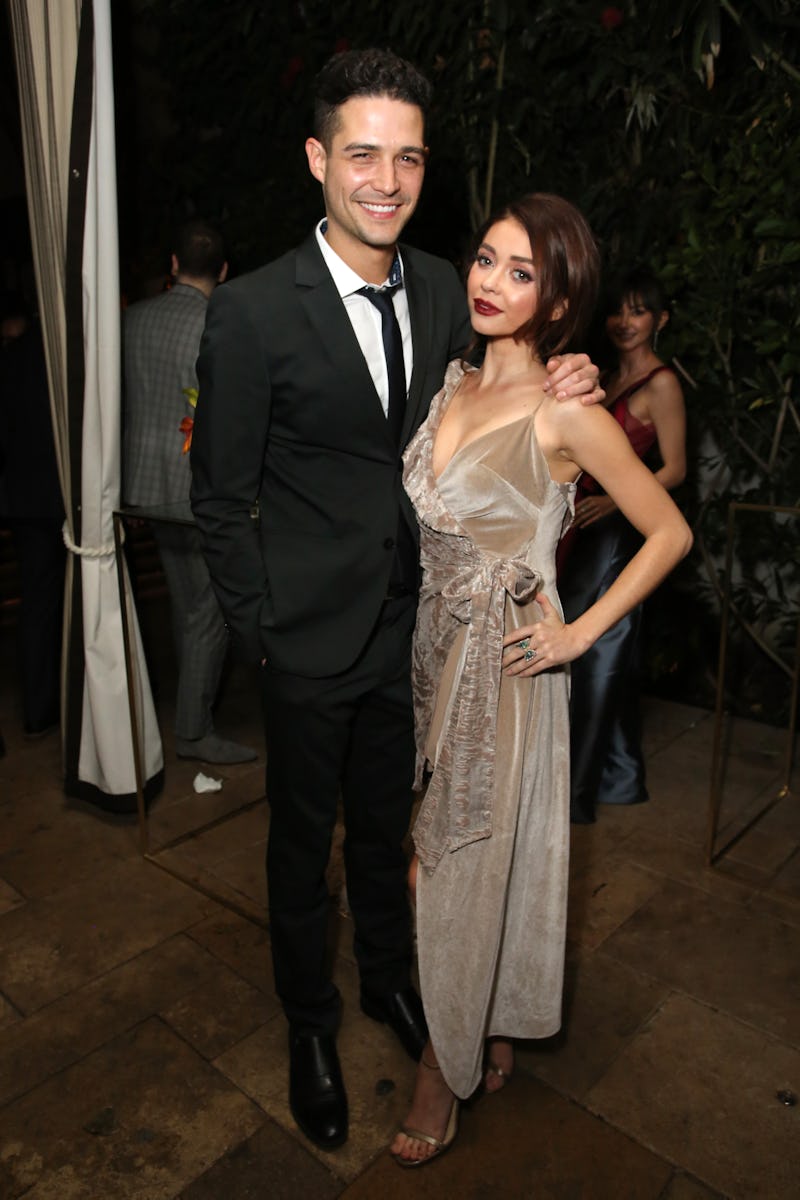 Rachel Murray/Getty Images Entertainment/Getty Images
Things are apparently getting pretty serious between Wells Adams and Sarah Hyland. The Bachelor in Paradise bartender revealed that these two are taking a very significant step forward in their relationship. No, they're not engaged (yet), but Wells shared that he's moving in with Hyland in California, according to a recent podcast episode. This is more than just living in a different home. This move also marks the end of a long-distance relationship since Wells has resided in Nashville, Tennessee for their entire relationship.
Wells shared his plans to relocate in a conversation with Brandi Cyrus during the July 20 episode of their Your Favorite Thing podcast. He said, "I'm straight-up moving to L.A. Should I not have said it? I've got to go!"
He definitely should have said it. The Bachelorette alum and the Modern Family star have been very open about their relationship on social media and their fans love following along. Any update is more than appreciated by their supporters and social media followers. He explained,
"My first thought [was], 'Let's go to California. Let's move in with the lady.' … If we're gonna take the next step, this is the first step we've got to take, to decide if we can handle living with one another."
Moving in together is definitely good news, but Wells admitted that he does have concerns. Thankfully those worries are not about Hyland or their relationship. He revealed on the podcast, "I'll tell you what I'm most concerned about. I'm not concerned about us living together or us getting along or whatever. I'm most concerned about my dogs and her dogs."
He described their future living situation as "truly a blended family" with their dogs in the mix. The podcast host revealed that his dog "Carl sleeps on my bed, right? And her dog Boo sleeps on her bed. What's gonna happen?" Maybe they can just get a new bed?
He even hinted that cohabitation is a precursor for progressing their relationship even further. He shared, "If we're gonna take the next step, this is the first step we've got to take to decide if we can handle living with one another. You know?" While he didn't specifically say what that next step would be, maybe he's hinting at a proposal?
It sure seems like the couple is headed in that direction. On July 16, Wells tweeted, "I'm on vacation with @Sarah_Hyland and I'm now just accepting that my new name is 'Mr. Hyland.'" Believe it or not, there are some people who don't watch the shows in the Bachelor franchise, so it's possible that the people they met during vacation might not be familiar with their relationship.
It was a funny tweet for sure, but the very telling tweet was actually the one that Sarah replied with. She responded to that tweet with, "It's only fair for the amount of times I'll be called Mrs. Adams." So it really is getting serious with these too if she's talking about her (possible) future moniker of Mrs. Adams in such a public forum.
These two have not been together for too long, but it's been a special relationship since the beginning. The news first broke that they were a couple in October 2017 when they coordinated Stranger Things Halloween costumes, a sure indication that they were on the same page.
They have been going strong ever since with adorable social media posts documenting their time together. They have gone on vacation together. They have supported each other at events. They have celebrated holidays. Now they are about to be roommates. What's next? Only time will tell, but at least their fans (most likely) won't be in the dark for too long, since the couple loves sharing personal updates on social media.