Here's What We Know About Whether Ivanka Attended Karlie Kloss' Wedding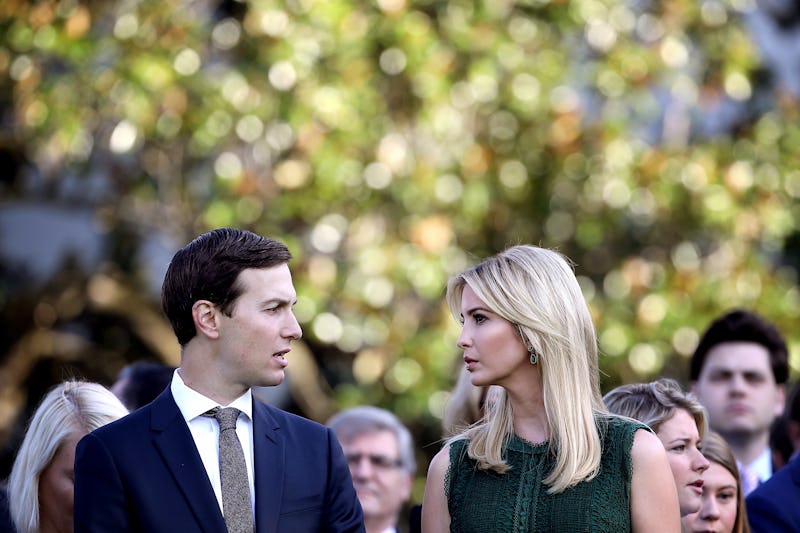 Win McNamee/Getty Images News/Getty Images
Karlie Kloss stunned the internet Thursday when she revealed she'd married businessman Joshua Kushner just three months after announcing their engagement. The model and Project Runway host shared a picture of herself in a custom made Dior wedding dress laughing and holding hands with her new husband on Instagram on Thursday, writing just, "10.18.2018." But were Ivanka Trump and Jared Kushner at Kloss' wedding? Kloss' nuptials makes the three family now.
According to The Daily Mail, Trump, Jared, and their three children were among the roughly 80 guests invited to witness Kloss and Joshua exchange vows in what has been reported to have been a small Jewish ceremony in upstate New York. Joshua and Jared's parents and two sisters were also reportedly in attendance, according to the paper. Bustle has reached out to the White House for confirmation.
"So much love for you both as you begin forever together," Trump wrote Friday in a tweet re-tweeting Kloss' wedding announcement.
On Tuesday, CBS News' Washington D.C. correspondent Errol Barnett reported spotting Trump and Jared on his flight to New York. The Daily Mail then reported spotting the couple exiting their Park Avenue apartment in relatively casual outfits (as casual as Trump ever appears to get, anyway) to meet their children and reportedly head upstate for the wedding.
According to People magazine, Kloss followed in Trump's footsteps, converting to Judaism in early June — reportedly prior to her engagement to Joshua.
Kloss announced her engagement on Instagram in July with a photo of herself kissing Joshua's cheek at sunset. "I love you more than I have words to express," she wrote. "Josh, you're my best friend and my soulmate. I can't wait for forever together. Yes a million times over."
Although the couple prefers to keep their relationship fairly private, often opting not to attend red-carpet events together, a handful of personal photos shared via social media over the course of their six-year relationship have given something of a glimpse into their relationship. This year, the couple appear to have traveled quite a bit, visiting Tokyo, Jordan, and Israel.
But while the Kushner brothers share some of the same DNA, they reportedly don't share the same political views. While older brother Jared serves as senior adviser to Republican President Donald Trump, a spokesperson for Kushner told Esquire in 2016 that the younger Kushner is "a lifelong Democrat." Joshua's spokesperson went on to stress that their client wouldn't be throwing his vote to his sister-in-law's father.
"Through a spokesman, [Josh] said that he loved his brother [Jared] and did not want to say anything that might embarrass him," Esquire reported. "Nevertheless, the spokesman also said that Josh is a lifelong Democrat and will not be voting for Donald Trump in November."
In 2016, Kloss revealed she'd voted for Democratic nominee Hillary Clinton.
One guest reportedly not present at Kloss and Joshua's nuptials? Taylor Swift. According to Cosmopolitan, the singer was on tour in Australia as her friend was tying the knot in upstate New York.