We're Kicking Off An Honest Conversation About Women & Money — Here's Why 
It's So Important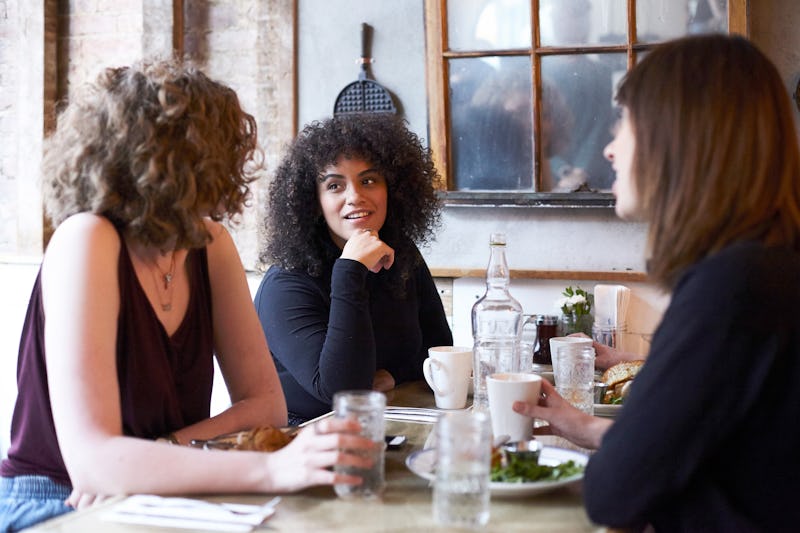 Han Burton/Bustle
If the first half of 2018 has proven anything, it's that there's power in conversation. Especially in recent months, women have rallied together in ongoing quests to put an end to things like sexual harassment, outdated beauty standards, and gender inequality in politics, but there's one taboo surrounding women that's still very much intact — so let's talk about it.
A recent survey conducted by Visa found that even though 54 percent of millennial women will discuss their sex lives with one another, a mere 16 percent are willing to tell their friends how much money they make. Not only that, more than one in two women believe that discussing money with each other isn't valuable. While these findings are striking, they're also not totally surprising.
That's because for decades, the media has used tired clichés to approach conversations surrounding women and money. Time and time again, we've been given tips and tricks for scoring that designer bag on sale, or we're being encouraged to spend our hard-earned cash on trendy workout classes that come with a colossal price tag. And while there's a lot of positive to be said around the confidence that comes with looking and feeling your best, doesn't it feel a bit off that the discussion around women's finances has historically been so... skin-deep?
More than one in two women believe that discussing money with each other isn't valuable.
That's exactly why Bustle has joined forces with Visa to help launch the "Money Is Changing" initiative, which is all about encouraging an open and honest conversation surrounding women and money. As a worldwide leader in payments, Visa led the charge to work closely with researchers, designing a study aimed at more clearly understanding women's unfiltered thoughts around money. The overall goal of the study was to explore the topic of money in a way that hasn't been done — diving deeper than often-reported topics of spending power, decision making, and financial education. As a result, Visa has uncovered women's true feelings around the subject of money, and some of their key findings are incredibly telling.
For example, Visa's survey found that women are uncomfortable about money in every aspect of our lives — at work, home, with friends, and in relationships. On the work front, only 34 percent of millennial women have negotiated for a raise or higher salary, and even on a more personal level, 60 percent admit to feeling uncomfortable asking their friends to pay them back. All of this is to say that even though we're striving to shatter one glass ceiling after the next, and are gaining more and more financial power in the process, we're still more comfortable talking to each other about our relationship issues than our savings strategies — and it's time to level the playing field.
Like most major societal shifts, getting a new conversation around women's finances off the ground is going to take time, but Bustle and Visa are both ready to start this new dialogue so you can begin feeling empowered to make financial decisions that are right for you. Having open conversations with one another about our budgets, our retirement plans, and our salary negotiation trials and triumphs could very well feel awkward at first, but remember that knowledge is power. Knowing how much your best friend saved for their first home could eventually help you hit the same milestone, and finding out what friends in your industry are paid could give you automatic leverage when asking for your well-deserved raise. Talking about these once-private personal details isn't tacky — it's totally necessary. After all, what better way to truly support other women than by letting them in on your own financial journey?
In moments when you feel silenced or dissuaded from talking openly about your hard-earned cash, Bustle and Visa are on your team. Whether it means negotiating that salary bump, deciding to split the bill on a first date, or splurging on the vacation of a lifetime, we want you to feel in control of your money so you can do you. Sound like a refreshing perspective? Keep the momentum going, and start that awkward money expectations conversation with your own circle of friends — because that's how we're all really going to make change happen.
This post is sponsored by Visa.