This Story About Princess Diana & Sarah Ferguson's Friendship Is SO Heartbreaking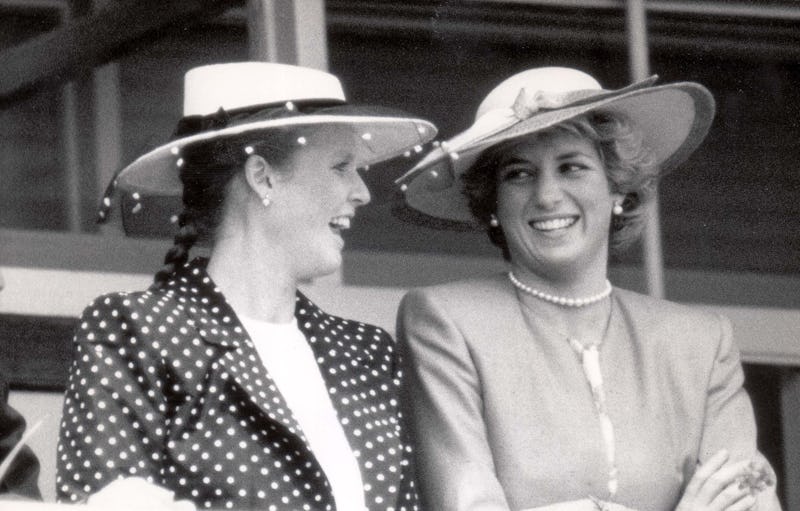 Mike Forster / Daily Mail /Shutterstock
Joining the royal family must be a pretty daunting and overwhelming experience. Luckily for Meghan Markle, she had Kate Middleton to confide in when she began dating Prince Harry, and now the sisters-in-law are absolute friendship goals. But they weren't the first. Princess Diana and Sarah Ferguson also married into the royal family, and their relationship as sisters-in-law became a firm talking point during the late '80s and early '90s. But were Princess Diana and Sarah Ferguson actually friends?
Believe it or not, it's pretty complicated. First off, Diana and Ferguson were actually related. Well, kind of. In an interview with Harper's Bazaar, Ferguson revealed that she and Diana were fourth cousins. Basically, the Duchess of York and the Princess of Wales shared a set of great-great-great grandparents. That's pretty far up the family tree, but sharing some DNA isn't that uncommon in the royal family. Just look at the Queen and Prince Philip — the royal couple are actually third cousins, thanks to sharing a great-great-grandmother through Queen Victoria.
Anyway, back to Diana and Ferguson. Their relationship was close. "We were like siblings," the Duchess of York said to Harper's Bazaar, In fact, the two were almost destined to be friends, as their mothers "went to school together [and] were also best friends." The pair then "became close after they reconnected in 1980, when Diana was 19 and Sarah was 21," according to Town & Country.
Diana also had a hand in developing the relationship between Ferguson and Prince Andrew. Diana reportedly recommended Ferguson to the Queen, who then found herself invited to a "dine and sleep event at Windsor Castle during Ascot week." Diana then invited Ferguson and Andrew to stay at Highgrove after they started dating, "before their relationship was made public," Town & Country reported.
The duo created quite a lot of playful mischief together as sisters-in-law, from dressing as police women during Ferguson's hen party and "causing a scene outside Buckingham Palace," to "mock-fighting in the snow during a photo call at Klosters," a ski resort in Switzerland.
However, as with any close relationship, Diana and Fergie also had their fair share of fallings out. After officially joining the royal family, a reported rivalry began between the pair. According to the Express, Diana told biographer Andrew Morton that "Sarah wooed everybody in this family and did it so well. She left me looking like dirt."
This alleged rivalry ceased once the pair both went through divorces in 1996, vacationing together "in the South of France with their children" according to Town & Country.
Diana sadly passed a year later in 1997, however. before she died, Ferguson told Harper's Bazaar, that the pair stopped speaking to each other and never really reconciled. "The saddest thing, at the end, we hadn't spoken for a year, though I never knew the reason," she told the magazine. However, Town & Country reported that it was down to what was written in Ferguson's autobiography, that was released in Nov. 1996.
Whilst the Diana and Fergie didn't get the chance to rekindle their friendship in person, it's clear that their bond was a close one.