The Peaky Blinders' New Rivals Are Inspired By Real Gangster History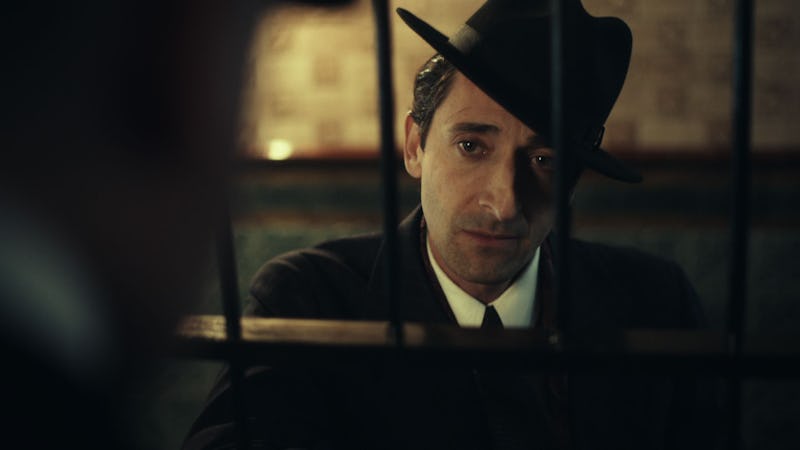 Netflix
As if there weren't enough violent, family-oriented gangs on the series already, another one joins the way in Season 4 of Peaky Blinders. The latest installment in the lives of Birmingham gangster Tommy Shelby and the Peaky Blinders, which debuted on Netflix on Dec. 21, follows up on a gang rivalry that began in Season 3, when John Shelby attacked a member of the Italian mobster gang the Changretta family, Angel Changretta, to prevent him from attending the wedding of Tommy and Grace. In retaliation, Vicente Changretta attempted to murder Tommy but actually hit Grace instead, sparking off a series of events that ended in Vicente's death at the hands of the Peaky Blinders, but not before Tommy lost the love of his life. In Season 4, the Changrettas are back, and ready for revenge. But are the Changrettas based on a real gang? (Spoilers for Season 4 in linked article here and ahead.)
Rest easy, because the Changrettas are a fictional creation. No Changretta gang existed in real life, unlike the Peaky Blinders, who were in fact a real Birmingham gang, according to GQ. So as much fun as it is to imagine the real-life Peaky Blinders facing off against Italian mobsters, in reality there was no Changretta family around to antagonize Tommy and his gang.
But just because you can't read about the Changrettas in a history book doesn't mean that the writers didn't derive any inspiration from historical gangs, especially considering where the new group of Changrettas come from. In Season 4, Vicente's son, Luca (Oscar-winner Adrien Brody), has been recently released from prison in New York City, and comes with his Sicilian mafia to enact revenge on the Shelby family for the death of his father. The inspiration for this Italian-American, Big Apple branch of the Changretta mafia could have been drawn from any number of real New York gangs — or even ones from other parts of the country.
Steven Knight, the creator of Peaky Blinders, spoke to GQ about his decision to include American gangsters in Season 4. He said:
"With Changretta [Brody's character's father] being killed in series, it was the obvious consequence that they would face this. And in truth and in reality, the British gangsters — especially Birmingham gangsters amazingly — did have very strong connections with Chicago gangsters. Even though I wouldn't dare put it in the fiction, because it's too unreal, is that the real Billy Kimber went off to Chicago — because he was on the run and he went to America. He became Charlie Chaplin's bodyguard and — this is true — appeared in one of his film's as an extra."
So even though the generation of Changrettas coming to Birmingham in Season 4 grew up in New York, the connection between American mobsters and the British Peaky Blinders is not all that far-fetched, and not entirely separate from the historical reality.
Copious amounts of research also went into the characterization of Luca Changretta, to ensure that he would be an accurate representation of what an Italian-American gangster would have looked and sounded like at that time. In the same GQ interview, Knight shared:
"... [Brody and I] met in Los Angeles to talk about who this person is, and I was keen that the character had a Sicilian-New York accent. Of course, we find out that the Sicilian-New York accent, our people have done their research, so The Godfather is full of people with Sicilian-New York accents, but the accent that we received, that gangster accent is accurate. Adrien did his research, he did the research about how he would look, about the hat, about the clothes, about the superstitions — some great stuff about hats on beds being bad luck, and all of this stuff that we talked about found its way into the character."
And for actor Adrien Brody, playing the part of an Italian-American gangster drew upon his own life experience, making the part rooted in personal truth, if not necessarily historical fact. Brody told Press Party:
"Luca Changretta's not someone you want to be at odds with. It's a fantastic opportunity for me and he's a fascinating character. I grew up in Queens in NY and in parts of my neighbourhood there were a lot of Italian Americans and a lot of people who were either affiliated with nefarious people or had seen so many movies that they were embodying that. There's quite a bit of bravado that Luca possesses that I have been steeped in. I think it's a by-product of reality and fiction and how they merge. He's a bad guy and has a real foreboding presence. It's those people who have a real ease with being bad who are the ones that are most frightening. That's what I've tried to tap into."
So although the Changrettas might not be a real historical gang, you can bet that they will be just as frightening, and just as complex, as the fictionalized version of the Peaky Blinders. To watch Tommy and Luca face off in Season 4, and maybe even fight to the death, will be a real treat for fans, British and American alike.