It's Been 8 Years & '30 Rock' Finally Explained The Origins Of "Werewolf Bar Mitzvah"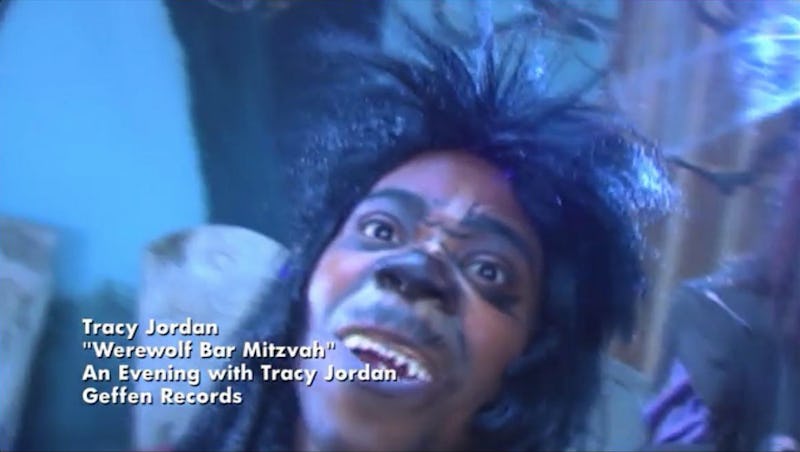 NBC
The perfect Halloween song involves no monster mashing or graveyard smashing; nay, the perfect Halloween song is about boys becoming men and men, thus, becoming wolves. It is "Werewolf Bar Mitzvah" from 30 Rock, and I will wait the the two minutes and 52 second you are about to take to listen to it on Spotify. Among other reasons why the song has the staying power of any other Halloween bop, "Werewolf Bar Mitzvah" features Donald Glover impersonating Tracy Morgan, as a couple former 30 Rock writers recently discussed in an oral history of song. Before the Grammys as Childish Gambino and the Emmys starring as Earn and directing for Atlanta, Donald Glover helped usher us all from boyhood into manhood into wolfman-hood.
"If only I knew that I would be producing Childish Gambino," writer Robert Carlock said in the recent interview with LAist. Carlock and fellow 30 Rock writer Tami Sagher are to thank/praise/blame for "Werewolf Bar Mitzvah." Carlock wrote the episode "Jack Gets in the Game" which features the eight second video (yes, only eight seconds of the song was in the actual episode) and Sagher wrote most of the lyrics. According to the writers, Donald Glover also lent a hand in writing a few of the lyrics in addition to lending his pre-Emmy award winning vocals to the track.
Tracy Morgan, whose character Tracy Jordan sings the werewolf ballad, wasn't available to record some of the initial song in musical director Jeff Richmond's office. "So Donald Glover stepped in," Sagher said, "because he could do a really good Tracy Morgan impression." Glover also has a cameo in the song as Tracy Jordan's producer, filling in with some of the spoken ad-libbing. However, Glover also sings as Tracy Morgan/Jordan. "Some of the vocal on the long version of Tracy is actually Donald doing a pretty amazing Tracy impression," Carlock said. "So Donald's all over that track.
Glover has talked about his propensity for impersonating Tracy Morgan in previous interviews, dating back as early as 2012. So, for many Glover stans, this information from the recent oral history is less a revelation and more a reminder of the range that Glover has.
Apparently, we were also this close to getting a Christmas classic from Jenna."We always talked about Jenna, Jane Krakowski's character, trying to do a Christmas album just because Christmas albums sell, and she's going to write new Christmas songs, " Carlock said. "And we never quite got there." Could you even imagine the holiday opulence a Very Jenna Christmas song would have given us, though?
Sagher and Carlock said the initial inspiration for "Werewolf Bar Mitzvah" came from everyone's favorite cultural muse: The Black Eyed Peas. Carlock specifically mentioned songs like "I Gotta Feeling" which has "mazel tov" as part of the lyrics. "Iit just felt like they were clearly just trying to get played at bar mitzvahs," Carlock said. "Werewolf Bar Mitzvah" is character Tracy Morgan's take on party anthems specific to Jewish rites of passage for the sake of profit.
Of course, the song has taken on a life of itself post-30 Rock. Sagher and Carlock were both surprised "Werewolf Bar Mitzvah" has resonated with so many people and for so long. "'Werewolf Bar Mitzvah' played at my nephew's bar mitzvah," Sagher said. "It's becoming a real Halloween song too."
Becoming? Oh, no, my friends. "Werewolf Bar Mitzvah" is already here, and it is the Halloween classic we all want, crave, and deserve. So, put your clawed paws up, get to work on your Haftorah, and await the knock on your bedroom door-ah, because it's "Werewolf Bar Mitzvah" season. Aroooo!