This Queer Dance Party Is The Best Protest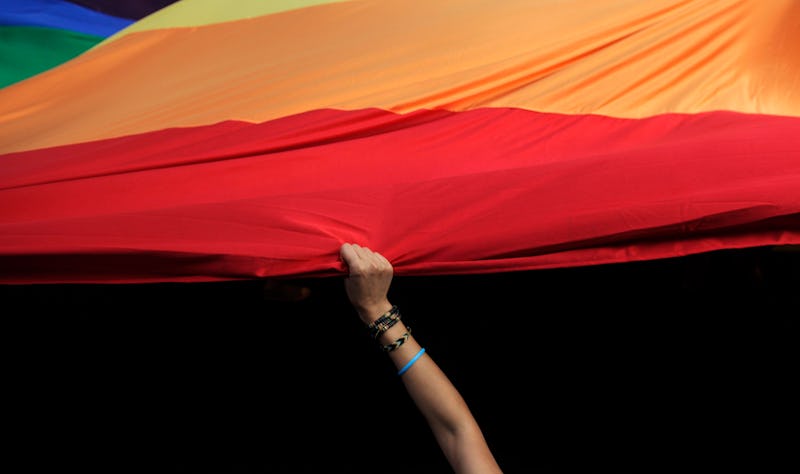 OLIVER BUNIC/AFP/Getty Images
On Jan. 20, vice president-elect Mike Pence will take office, and given his history as governor of Indiana, many women and LGBTQ people are understandably anxious about their rights under the upcoming conservative administration. WERK for Peace is far from the only group to demonstrate against Pence's deeply conservative views, but their peaceful method of dissent is by far the most fun: On Sunday, WERK announced on Facebook that it would host a "queer dance party" near Mike Pence's house in Washington, D.C. with the help of Disrupt J20.
The dance party will take place on Jan. 18 at 6 p.m. in the neighborhood where Pence's temporary residence is located (he'll move into the official vice president residence at the U.S. Naval Observatory after being sworn in). It isn't the first time the neighborhood has shown support for the LGBTQ community; in late November, a bunch of gay pride flags began appearing in the area. This one will certainly be a story for the ages, though. According to the Facebook event, dancers will meet at a designated location and carpool to the party spot, where a party featuring music, biodegradable glitter, and tons of rainbows (obviously) will take place.
"As he prepares to take office as the Vice President of the United States, we want to make sure Daddy Pence knows that the queer and trans community is watching. We refuse to allow hate and fear to dictate homo/transphobic policies against our community," says WERK founding organizer Firas Nasr in a statement provided to Bustle over email. "Through dance, we choose to celebrate and embrace our differences and to love one another rather than allow those differences to break us apart."
Founded in response to the shooting at Pulse nightclub last June, WERK for Peace describes itself on its website as a "group of queer activists who believe that the dance floor should be a safe space where all of us, regardless of sexual orientation or gender identity, can love and express ourselves." Their partner in dance, Disrupt J20, brands itself as a "bold mobilization against the inauguration of Donald Trump."
Trump himself may have conflicting views on LGBTQ rights, but his administration is profoundly conservative. His pick to head Health and Human Services, Tom Price, is one of the most conservative members of the House of Representatives, according to TIME; he has voted against a variety of non-discrimination bills. Then there's Pence's views on LGBTQ rights, which are about 200 years out of date. In 2007, he opposed a bill prohibiting discrimination against LGBTQ people in the workplace, and more recently, he spoke out against transgender access to school bathrooms. When speaking out against marriage equality in the past, he claimed that "societal collapse was always brought about following an advent of the deterioration of marriage and family." It's also worth noting his time as governor of Indiana wasn't great for women's rights either.
You can find information about WERK's dance party on Facebook — you'd be hard-pressed to find a more enjoyable (or glittery) way to demonstrate against Trump's administration.