Wet N Wild Is Coming Out With A Goth Collection Because The Unicorn Trend Is So Over — EXCLUSIVE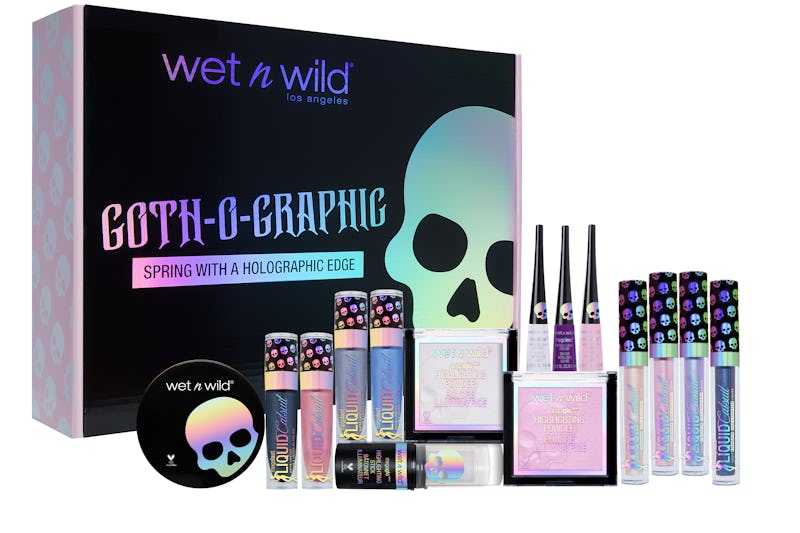 Courtesy of Wet n Wild
The unicorn beauty trend is about to be eclipsed. Wet n Wild's Goth-O-Graphic collection is on deck — and it's the drugstore brand's delightfully dark take on the holographic makeup trend. Wet n Wild is so O-V-E-R makeup inspired by mythical horned beasts that it even named one of the eyeshadows "Death to Unicorns."
Oh, they went there! Your inner goth chick just got the memo and has been summoned.
The limited edition Goth-O-Graphic Collection arrives via the brand's site on Feb. 20. The products will cruise into Wet n Wild retailers on March 1 while supplies last.
In addition to the skull-adorned packaging, the goth and holographic products themselves have a decidedly '90s aesthetic. There's metallic liquid eyeliner, highlighters, and much more.
Wet n Wild opted to do a goth range amid all the glittery, rainbow- and unicorn-adjacent collections due to a simple physics principle. You remember it from high school — for every action, there is an equal and opposite reaction.
"For every trend, there's always an opposite, and it was clear with the huge number of unicorn and rainbow-themed launches in 2017, that at least some makeup fans would be craving a more rebellious and moodier look this year," Evelyn Wang, senior vice president of marketing at Wet n Wild Beauty, tells Bustle.
Wet n Wild also paid close attention to the conversations customers were having on social media when selecting the theme for this collection.
Calling social media and social listening "a true guide for Wet n Wild's product development," Wang says the brand watches its feeds like a hawk. They noticed instances of "unicorn fatigue" plaguing makeup lovers. They were tiring of the trend, were vocal about it in postings, and resorting to creating mysterious looks in direct response.
Ultimately, Wang confirms that "social media inspired Goth-O-Graphic." That means your voices were heard.
Wet n Wild also sought to update the goth aesthetic with pops of color and, well, opposites. "Goth and holograms having a baby is essentially how you can distill the inspiration behind Goth-O-Graphic," Wang says. "When we thought about the collection, we asked ourselves, 'What if we took the very edgy look of goth, but modernized it with unexpected pops of color and illumination?'"
Mission accomplished. The unicorns have been expelled from the makeup kingdom, galloping away into the night. Only their holographic shadows remain.
Mega Glo Highlighting Powder, $5, Wet n Wild Beauty
The Purple Ashes shade is on trend, but it's the skull that makes this highlighter a "must own."
Mega Glow Highlighting Stick, $7, Wet n Wild Beauty
Get the dewiest of glows thanks to this creamy highlighter.
Mega Glo Loose Highlighting Powder, $7, Wet n Wild Beauty
What's that sound? Oh, just your heart leaping out of your chest because you have fallen deeply in love with the design. Dispenser holes shaped like a skull? Yes, please.
It's like finely milled diamond dust.
Mega Last Liquid Catsuit Eyeshadow in Nyctophilia, $5, Wet n Wild Beauty
Your lids will shimmer and glimmer with this liquid shadow range, but even the product names are Urban Decay-esque in their subversiveness.
Mega Last Liquid Catsuit Metallic Lipstick in Wicked Pink, $5, Wet n Wild Beauty
Heavy metal lips are cool AF. You'll get 'em with these chromed out lippies.
This is Death to Unicorns, which earns instant #legend status.
Mega Liner Metallic Liquid Eyeliner in Black Butterfly, $4, Wet n Wild Beauty
The Goth-O-Graphic collection is an exercise in contrasts. The pastels and holographic shades are balanced by bold darks.
This liner is named — wait for it — Pink Coffin. Did your blackened heart just flutter a little?
Goth-O-Graphic Box, $40, Wet n Wild Beauty
The bundle features 15 pieces in a collectible box. It's a $70 value, making it a total steal.
Wet n Wild is so done with unicorns and rainbows. It's all about skulls and darker colors, with a hint of luminosity. Go forth and goth.