Hobby Lobby Has Been Ordered To Return Smuggled Ancient Artifacts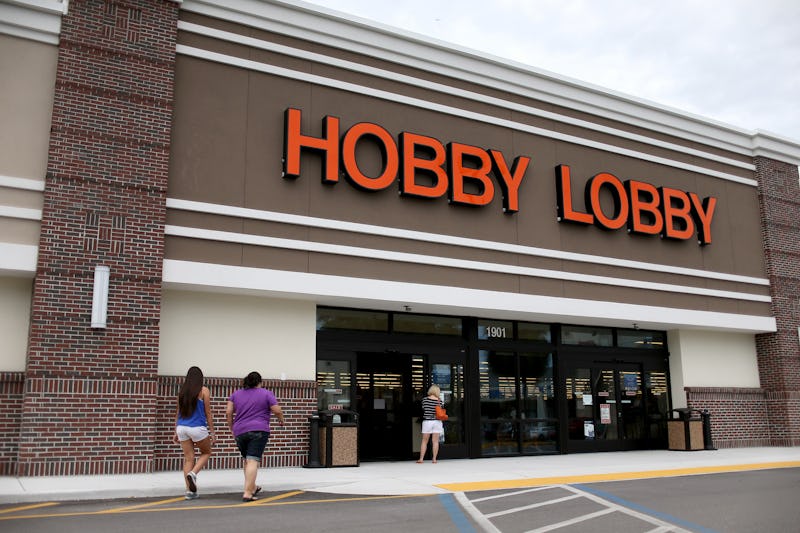 Joe Raedle/Getty Images News/Getty Images
Although Hobby Lobby is typically known for its arts and crafts supplies and decorative fabrics, a Department of Justice investigation has found that the company has apparently added smuggled ancient artifacts to its stockpile. The details of this investigation have left many wondering exactly what Iraqi artifacts Hobby Lobby has in its possession, and why the Oklahoma-based retailer owned by evangelical Christians chose to take them.
According to DOJ officials and court documents, Hobby Lobby smuggled more than 55,000 ancient clay artifacts out of Iraq through an unnamed dealer in 2010, paying more than $1.6 million for the pieces. The company's president, Steve Green, said in a statement that the "collection of historically and religiously important books and artifacts about the Bible is consistent with the company's mission and passion for the Bible."
Court documents state that the smuggled items consisted of "cuneiform tablets and bricks, clay bullae and cylinder seals." Cuneiform is an ancient system of writing, first developed in Mesopotamia, that involves transcribing information onto clay tablets. Clay bullae are balls of clay imprinted with ancient seals. All of the artifacts were thousands of years old, and originated in modern-day Iraq.
The Green family has been collecting cultural artifacts from the Fertile Crescent since 2009, The New York Times reported, a hobby that has stemmed from their interest in the biblical Middle East. The evangelical family has been curating items for the Museum of the Bible, which will open in Washington, D.C. in November of this year.
The DOJ investigation against Hobby Lobby states that Steven Green traveled to the United Arab Emirates in July 2010 to inspect the ancient artifacts, and was warned by an expert on cultural property law that the items might have been illegally obtained from Iraq. Although the expert encouraged company leaders to ensure that the items were properly documented on customs forms, they were instead shipped with vague labels like "ceramic tiles" or "samples."
According to Green, the company inadvertently smuggled the items as a result of its inexperience in museum curation. He said that the company made "regrettable mistakes," and added that Hobby Lobby is fully cooperating with investigators.
We should have exercised more oversight and carefully questioned how the acquisitions were handled. Hobby Lobby has cooperated with the government throughout its investigation, and with the announcement of today's settlement agreement, is pleased the matter has been resolved.
As a result of the DOJ investigation, Hobby Lobby is being forced to pay a $3 million fine, and must forfeit all of the artifacts that were illegally obtained.