Chandra Levy's Parents Have Yet To Get Any Closure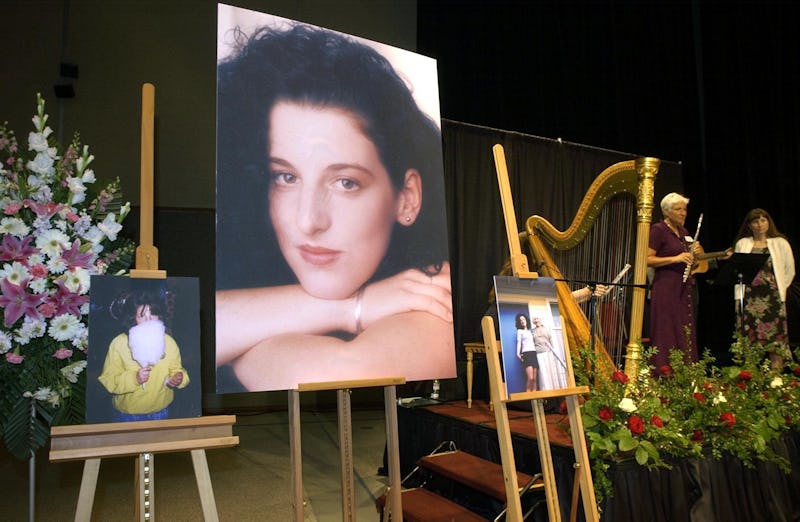 DEBBIE NODA/AFP/Getty Images
Chandra Levy: An American Murder, premiering Sept. 4 on TLC, will explore the unsolved murder of a 24-year old Capitol Hill intern who disappeared suddenly in May 2001. Of course, that was over 16 years ago, which means her family has had to deal with the trauma of losing her for over a decade. So what are Chandra Levy's parents doing now?
At the time that their daughter went missing, Modesto, California natives Susan and Robert Levy were understandably devastated. "We take sleeping pills to get to sleep at night and tranquilizers at night so we can get to sleep," she told Time Magazine in an exclusive interview during the most intense point of the manhunt for her daughter in 2001. "But during the day we're not on anything. It's hard. It's real hard. It's abnormal."
A year later, Chandra's remains were found in Rock Creek Park in Washington D.C. TLC noted that the Levys ran their own parallel investigation into Chandra's murder alongside the police's investigation in 2001 and claim that Chandra was allegedly engaged in an affair with Representative Gary Condit at the time of her disappearance. Condit has always denied the claims of an affair and he was ruled out as suspect in Chandra's murder, according to People. (Bustle reached out for further comment from Condit but has not yet received a reply.)
The Levy family appeared in the news once again in 2009, when authorities announced that they were planning to arrest Salvadoran immigrant Ingmar Guandique in their daughter's case. "This helps a little," Levy told the Associated Press. "But we still don't have our daughter and we have a life sentence without her. Grief is like a marathon. You don't get over it. It recycles itself." When the trial concluded in 2012, the Modesto Bee reported that Susan Levy fought to keep photos of Chandra's remains away from the press. However, although Guandique was convicted in the original trial, CNN reported that the charges against him were dropped and his conviction was overturned during a new trial in August 2016, after the statement of a prosecution witness was called into question. ABC News reported that Guandique always maintained his innocence in her case. According to a March 2017 report from USA Today, Guandique has since been deported to El Salvador. No one else has ever been charged in Chandra's case.
Even before the charges against Guandique were dropped, the Levys continued to speak out about their daughter's murder. In May 2016, two days after the 15th year anniversary of her disappearance, Robert and Susan Levy appeared on the Today show to speak about their experiences. "No matter what, we don't have our daughter back," Susan Levy said. "[Robert has] got tremendous anger. I have tremendous sadness. The anger and sadness is really the same."
Now, the Levys have joined TLC's efforts to re-examine the case; BroadwayWorld reports that they'll appear in interviews on Chandra Levy: An American Murder. We may never know what happened to Chandra all those years ago, but hopefully one day her parents are able to find some closure and move forward from this terrible tragedy.