TLC's Latest Reality Series Will Explain Exactly How This Family Manages 9 Kids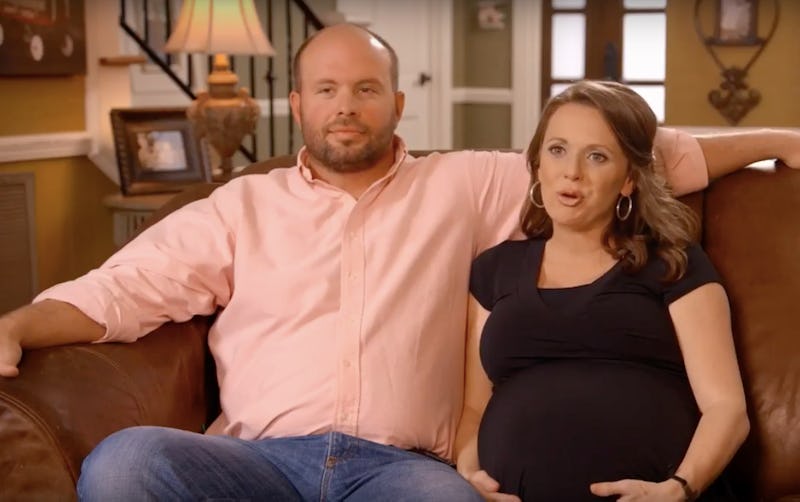 TLC
Courtney and Eric Waldrop of Albertville, Alabama were mom and dad to three boys when they decided to try for one last family addition. The Waldrop family of Sweet Home Sextuplets struggled with multiple miscarriages, according to People, before deciding to take advantage of fertility medication that would assist in maintaining future pregnancies. And although they were given a low dose, to their surprise, their family more than doubled in size when they discovered that Courtney was pregnant with sextuplets. In December 2017, 10 weeks prematurely, all six of the babies arrived in good health. On one hand, that's a whole lot of love to be shared under one roof, but that's also a lot of diapers to stock and mouths to feed — which may lead viewers of their new TLC show to wonder what these parents do to financially support their family of 11.
First of all, after landing their new TV show, they both can add "reality star" to their resumes. Above that, they each have held more common positions in their hometown. Before giving birth to the sextuplets, Courtney was a first grade teacher at Albertville City Schools. It seems as though she may not have returned to work yet following the birth of the babies nine months ago — her job status on her Facebook page lists the city schools as a past workplace with no more recent updates describing a new position. With the filming of their new reality show taking over the last nine months, and with the necessary recovery and care Courtney has undertaken, it shouldn't come as a surprise that she has hasn't returned to school just yet.
Eric's current employment isn't listed publicly on his Facebook page. However, it appears as though he is co-owner of a landscaping business called Robinson & Waldrop Landscape Group, LLC. According to the company's website, it looks like Eric and the Robinson half of the company, Jeremy Robinson, went to high school together at Albertville High School. They also both received degrees in Landscape Horticulture from Auburn University. The website information is not completely up-to-date, however, because Eric's bio only boasts their three oldest boys, so his current involvement with the company isn't 100 percent clear. But we can assume he remains part owner of the business.
It is clear that the Waldrops' local community has rallied around them in support since they announced they were expecting sextuplets, making sure they were prepared for the babies' arrivals. Back in August 2017, before the babies were born, their church held a gender reveal 5k marathon to help raise money for the family and the expenses associated with welcoming six children into the world. And since then, the Waldrops have arranged an annual charity event to give back.
"Eric and I will never be able to individually thank everyone that has been there for us," Courtney wrote on Facebook. "We will never be able to give back to you what you all have done for us and continue to do everyday. I will spend the rest of my life telling the world what an amazing community we have and how I truly feel that these babies are as perfect as they are because you took the time to pray for them. So in our gratitude to this community we want to take the 5k Gender Reveal Run that you gave to us last Fall and turn it into an annual tradition." They have titled the event The Waldrop Babies Give Back 5k Run. The first event was held on July 1 of this year, and 100 percent of the proceeds were donated to a local pregnancy center as well as Albertville Primary School, where Courtney was a first grade teacher.
More details about the run and what the Waldrops have been up to since their babies arrived are sure to be revealed in the premiere of Sweet Home Sextuplets, premiering on TLC on Sept. 18 at 10 p.m. ET.