Apple's New Update Will Make Sure You Never Get Lost In A Mall Again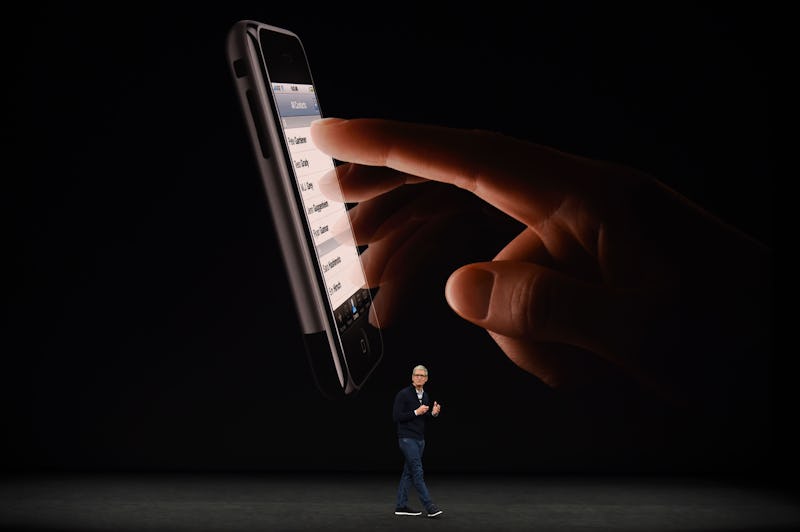 JOSH EDELSON/AFP/Getty Images
Apple is set to roll out their newest iOS 11 update on Sept. 19, and the software update has some pretty amazing new features — one of which is a series of maps that are actually built for indoors! But, what are "Indoor Maps" in iOS 11? This new feature is literally going to change your life.
While some people love wandering through a crowded shopping mall and stumbling upon stores by happenstance, I am not one of them: I loathe shopping, and I avoid malls like they are a contagious disease. So, the news that Indoor Maps allows you to navigate your way through major malls and airports with ease using Apple Maps' detailed Indoor Maps feature is pretty great. Now, if I have to go to a mall, I can get in an out without a total breakdown.
"Maps' new ability to provide a detailed layout of malls and airports right on your iPhone will do away with the need to rely on publicly posted maps and directories which are often confusing and hard to locate," Amboy Manalo reported for iOS Gadget Hacks. "And you won't need to download third-party apps for malls and airports anymore just to find your way around."
This literally just happened to me last week as a friend and I were meeting someone for lunch. We wandering around the outdoor mall for 10 minutes, studied the posted map, and finally had to ask a passerby where the restaurant was. The mall map posted outside was pretty useless, so this new feature is a welcome addition. And, since most airports are basically malls that also have planes, this is solving two common problems that leave people pretty frustrated.
"Airports and shopping complexes that support this feature will have a 'look inside' badge, allowing users to get a detailed look," Chethan Rao reported for iPhone hacks. "With malls, customers will be able to check out specific floors of the building, helping them find a specific store, exits, and even restrooms. Customers can also browse through categories like food, clothes, jewelry, and so on."
According to iPhone Hacks, Indoor Maps will be released on a rolling basis. "This feature will be initially limited to malls and airports in areas of Amsterdam, Berlin, Boston, Chicago, London, Los Angeles, Miami, New York, Philadelphia, San Francisco, Tokyo, Toronto, and the Washington D.C. vicinity," Rao noted. "Apple has promised to add more regions in due time."
Other features of Indoor Maps allow you to browse and search the directory of participating malls and airports, view place cards for businesses, zoom in on store and restaurant locations, and find security checkpoints and gates while at airports, according to iOS Gadget Hacks. Basically, Indoor Maps can save you tons of time, and help you avoid this scenario while trying to catch a flight.
"I recently flew through Atlanta, and finding the right terminal and gate required a long walk, a train trip, and more time than I had," Avery Hartman wrote for Business Insider. "But having Indoor Maps could change all that, or at least help you feel a bit less flustered while navigating unfamiliar airports."
The struggle is real. Last year when I flew to Italy from Los Angeles, I had to change planes in New York, which ended up being a total nightmare. After wandering around for 20 minutes trying to find a gate that didn't seem to exist, I asked a gate agent where to go. It turns out I had to leave the airport, walk across a street, and re-enter the airport through the international terminal where I had to go through security again. By the time I did all of this I was in tears, and barely made my flight.
Personally, I think Indoor Maps is a pretty welcome feature. It's the future, guys!