Moe's Just Released THREE New Quesos & The Reviews Are Already Really Positive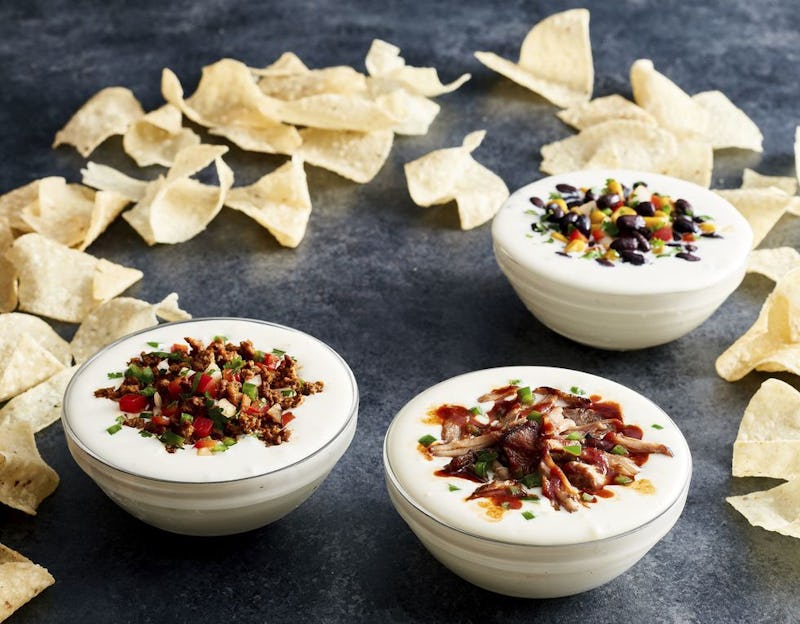 Moe's Southwest Grill
If cheese is bae, good news: Moe's Southwest Grill has just released three new quesos that, according to fans of the chain on Twitter, are absolutely unparalleled. Yes, you read that right: there are three new cheesy dips on the menu at Moe's. And if you've eaten at Moe's before, you know their queso was already bae! Even better, the chain has also rolled out a quiz meant to help people figure out which queso is right for them — and in honor of the upcoming Valentine's Day, it's also called the Find Your Queso Bae Quiz. Did I think I could love Moe's more? No. Do I love Moe's more, now? Yes.
Before you take the test to figure out which cheesy bae is your bae, you'll want to get acquainted with your potential lovers to see if there are any preliminary sparks. It's good to know what's out there before you start your hunt for love! Just like with online dating, you'll want to know a few key facts about your future prospects, like how hot they are, how cheesy they are, what they're made of, and how mouthwatering they are.
First up, there's the classic Chili Con Queso, which is filled with ground beef, fresh jalapeños and pico. It's hearty, it's filling, and it's got a hint of fire.
Next, there's the Black Bean Queso, which has black beans, of course, as well as corn pico de gallo, and fresh cilantro. The flavors give this dip more of a laid back veggie vibe compared to the others, which is a chill option if you're not in the mood for something with a spicy kick.
Lastly, we have the Spicy Queso, which comes with pieces of pork carnitas, Hard Rock 'N' Roll hot sauce, and fresh jalapeños. If your first thought was that that sounded like a lot of heat, you'd be correct: This queso option is spicy, and not for the faint-hearted. But, if you love food with a spicy flavor and lots of cheese, you'll like this.
Now that we know the contenders, here's how find your queso bae: In order to take the quiz and find your one cheese love, you'll have to visit Moe's Facebook page, where you'll be prompted to answer a few questions designed to help you find the best queso for you. The quiz will ask you questions about what kinds of dishes you already like at Moe's, what kinds of dates speak to your heart, what your definition of romance is, what kinds of gifts you like, and which love language you use. Using this information, the quiz can tell you which queso you're going to love the most. (Of course, you could also just try them all, because the more cheese the merrier.)
In a press release, Moe's Southwest Grill president, Bruce Schroder, said of the queso options:
"We know that Moe's fans are extremely passionate about our famous queso and bold flavor combinations, so we've worked with our culinary team to create three southwestern queso flavors. Whether you're looking for a vegetarian queso, a spicy queso that brings the heat or even the original familiar liquid gold – we have you covered at any of our 700 locations."
Once you find your match online, you can share it with #QuesoBae to show off your new love to your friends and followers. Or, you can scroll through the hashtag to see what kinds of love matches are being made across the country. You know, get a little inspo before taking the big leap.
If you've never tried Moe's queso before and need a little more convincing that they're worth trying out, you're in for a real treat: Just check out how much people are already loving them on Twitter:
Now, if you'll excuse me, I need to go order a gallon of this stuff.