Forget The No Poo Method, This Plastic-Free Wash Alternative Is Taking Over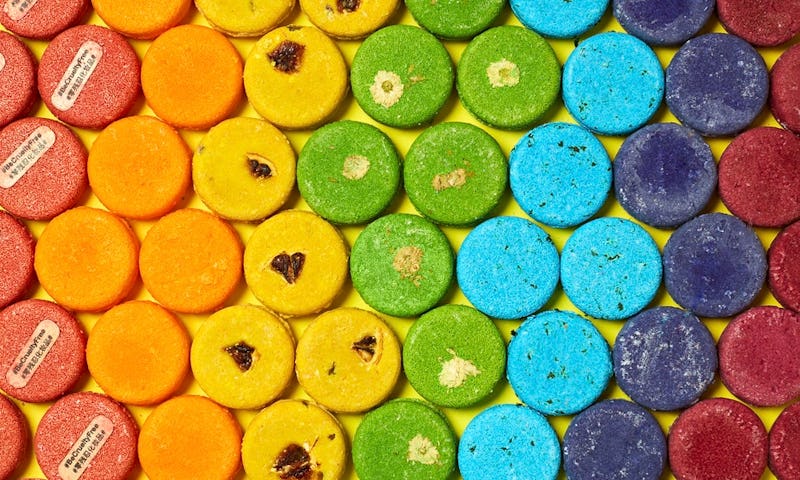 Lush
After watching yet another horrifying environmental documentary, it hit home that each and every one of us (including the CEOs of huge corporations) need to be taking steps to save the planet. This doesn't just apply to our wardrobes but to everything we buy and consume on a regular basis. Ever thought about how much plastic you use washing your hair? Well, there is an alternative and it looks like something your grandparents would have owned. But what exactly are shampoo bars made of and how can they help the environment and your hair?
Beauty brand Lush reportedly came up with the concept of shampoo bars more than 20 years ago. Since then, they claim that more than nine million of the handy things have been sold worldwide. Of course, Lush isn't the only company to create bars of shampoo. Plenty of natural brands and even individual sellers stock them.
What's in each one depends on where you buy it from. There are generally three main types. The first are known as cold-pressed shampoo bars and are regarded as the most natural and conditioning types. Then there's glycerin-based bars which can be a little less harsh on your hair. If you're looking for the ultimate lather, you'll want the solid surfactant shampoo bars that can be found in the likes of Lush.
Each have their pros and cons. As Stylecaster reports, surfactants can purify some people's hair a little too much while the glycerin-based type may lack in that particular department. And some people may not like the waxy feel they're left with after using a bar that has a high concentration of cleanser.
However, experts agree that there are some solid benefits to swapping your regular shampoo bottle for a bar or two. "Since shampoo bars do not strip hair in the same way as detergent-based shampoos can, you will notice a difference in the way your wet hair feels after washing," Jamyla Bennu, the creator of natural hair and body brand Oyin Handmade, told Stylecaster.
Lush also states that the formula used to create each of its bars contains a lower percentage of sodium lauryl sulfate (or SLS). Thanks to its cleaning capabilities, this is often found in shampoo but can be drying for some hair types. Along with that, the brand says that zero synthetic preservatives are added, making its shampoo bars available to those with even the most sensitive of scalps.
Financially, you may be better off using shampoo bars. Again, according to Lush, one bar will last you for around 80 washes. That's roughly equivalent to three 200ml bottles of shampoo. As one blogger pointed out, you also don't need to use as much of the product in one go. Unlike normal shampoo, shampoo bars are highly concentrated and don't contain water, hopefully giving you more bang for your buck.
And then there's the environmental impact. We all know that our plastic consumption isn't doing our home any good. "The amount of plastic which the UK is throwing away is set to rocket by over a million tonnes by 2030 — that's the equivalent of 87,000 more double decker buses worth of plastic waste each year," WWF's chief executive, Tanya Steele, told Sky. Statistics show that only a third of plastic is currently being recycled. Seeing as some plastic items can take 450 years to decompose, as the Telegraph reports, it's clearly time to change our habits.
Shampoo bars eliminate the need for plastic. Some brands also claim that the non-stripping formula means you won't need to use conditioner, reducing your personal plastic consumption even more. Making the switch to the bar life (or any change for that matter) is never easy. But maybe all of us should try giving it a go before we pass judgement.
This article was originally published on