A Photo Of Starbucks' Rumored Holiday Cups Got Leaked & Twitter Is Freaking Out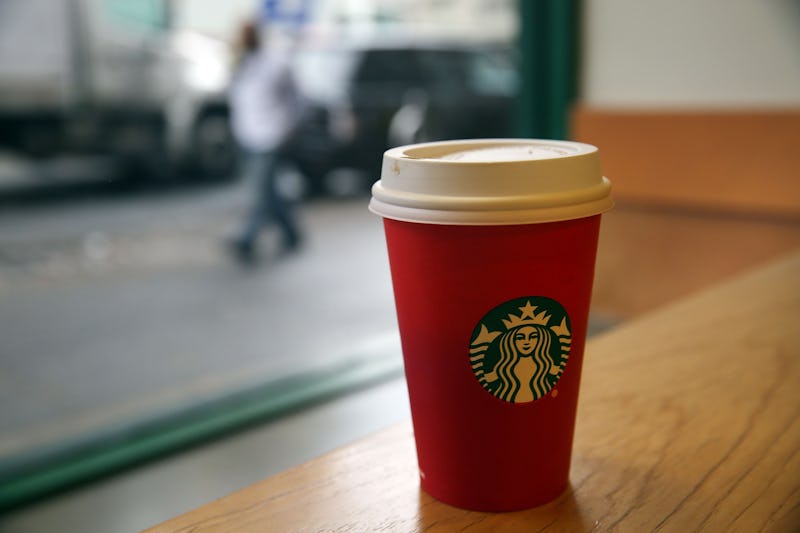 Spencer Platt/Getty Images News/Getty Images
If you're a diehard Starbucks fan, you probably already know about the Starbucks subreddit, which often leaks coveted and secret information about the coffee chain. But if you're not at that level of investigatory fandom, don't worry about it — I am. And on Oct. 23, a now-deleted thread titled "Just got it in our order. Holiday short cup design!??" popped up on the Reddit, boasting an alleged image of a festive holiday cup that the poster claimed was Starbucks' new holiday cup design. Now, of course, following the rumor, many Starbucks enthusiasts wondering: are these the real Starbucks holiday cups, and when will the 2017 Starbucks holiday cups be released?
First and foremost, I want to point out that this photo and these rumors are not confirmed. We have to take everything we learn on the internet with a grain of salt. While the Starbucks sub-Reddit often shares information that later becomes verifiable, it's a little bit suspect that the post has been deleted — and also, in an email to Bustle, a rep for Starbucks basically shared no comment on the rumor, stating, "This year we're planning to keep all of our favorite holiday traditions. Surprising our customers is part of the fun, so you'll have to wait and see what's in store." In other words: We're gonna have to wait to find out.
That said, here is the image from the subreddit that's sparking all these rumors. It's not the typical red or green that we usually see with holiday cups — it's white with red and green illustrations of all kinds of holiday scenes:
Despite the fact that it's unverified information, the internet is getting pretty woke about the potential unveiling of the holiday cup. Even though the sub-Reddit post has been deleted, the picture that was originally posted is still circling the internet (you know, nothing can ever be completely wiped from the web), and people are still having strong reactions about it. It makes sense — the holiday cup reveal is a huge deal every year, and a total mainstay of Starbucks' holiday plan. Plus, it doesn't help that the cup design is generally unveiled around this time — in 2016, it was in early November.
A quick cruise on Twitter, and you'll see just how crazy people are going over this rumored holiday cup design. The Reddit post may be gone, but people's opinions are clearly (and understandably) not going to die down for a while.
Don't Go There For The Cups...
Whether or not you like the cup designs should not have any bearing on the coffee you like to drink — I get it. I mean, I just want a Pumpkin Spice Latté however I can get it!
Cups Of Drama
Told you, people literally go bananas over the holiday cups. It's a real thing. Major internet drama is starting to spread over the design.
Basically...
...we're all that excited overthis rumor. Don't worry about it.
Stand Up For What You Believe In!
And publicly announce your love for the rumored image. No one's judging you. No need for sideways grimace emojis.
Holiday Cheer Starts Earlier Each Year
To be honest though, I'm actually surprised that it's taken this long for people to start talking about the holiday cups.
#FallPhobias
I feel you. But I'm also not worried, because even if this image proves to be fake, the real cup is going to be cute and festive and will make everyone feel even more excited about their morning Starbucks trip. The real phobia should be about how long the holiday cup will stick around for. All that is good is fleeting, after all!