Bill O'Reilly Defends Himself Against Claims Of Harassment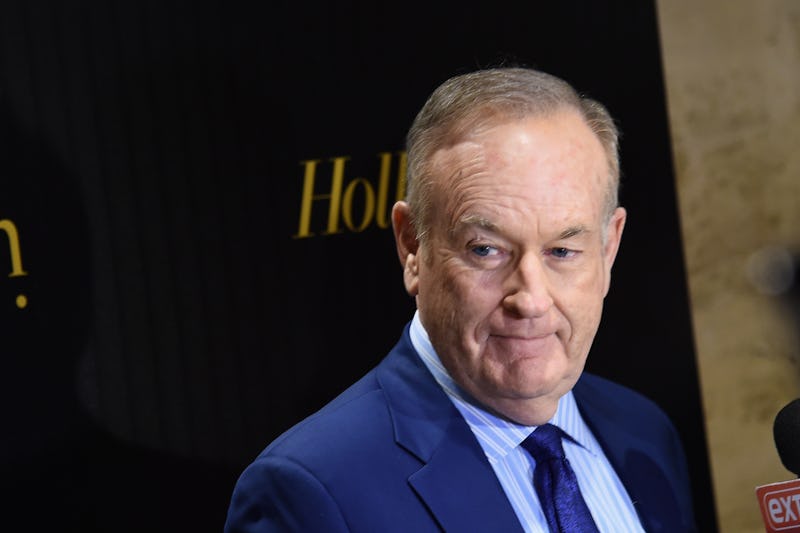 Ilya S. Savenok/Getty Images Entertainment/Getty Images
In what is becoming too much of a pattern, another high-ranking member of the Fox News network is denying allegations of sexual harassment made against him. This time, the allegations are against Bill O'Reilly, and they come from at least six women over a period of at least 15 years. According to a New York Times report, the network has stood by one of its greatest assets, and five women have received a total of about $13 million in settlement payments. O'Reilly has strongly denied all of the claims, writing on his website: "Just like other prominent and controversial people, I'm vulnerable to lawsuits from individuals who want me to pay them to avoid negative publicity."
All of the women worked with O'Reilly in some capacity at Fox, and claim that O'Reilly formed a bond with them by offering professional help before pursuing them sexually. (You can read O'Reilly's statement here.) The women claimed in the Times report that they worried about their careers suffering if they turned him down. In more than one case, they claim that he became hostile after they rebuffed him.
O'Reilly has paid out $10 million in settlements, and Fox News paid another $3 million. This reporting doesn't come at a great time for the network, which is still tarnished by the scandal surrounding former CEO Roger Ailes, who resigned in July 2016 after numerous sexual harassment allegations were made against him.
The first of the lawsuits against O'Reilly came in 2002 from a junior producer at Fox, Rachel Witlieb Bernstein. The case did not involve sexual harassment, and she received a small settlement. The next one came in 2004, when a producer on The O'Reilly Factor, Andrea Mackris, sued O'Reilly for sexual harassment. Before she filed her case, he filed one against her, claiming that she was trying to extort him. She said she had recorded several very sexually explicit phone calls O'Reilly had made to her, and while O'Reilly and Fox did continue to deny all charges, they eventually settled with Mackris for about $8 million.
A former host on Fox Business Network, Rebecca Gomez Diamond, also claimed to have recorded calls in which O'Reilly was speaking inappropriately. She left the network and received a settlement in 2011, although the amount remains undisclosed. Two more Fox employees, Laurie Dhue and Juliet Huddy, also received settlements in the neighborhood of $1 million. Dhue waited to file the suit until after she had left the network. Huddy, on the other hand, alleges that she found her career prospects limited after the reported harassment.
The New York Times also spoke to Wendy Walsh, who was a frequent guest on The O'Reilly Factor. She claims that O'Reilly promised to make her a Fox News contributor — and then declined to do so after she did not accept his invitation to his hotel room. Similarly to many of the other cases, though, she says she did not complain immediately because of fears that it would affect her career.
For his part, O'Reilly claims that he has only been targeted because of his fame. In a statement, he said:
Just like other prominent and controversial people, I'm vulnerable to lawsuits from individuals who want me to pay them to avoid negative publicity. In my more than 20 years at Fox News Channel, no one has ever filed a complaint about me with the Human Resources Department, even on the anonymous hotline. But most importantly, I'm a father who cares deeply for my children and who would do anything to avoid hurting them in any way. And so I have put to rest any controversies to spare my children. The worst part of my job is being a target for those who would harm me and my employer, the Fox News Channel. Those of us in the arena are constantly at risk, as are our families and children. My primary efforts will continue to be to put forth an honest TV program and to protect those close to me.
When Fox News has investigated the claims, the network has always called them baseless. O'Reilly's show is Fox's most popular, earning the company hundreds of millions of dollars each year in advertising revenue. O'Reilly has repeatedly defended the network in recent times, and it appears as though the organization will continue to defend him as well.