Heres How New York Is Making Sure Charlottesville Doesn't Happen In The Big Apple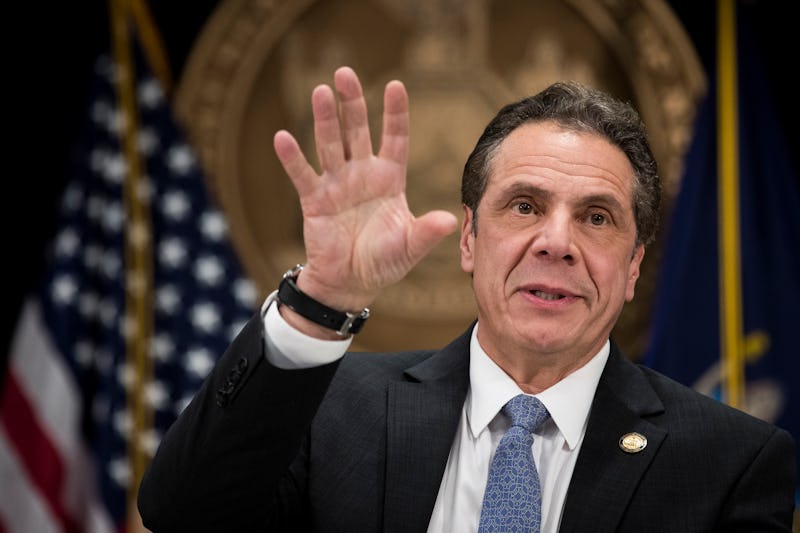 Drew Angerer/Getty Images News/Getty Images
On Tuesday, New York Governor Andrew Cuomo announced he's backing new changes to the state's hate crime laws. Cuomo's Charlottesville Provisions would stiffen penalties for rioting and incitement to riot. The push comes in response to the chaotic and lethally violent white supremacist protests in Charlottesville, VA., last week.
Cuomo announced the new proposal from the state capital in Albany, saying it would be introduced to the New York legislature in the days to come. According to reports, it would place additional penalties on a felony charge for rioting, and would bump up the severity of a conviction for inciting a riot from a misdemeanor to a felony.
In a statement, Cuomo pitched the proposal as a step towards preventing the kind of acts of racist violence that left one anti-racist demonstrator dead in the Charlottesville chaos ― 32-year-old Heather Heyer ― and a reported 20 other people injured:
The ugly events that took place in Charlottesville must never be repeated, and in New York we're going to stand united against hate in all of its forms. Our diversity is our strength and this legislation will help protect New Yorkers and send a clear signal that violence and discrimination have no place in our society.
Although the ostensible purpose of the law is to crack down on the sorts of demonstrations that boil over into acts of concentrated violence, as a response to the harrowing events in Charlottesville, some on the left aren't happy with Cuomo's proposal, given the law's potential applications against progressive demonstrators, as well.
As Sarah Jones notes for The New Republic, the line between impassioned, raucous protest and rioting in the Trump era has perhaps never been narrower, and although the law might be proposed and passed explicitly as a panacea to white supremacist activity, its actual impact could go well beyond that. Especially at such a time as a different person ― say, a far-right conservative ― is the one calling the shots about how the law is to be applied.
That said, it yet remains to be seen whether the proposal will pass, and it'll be a long while before that question will be answered. According to The Times Union, the New York state legislature won't be back in session and considering new bills until January, nearly four months from now, meaning everyone will have plenty of time to assess and argue over its merits and potential impacts.