There's A Fire In The New 'OITNB' Trailer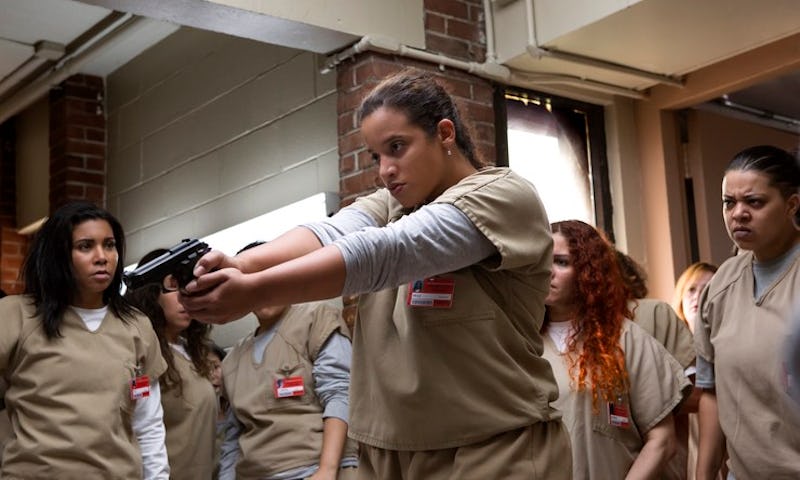 It's been a long year of waiting, but Orange is The New Black Season 5 is almost here. And now that another promo has been released, I have a few questions about what's going to happen in the episodes ahead — especially since so many of the clips were just a couple of seconds long. Like what are they setting on fire in the yard in the OITNB trailer? Something serious is going on at Litchfield.
Most of the trailer focuses on the uprising happening among the inmates after last season's dramatic finale, when Daya was seen holding up a gun to C.O. Humphrey. We don't know if she shoots him or not, but it's obvious that the riot that's bound to happen either way is going to be a huge plot point in the upcoming season, especially since they've been treated so poorly since ownership of the prison changed hands.
The fire seems to be such a small part of the trailer, and we only see a flash of it in the promo. But that doesn't mean it won't be part of an important scene when the full episodes finally hit Netflix next month, so this could be revealing something huge.
In the clip, there are a few clues that would help narrow things down. Since we can see the backs of two officers in uniform, it's possible that they started the fire, not the inmates — especially since Taystee appears to be yelling with her fist in the air as Piper holds something in the air like a phone or a camera.
And of course, we can't see what's actually burning, but whatever it is has Taystee seriously upset. Could it have something to do with Poussey's death? Or are they burning something that belonged to her? It certainly seems like this has the potential to be a really powerful (and maybe even heartbreaking) scene, even though it's hard to tell what's going on right now.
Just weeks stand between us and the answers to these questions... and the million others I can think of that have to do with this trailer. Can Netflix just release every episode now?