Ciate London Released Six New Glitter Flips After 3,200 Fans Specifically Requested More Colors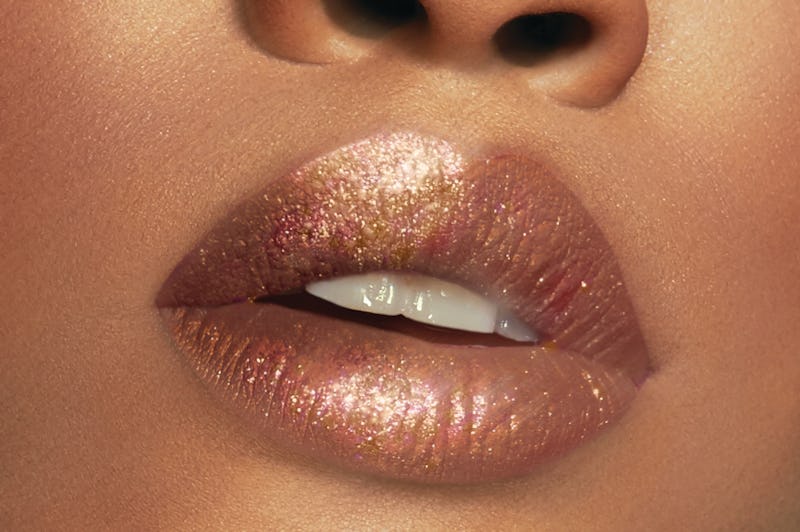 Courtesy Ciate London
Glitter is having a moment and it's not dulling ay time soon. Ciaté London added six new Glitter Flip lipsticks to their collection. Why, you ask? Well, because more than 3,000 people asked for them. The liquid to shimmer lipstick is the first of its kind, and obviously people are loving it. The moral of the story here: Ask a beauty brand and you shall receive. Well, sometimes.
When Ciaté London first launched Glitter Flips, it was clear that this was not your average lippie. The self-proclaimed "pure magic in a tube" goes on as a typical liquid lipstick. When you rub your lips together, however, it turns into a glitter lip.
The seven shades launched in August 2017 and are so good that people want more. According to the brand, more than 3,2000 people emailed them asking for more shades. Ciaté London listened and added six new spring and summer hues to the collection.
Undressed, Chaos, Whisper, Valentine, Trouble, and Surreal are much more wearable than the original shades. The colors range from neutral pinks and coral to bright magenta. They're much more traditional hues than the dark purple and blues that originally launched.
The six Ciaté London Glitter Flip shades are available on the brand's website as well as Sephora right now. Each one is $19, but they're all permanent to the collection, so you have plenty of time to save up.
Ciaté London Glitter Flip, $19, Sephora
In case you're not familiar, applying Glitter Flip is pretty much the easiest way to get a sparkly lip. All you have to do is apply the liquid lipstick as you would normally. The colors goes on matte, but, as you press your lips together, the color transforms into a a completely glittery shade. No fuss, no mess, and major staying power.
There are a few tips for applying the colors. No matter which one you use, you'll want to wait two minutes before pressing your lips together. That way the color will set and not smudge and the glitter stays where it's supposed to. Glitter lipstick has never been so easy.
Fans love the shades, too. According to the brand, one Glitter Flip is sold every minute. It's also reportedly one of the best-selling products on the Sephora website. Not to mention that six months worth of lipsticks sold out in two weeks. That's a viral product, if I've ever seen one.
This is a spring and summer collection of lipsticks, so there's a good chance that there won't be any other shades until at lease next fall. Either way, you should have enough shades to hold you over. There's neutral, wearable shades, deep purples and reds, and even a two shades of blue up for grabs on the Sephora and Ciaté London website.
What's so incredible about the formula is the wearability of the glitter. This isn't chunky flecks that fall off throughout the day. The shades look normal from far away, but look high glitter as you start to get closer. Plus they stay on all day long and are extremely comfortable. I know, because I've worn the deep red hue to a holiday party and didn't have to worry about it budging between cookies and drinks.
There's a reason why people were asking for more shades, and that's because they really do work. Glitter Flips are the perfect way to stand out, but still feel completely yourself at the same time. Especially with the addition of more neutral shades.
All of the new colors are in stock on the Ciaté London website as of Feb. 2. But there's a good chance that they won't be for long.