What Are The New Shades In Essie's Gel Couture Line? These Six Hues Are Ballet-Inspired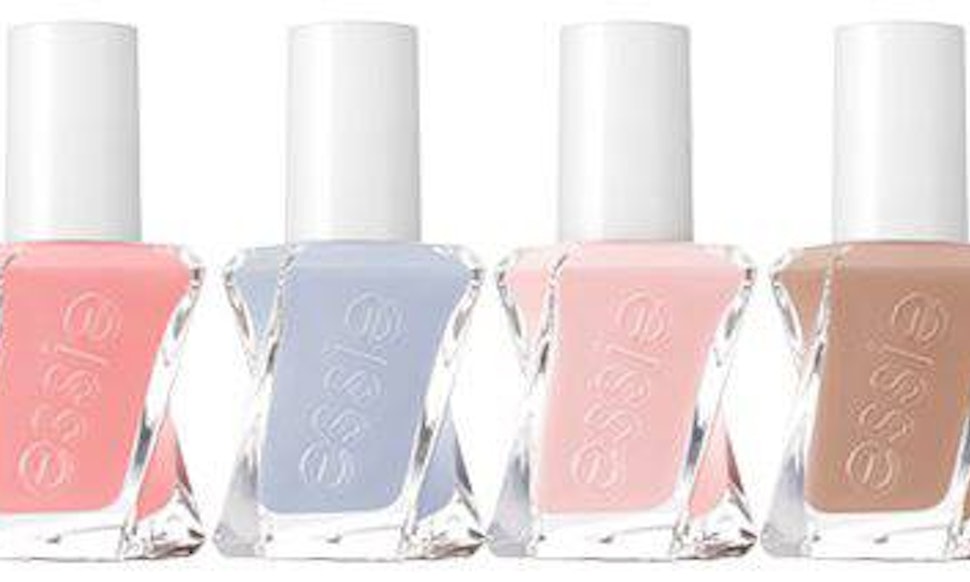 If you love getting gel manicures but not the price tag that comes with them, Essie gave nail aficionados a leg up last year by launching their Essie Gel Couture collection, which brought gel formulas to the comfort of kitchen tables. The previous collection offered 42 whopping options, but this month they're launching an extension with six pretty shades inspired by the ballet.
Named the "Ballet Nudes Collection," the colors are soft and muted, but they don't all revolve around pinks and nudes. While "Satin Slipper" and "At the Barre" are two different shades of nudes, and "Lace Me Up" and "Hold the Position" are watery pinks, "Perfect Posture" is a sugary blue and "Closing Night" is a sophisticated, pastel gray. All of them give you the sense of ballerinas with their hair swept into buns, and would look incredible on anyone's nails.
And the formula lives up to its promise, offering you a long-lasting manicure with salon-like quality. "Each bottle will run you a cool $12, but the long-lasting shades will withstand up to two weeks of wear and tear if you're careful," PopSugar reported.
While the price tag might feel like a lot for a bottle of nail polish, if you consider how much one gel manicure costs it all becomes worth it.
Below are the specific shades, already available to purchase:
1. Satin Slipper
Satin Slipper, $11.50, essie.com
A champagne ivory, this will give you a clean and milky color.
2. Lace Me Up
Lace Me Up, $11.50, essie.com
Described as a "misty rose pink," this shade will give you a subtle pink hue on your nails.
3. Hold The Position
Hold the Position, $11.50, essie.com
Between a coral and a peach, this option gives you a deeper flush than "Lace Me Up."
4. At The Barre
At the Barre, $11.50, essie.com
This is described as a "soft cinnamon nude" and will give you a warm brown shade.
5. Perfect Posture
Perfect Posture, $11.50, essie.com
A periwinkle powder blue, this will give your nails a romantic touch.
6. Closing Night
Closing Night, $11.50, essie.com
A soft shimmery grey, use this color when you want to rotate out of your nudes and pinks.
Save a little on your manicure budget and skip the salon to try these out at home instead — the colors are just too beautiful to pass up.
Image: Essie (7)