Slam It To The Left Because The Spice Girls Are Hitting Up SO Many UK Cities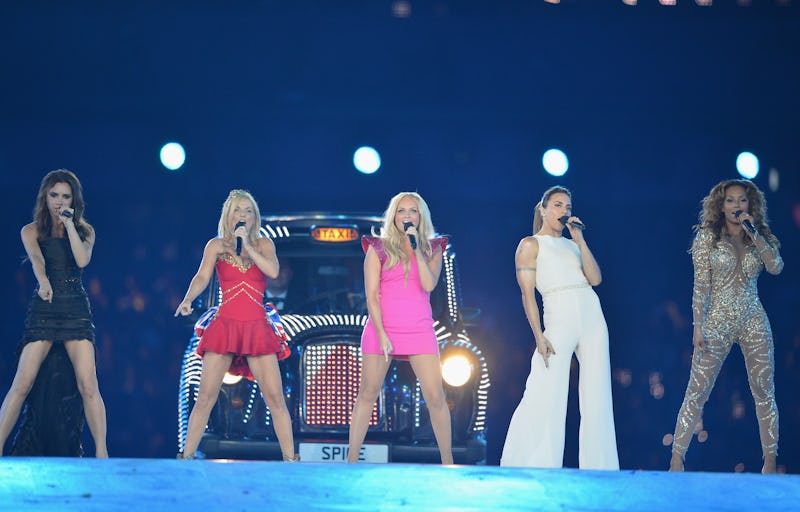 Jeff J Mitchell/Getty Images Sport/Getty Images
Lately it may feel as if we've travelled back to the '90s, as rumours about the highly-anticipated Spice Girls comeback have been dominating the world of entertainment over the past few days. And now fans of the British pop legends have finally been given the news they've all been waiting for, as details of a brand new stadium tour have just been announced by the girlband. But when are the Spice Girls tour dates in 2019?
Despite having an army of fans around the globe, the new tour will only be taking place in the UK, and will consist of 11 shows, ending at Wembley Stadium. The exact dates and locations are as follows:
Wednesday 29 May: Manchester Etihad Stadium
Friday 31 May: Manchester Etihad Stadium
Saturday 1 June: Manchester Etihad Stadium
Monday 3 June: Coventry Ricoh Stadium
Tuesday 4 June: Coventry Ricoh Stadium
Thursday 6 June: Sunderland Stadium Of Light
Saturday 8 June: Edinburgh BT Murrayfield Stadium
Monday 10 June: Bristol Ashton Gate Stadium
Thursday 13 June: London Wembley Stadium
Friday 14 June: London Wembley Stadium
Saturday 15 June: London Wembley Stadium
At this stage it's not known if the iconic band will be extending that tour internationally, or if they will add additional dates. I have reached out to the Spice Girl's rep for clarification.
As previously rumoured, Victoria Beckham, or Posh Spice, will not be taking part in the comeback tour — leaving the four remaining girls (Geri Horner, Melanie Chisholm, Emma Bunton, and Melanie Brown) to take the reigns of the show. But that doesn't mean she isn't supportive, in a statement released to Bustle Beckham said, "Being in the Spice Girls was a hugely important part of my life and I wish my girls so much love and fun as they go back on tour, I know they will put on an amazing show and the fantastic fans past and present are going to have a wonderful time!" So sweet.
The four remaining band members announced the news by posting an amusing clip showing the four bickering over their outfit choices as they prepared for a TV appearance to Twitter. They captioned the video, "Breaking Spice news... Tickets on sale Saturday 10.30am #GirlPower #FriendshipNeverEnds."
Baby Spice (Bunton) shared her excitement too, commenting in the statement: "It's time to spice things up all over again!!!!! I can't wait to perform to our forever supporting fans and a whole new spice generation! Love you all!"
The 42-year-old went into further detail on her Heart Breakfast radio show on Monday morning about being reunited with the other members for their photoshoot with The Sun. She said: "We had such a laugh. There is a behind the scenes video of the shoot, and we were being so naughty", and continued "It was fun, we missed each other. It was great just to hug and muck around," she said.
In an appearance on The Late Late Show with James Corden last month, Scary Spice (Mel B) confirmed early reports that the tour would indeed be going ahead, and even hinted that Beckham may have some involvement in the reunion after all. When asked if Posh spice would be joining the foursome, she said: "We'll see about that one. But us four are definitely going on tour", she then added "she may join us for a few. She better do." Unfortunately VB's own statement would appear to suggest that there isn't much hope of seeing her on stage."
Whilst on the show, Mel B also revealed that she still holds onto her original Spice Girls outfits, and has even created a shrine-like section of her bedroom in which she keeps much of her Spice Girls memorabilia, according to Billboard.
The enthusiasm coming from the legendary girls themselves is enough reason to look forward to the upcoming UK tour and I, for one, cannot wait to get my hands on some tickets.
This post was updated to include the additional tour dates that were released after the initial announcement.