Pro-Trump Rallies Won't Rival The Women's March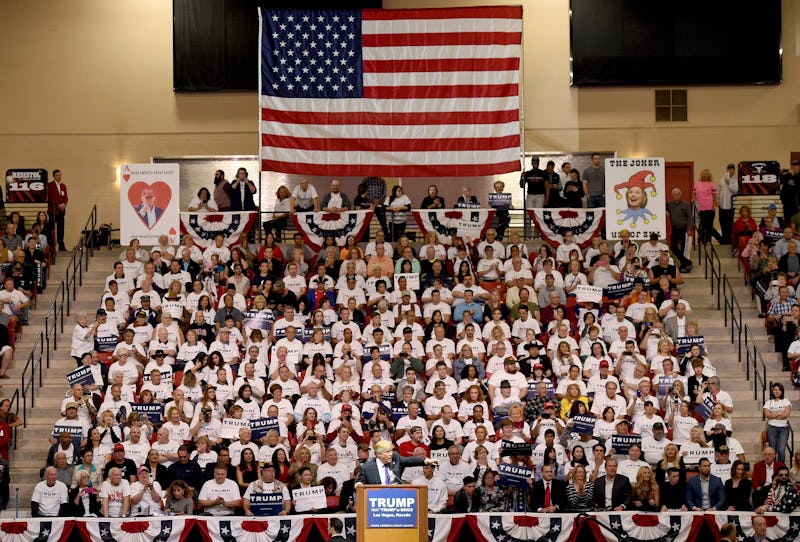 Ethan Miller/Getty Images News/Getty Images
From the Women's March to various anti-Trump marches and rallies, 2017 has seen a number of sizable demonstrations in the U.S. opposing President Donald Trump's administration and policies. And Trump — who has a well-documented love of big, supportive crowds — hasn't been able to ignore them. In a recent tweet, he proposed that "the millions of people who voted to MAKE AMERICA GREAT AGAIN should have their own rally." And, Bernie Sanders' masterful clapback aside, Trump's suggestion seems to have taken ground amongst some of his supporters. Pro-Trump "Spirit of America" rallies are set to take place across the country on Feb. 27 and March 4.
Reuters reported that rallies in at least 33 states have been organized by Main Street Patriots, a conservative group founded by members of the Tea Party movement. According to Main Street Patriots' press release, the rallies "will reinforce and support the current policies being put in place that will help Make America Great Again!" Several of those rallies, like those in Brea, California, and Denver, Colorado, will take place outside of government buildings and offices, but others will be hosted at less conventional locations.
Of the 71 marches listed on the Main Street Patriots website, at least one will meet at a gun store, another at a gun range, and one will be a BBQ mixer at a hotel pool.
And while Trump certainly has many supporters, the "Spirit of America" rallies don't seem to be making as much of a splash as the Women's Marches did leading up to Jan. 21. For example, on that day, Women's March organizers were expecting about 200,000 people to participate in Washington, D.C. and were informed by the thousands of RSVPs they received on the event's Facebook page. Meanwhile, two D.C. "Spirit of America" rally Facebook event pages currently have 11 people collectively who have marked themselves as "Going" to the march scheduled for March 4.
Judging from Facebook RSVPs as of Feb. 27 alone, the march in Nashville, Tennessee, is set to have the greatest turnout, with over 200 marked ready to attend. As the Women's Marches showed, significantly more people could show up than have made known on Facebook. But even the pre-event "Spirit of America" rally numbers don't come close to those reached by the Women's March.
So far the president has made no mention of either the "Spirit of America" rallies or Main Street Patriots. If the demonstrations do somehow manage to draw impressive crowd numbers, the president will likely have something to say about it. But if they don't, there's no telling if Trump will know that they even took place at all.