Here Are All The Winter Olympics Sports To Get Pumped About RIGHT NOW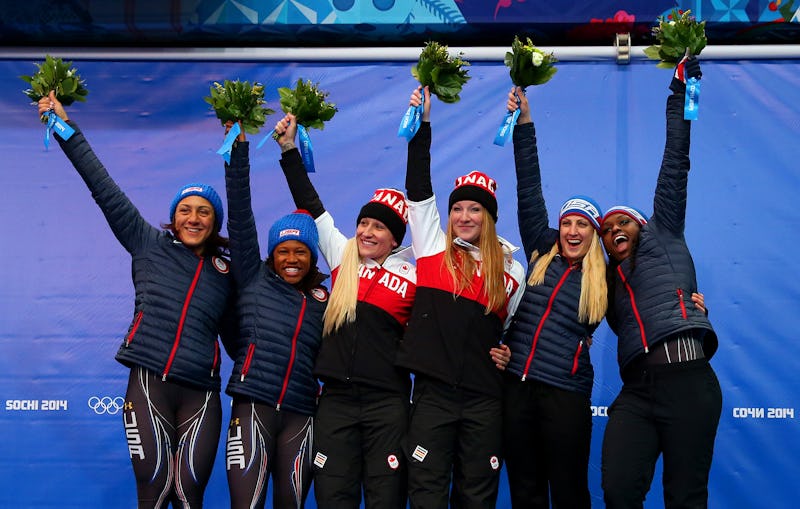 Alex Livesey/Getty Images Sport/Getty Images
In February, top athletes from around the world will meet in PyeongChang, South Korea, for the 2018 Winter Olympic Games. While it might seem like all eyes will be on the big names and popular events at the Olympics (looking at you, figure skating), there are actually 15 sports in the 2018 Winter Olympics, and they've all got a heck of a lot of talented athletes participating.
Most of the official roster for Team USA has been finalized, and many of the incoming athletes are making history. Gus Kenworthy, a freestyle skiier, will return for the 2018 games. He and figure skater Adam Rippon are the first openly gay male athletes to compete at the Winter Games. Maame Biney was the first black woman to qualify for Team USA's short track speed-skating team, and Chloe Kim is a 17-year-old snowboarding superstar.
The U.S. women's ice hockey team will also take center stage at the Olympics this year, since the men's team won't be competing in the 2018 games. NHL barred male players from the Olympics after the International Olympic Committee said it would no longer cover travel, insurance, accommodations, and other costs for the team.
Here's every sport you can expect to see at the 2018 Winter Games — and some of the athletes who'll be competing.
Alpine Skiing
Olympic gold medalist Mikaela Shiffrin will return for the 2018 Winter Olympics. In 2014, Shiffrin became the youngest athlete to win an Olympic gold at slalom at 18 years old, an event where participants ski downhill between poles and gates.
This year she'll compete in Alpine skiing, or downhill skiing, alongside Lindsay Vonn, another standout, who won her first World Cup in December 2017.
Ski Jumping
Only men competed in ski jumping at the Winter Olympics until 2014. The first woman to win a gold in the sport was Germany's Carina Vogt, and no one from the U.S. team took home a medal in the last games.
The only American teammate to return is Sarah Hendrickson, who placed 21st in Sochi after she tore her MCL and ACL before the games.
Freestyle Skiing
Freestyle skiing includes several different skiing events, like aerials, moguls, and since 2014, halfpipe and slopestyle skiing. Gus Kenworthy is the standout star in this area. He took home the silver medal at the last Winter Olympics.
Maddie Bowman and Joss Christensen, who both took home the gold in 2014 — Bowman for the Ladies' Ski Halfpipe and Christensen for men's slopestyle skiing — are also looking to defend their titles in February.
Cross-Country Skiing
While the U.S. generally doesn't perform as well as other countries in cross-country skiing, according to TIME, they've improved in recent international competitions, with the women's team making real strides.
World champion Jessie Diggins landed fifth in the 2017 world cup standings, and her teammate Kikkan Randall won a world championship medal in the sprint shortly after giving birth to her first child.
Biathlon
The U.S. Olympic biathlon consists of five different skiing competitions for men and women, including a men's relay and a women's relay. There's also a mixed gender relay and a single mixed gender relay.
Three-time Olympian Lowell Bailey was the first U.S. athlete to officially qualify for the 2018 Winter Olympics. He recently won the U.S.'s first world championship gold medal. For the women's team, be on the lookout for Susan Dunklee, who earned a silver medal at the 2017 world championships in Austria.
Bobsled
The athlete to watch out for when it comes to the bobsled competition is Elana Meyers Taylor, the first American woman to ever win a bobsled world championship in 2015.
She's also broken down gender barriers in the sport, competing in the 4-man event with three male brakemen. Previously, women were required to race only two-person sleds.
Skeleton
Skeleton is essentially bobsled without the bobsled. Athletes race stomach down on a no-frills sled, reaching around 80 miles per hour.
Matthew Antoine will return to the Olympics in 2018 to compete, after winning a bronze medal in Sochi. Annie O'Shea is currently the fastest on the women's team.
Curling
Curling is a sport in which players slide large stones on a sheet of ice toward a target that looks like a giant bullseye. There are four people on a team.
Four-time Olympian John Shuster will return to the 2018 games. He was on the 2006 team that took home the bronze. Other than that, the team hasn't seen many wins over the year. However, this year's Olympics include an addition of a mixed doubles event.
Figure Skating
By far the most fashionable event at the Winter Olympics, figure skating will once again be a must-watch at the 2018 games.
One rising star for Team USA is Nathan Chen, who is a 2017 Four Continents champion and U.S. champion, and beat reigning Olympic champion Yuzuru Hanyu in 2017.
Ice Hockey
The women's team is getting ready to go up against their rival. The U.S. team won the silver medal in 2014, following a painful loss to Canada. This year is their shot at redemption.
Snowboarding
You've probably heard of Shaun White, the redheaded Olympic gold medalist who's dominated the Winter Games, who secured his spot once again on the U.S. team, but in 2018, Chloe Kim is expected to steal the spotlight. She's the first woman to land back-to-back 1080 spins — one spin is three full 180-degree rotations — in a competition in 2016, and she's expected to take home the gold in the halfpipe event in PyeongChang.
Long Track Speed Skating
Long track speed skating is a race around a 400m track (longer than the 111.12m track for short track speed skating).
Brittany Bowe, who holds the world record in the women's 1,000 meter for long track speed skating, is gunning for her place on the podium in 2018. She took home the bronze in the last games. Team USA has historically done well in this sport, with returning athletes including four-time Olympic medalist Shani Davis and Olympic bronze medalist Mitch Whitmmore.
Luge
The luge is similar to the skeleton, only the athlete is lying on their back as opposed to their stomach.
Standout and three-time Olympian Erin Hamlin won a bronze for singles luge in 2014, and is aiming for gold in 2018. "I do think the U.S. can win gold," Hamlin said. "In what, I'm not sure, but in something though."
Nordic Combined
The Nordic Combined requires athletes to compete in cross-country skiing and ski jumping. Two superstars for the U.S. team are Bryan and Taylor Fletcher, brothers from Steamboat Springs, Colorado, who were on the U.S.'s 2013 world championship team, which took home the bronze.
Short Track Speed Skating
Short track speed skating is on a track nearly one-fourth the length of the long track sport, meaning skaters are generally always skating around a corner, instead of ever being able to make straight strides.
Leading the U.S. men's team for short track speed skating in Pyeongchang in 2018 is Olympic medalist and world record holder J.R. Celski. On the women's team, 17-year-old Biney is not only breaking down barriers for black women in sports, but she took home the bronze in the women's 500m at the 2016-17 Short Track Junior World Championship.
From young athletes making history by breaking down social and gender barriers, to women's ice hockey taking center stage as they face off against their rivals, each sporting event at the 2018 Winter Olympic Games will be full of landmark moments that you won't want to miss.