Universal Standard Is Expanding To Size 40 — And Now Shows How Each Item Looks On Every Size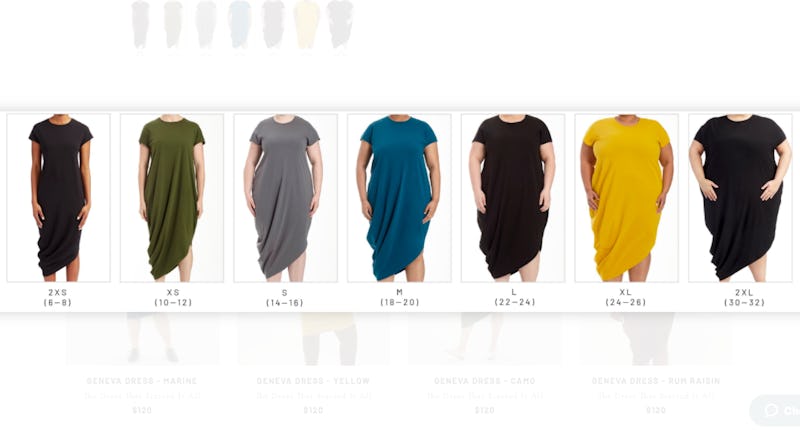 Universal Standard
There is one newcomer brand that's about to shakeup the fashion world in more ways than one. Not only does it want to get away from "plus size" and "straight size" labels altogether, but Universal Standard will let you see its items on your particular body type while online shopping.
If you have ever walked into a store and wondered why plus sizes have to have their own section, then you're with the majority. Rather than seeing all the cute styles on the sales floor range from sizes 2 to 32, why do certain body types have to be pushed to a different — and often neglected — section of the store? Not only does it "other" that shopper, but plus size collections are notorious for being limited in size range and often not as creative or playful as the straight size collections. But Universal Standard is on a mission to change all that.
If you haven't heard of the label before, here's a little context: Launched in 2015, Universal Standard actually listens to the statistic that 67% of women in the U.S. wear a size 14 or above ,and have included those body types in their designs. They don't believe in blocking access, and want to make sure that everyone has a chance to feel stylish and beautiful. And because of that, they got rid of the "plus size section" altogether. "We wanted a size 26 to shop in the same way as a size 6 — using style as her only filter, and we wanted to be the ones to make that happen," the brand shares on their site.
Not only that, but they have something called "Fit Liberty," which is an understanding that some women put off shopping because they think their size will fluctuate through the year. In order to stop that delayed gratification, they will send you a free size upgrade within a year of purchase, whether you lose or gain weight. So you can nix that anxiety from your shopping experience.
Making size diversity the new normal, the brand now offers sizes between 6 to 32, and is looking to expand into sizes 0 to 40 in the near future. "We wanted to bring women together in a way that has never been done before — to erase any semblance of 'us' vs. 'them,' said Alexandra Waldman, Co-Founder of Universal Standard, in a press release.
"The future of fashion is one in which women of all sizes can participate equally, and we've designed our clothes accordingly," said Polina Veksler, the other Co-Founder. "Our endgame is to be at the forefront of the movement that will make size an irrelevant consideration for women when making style choices. It's about fashion freedom."
But even more exciting is the innovative new feature that they have on their website called "See It In Your Size." If you have ever gone online shopping and had to squint at the size 4 model to imagine how those jeans would look on your own thighs, or how that jersey dress would look when clinging to your body shape, then this new feature takes that guess work out.
Universal Standard uses individual models for each of the size options, letting you see a true representation of how that particular item would look on your own silhouette. It's a brand that's truly taking size inclusivity seriously, and even more than that, proving to women that fashion is theirs for the taking no matter what size they come in.
If more and more brands took a page from Universal Standard's book, shopping would be a much more enjoyable experience. And more people could finally explore their sense of style without restrictions.