'Game Of Thrones' Season 7 Is Already Bloody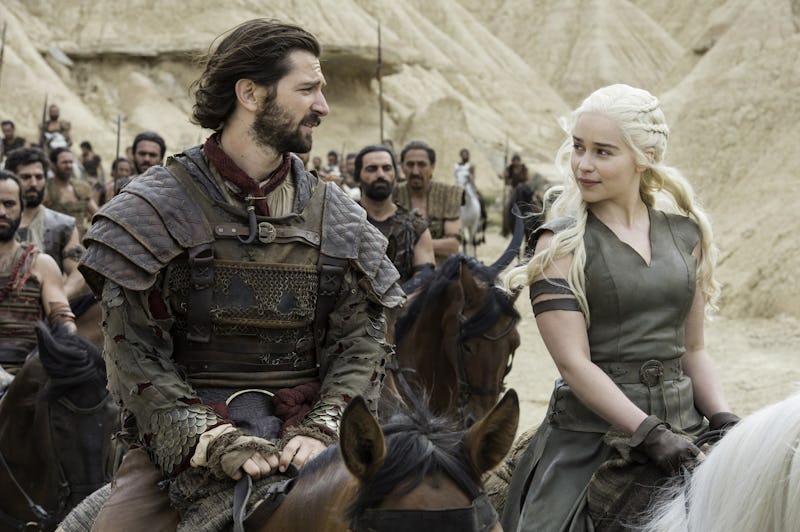 Macall B. Polay/HBO
The lines are drawn but who's fighting on Game of Thrones now? Cersei's floor map is clearly being put to good use, because the new Game of Thrones Season 7 trailer includes even more battles and even more intrigue. There are plenty of clues about which houses and armies are clashing to uncover.
"Don't fight in the North," says Littlefinger, "or in the South. Fight every battle everywhere, always, in your mind."
Ignoring those Severus Snape vibes, that sets the tone for the new footage. There do appear to be battles everywhere and always. Since Season 7 has gone past George R. R. Martin's book, it's difficult to say which battles these are. Even the details about The Winds of Winter that do exist, like the Greyjoy attack on Slaver's Bay and Theon's interactions with Stannis, wouldn't fit on the HBO series at this point.
In the new trailer, I believe I see Lannister soldiers shooting arrows, Greyjoy ships approaching King's Landing, Daenerys' Unsullied army tearing through cities, and some classic Jon Snow fighting in the dead of winter. How I've missed that.
When Jon says, "For centuries our families fought together against our common enemy," who is he talking to? Is that common enemy House Targaryen, or the White Walkers? Today, the common enemy is the Night's King, but Westerosi history is nothing if not complicated and not always the best material for metaphors.
Watch the new trailer below. This doesn't seem to be just one battle, but a series. The new war and winter itself are finally here. This season looks every bit as intense as promised.
There are also a few images of Jaime Lannister and Yara Greyjoy in fiery battles that can likely be attributed to a certain trio of dragons. The Game of Thrones Season 7 battles will cover all manner of terrains and all kinds of warfare. The fact that all of these battles are a mystery to fans makes the waiting even more excruciating.