18 Tweets That Sum Up Being A Woman In 2017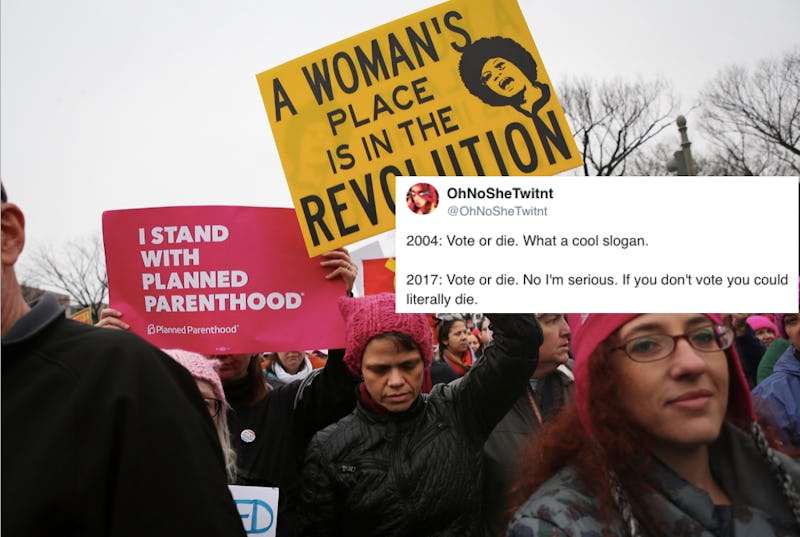 Mario Tama/Getty Images News/Getty Images
Nov. 8, 2017 marks one year since Donald Trump's election as president of the United States. In the past year, there have been repeated attacks on women's rights, and women have risen to the occasion to counter this onslaught through resistance, activism, and even running for office, among other tactics. The following tweets sum up being a woman in 2017, touching on the issues women face under the Trump administration, but also on the admirable ways in which women — and men — have come together to counter attacks on their rights.
Women have faced a myriad of threats to their rights since Trump took office. The Trump administration and Congressional Republicans have repeatedly sought to defund Planned Parenthood, as well as to limit women's health insurance coverage. Some of these efforts have succeeded, with Trump successfully cutting some funding for Planned Parenthood as well as rolling back the Obamacare birth control mandate for employers. Moreover, the administration has also rescinded sexual assault protections and clamped down on equal pay measures, among other things.
However, women have certainly not taken these attacks on their rights lightly. Many people have come together to resist these policies and make their voices heard. The tweets below reflect both the myriad of ways in which Trump, his administration, and other elected officials have sought to dismantle women's rights, but also the impressive ways in which women and men have taken a stand against these actions.