Beyoncé & Solange Have A Super Tight Relationship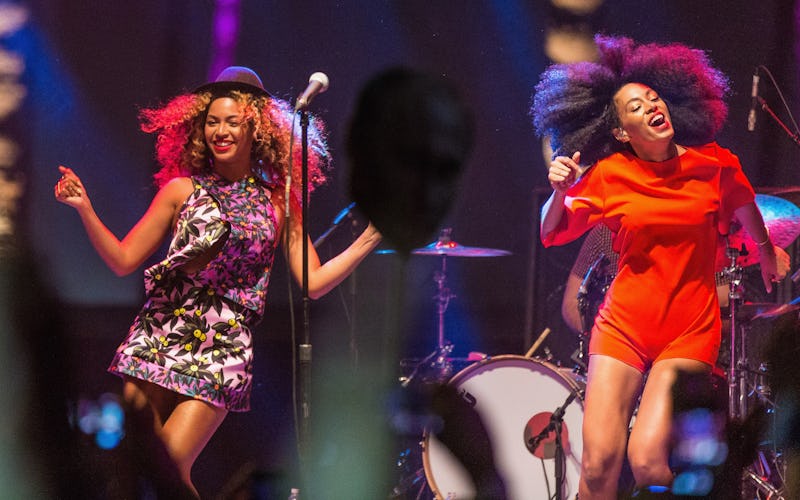 Christopher Polk/Getty Images Entertainment/Getty Images
From singing about making her son, Julez, proud in "F.U.B.U." to including interludes with her parents Mathew and Tina Knowles, Solange's unabashed loyalty to her family, herself, and black people make her album, A Seat at the Table, feel like home. That's why it's unsurprising to me that Solange's older sister, Beyoncé, conducted an interview with her about her music, her inspirations, and her intentions with the album for Interview magazine.
I've been in a steady groove from the moment Solange's magnum opus dropped in September. I often find myself mumbling the lyrics to "Don't Touch My Hair" while detangling my 'fro or attempting to harmonize to "Don't Wish Me Well" in the shower to fill empty voids in my mind where thoughts of self-doubt and deprecation occasionally arise. But I fully rocked out to this album during car rides with my younger sister when she drove up to visit for the holidays. As the older sister who is well-versed in all-things Sol-Angel, I felt obliged to share this musical compilation with my more-mainstream savvy younger sister. The visceral reactions we had to her lyrics as two, 20-something black women practically go without saying. While my sister may be more into being in "Formation" than pulling up A Seat at the Table with me, I'm confident that I can play "Weary" and we can make eye contact knowing that Solange gets us. Naturally, reading about a phone interview between a big and little sister reflecting on life as my sister and I do caught my eye. As incredibly introspective as A Seat at the Table is, the album's not so subtle homage to family rings as clearly Solange's high notes.
Up until the album's release, and for those unfamiliar with the neo-soul and indie music scene, Solange was very much still in Beyoncé's shadow. In a year dominated by endless refills of Lemonade, Solange emerged with her own collection of unapologetic anthems, catchphrases, and captivating imagery to make us think, move, and groove. Beyoncé's interview with Solange captures what the average music journalist simply cannot — the unshakable bond between two sisters, who, success and fame aside, are just two Southern girls who found their voices, marathon reality TV, struggle and bounce back just like the rest of us. Solange told Beyoncé that she specifically requested her sister to interview her because "the album really feels like storytelling for us all and our family and our lineage." Here's what we now know about the Knowles' sisters from their interview:
They Are Both Inspired By Their Hometown
While Beyoncé pays tribute to her childhood home of Houston, Texas in songs like "Countdown," "Run the World (Girls)," and "Flawless" Solange opted for a more metaphorical homage. When asked by Beyoncé about what aspects of Houston she carries with her, the singer noted the city's rich culture and warm, friendly people set the stage for her to grow as a storyteller: "I feel like, in the South in general, but specifically in our world growing up, people were expressive and vivid storytellers. In the hair salon or in the line at the grocery store; there was never a dull moment."
They Empathize With Each Other
Beyoncé said she knew the week leading up to the release of A Seat at the Table was "the most nervous time" for Solange. The "Cranes In the Sky" singer echoed that it was in fact so nerve-wrecking that she broke out in hives. While big sis mentioned how impressed she was with Solange co-producing the tracks, little sis said she gave herself the freedom to explore her behind the scenes skills after watching Beyoncé work with rapper Missy Elliott: "I remember seeing her when you guys worked together and being enamored with the idea that I could use myself as more than a voice and the words."
They Have Similar Thoughts About Their Father
One of the most outstanding aspects of A Seat at the Table was that Solange incorporated a one-on-one interview with legendary rapper and entrepreneur Master P throughout the album. She and big sis Bey both agreed that the self-made millionaire reminded them of their father, Mathew. The New Orleans transplant explained that she sought counsel from the longtime resident due to his deep ties to their local community:
"I remember reading or hearing things about Master P that reminded me so much of Dad growing up. And they also have an incredible amount of love and respect for one another. And I wanted a voice throughout the record that represented empowerment and independence, the voice of someone who never gave in, even when it was easy to lose sight of everything that he built, someone invested in black people, invested in our community and our storytelling, in empowering his people. You and I were raised being told not to take the first thing that came our way, to build our own platforms, our own spaces, if they weren't available to us. And I think that he is such a powerful example of that."
They Were Both Deeply Influenced By Their Mom
No matter how many hit singles or awards Beyoncé and Solange have gathered throughout their impressive careers, at the end of the day the talented twosome are still simply their mother's children. In fact, the singers broke out in laughter reflecting on the funniest texts they received from "Mama Tina."
Both entertainers acknowledged that being raised by such an inspirational woman taught them a thing or two about being in control of their own narratives. Solange said watching Tina and Beyoncé have autonomy over their professional lives spurred her to do the same:
"And, as far back as I can remember, our mother always taught us to be in control of our voice and our bodies and our work, and she showed us that through her example. If she conjured up an idea, there was not one element of that idea that she was not going to have her hand in. She was not going to hand that over to someone. And I think it's been an interesting thing to navigate, especially watching you do the same in all aspects of your work."
They Strive To Reclaim Their Own Narratives
Solange said that while growing up among strong women inspired her greatness, it also gave her a firsthand look at how others can be intimidated by their power because it goes against societal norms. Solange said society may call being in control of your career the way Beyoncé is being a "control freak," to her Beyoncé's actions were a blueprint that set the stage for her to become her own artist:
"There's no way to succeed without having a team and all of the moving parts that help bring it into life. But I do have — and I'm unafraid to say it — a very distinctive, clear vision of how I want to present myself and my body and my voice and my perspective. And who better to really tell that story than yourself?"
They're As Tight As Can Be
As Solange pointed out, while the world may view Beyoncé as an ultra-private "control freak," to her Queen Bey is just her "kickass" older sister, who pokes fun at her for "acting a fool" every once in a while. I must admit it was quite endearing to learn that Beyoncé got a kick out of Solange freaking out when she introduced her to "her hero, Nas." But what's even more heartfelt is Solange calling Bey "the most patient, loving, wonderful sister ever."
For Solange, there was no one more fitting to help her confront the ebbs and flows of motherhood, sisterhood, friendship and womanhood than her sister. As Solange sang on "F.U.B.U.," "When you feeling all alone/ and you can't even be you up in your home/ when you even feeling it from your own," knowing your sister will always be there for you to listen, empathize, and support you can get you through anything.