Here's What Brett Kavanaugh's Classmates Said About His Partying In School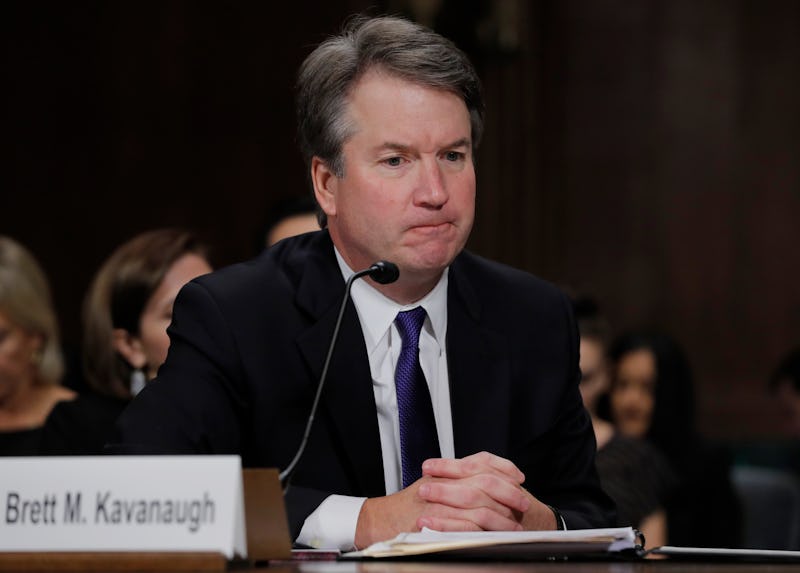 Pool/Getty Images News/Getty Images
Supreme Court nominee Brett Kavanaugh wasn't a problem drinker in college, according to his own account. He made it clear at his testimony before the Senate Judiciary Committee that he certainly liked beer (and still does), but that he never got blackout drunk from it. Statements from Brett Kavanaugh's college classmates, however, offer an account that differs significantly from his own words about himself.
Christine Blasey Ford, Deborah Ramirez, and Julie Swetnick have accused Kavanaugh of sexual misconduct, which they all say took place around parties with alcohol. Kavanaugh has unequivocally denied all of the allegations of sexual misconduct that have come out against him. His denials have also stretched to the drinking habits that each woman says led to the alleged sexual misconduct.
Kavanaugh claimed clearly — both in a Fox News interview and in his testimony before the Senate Judiciary Committee — that he had never drank to excess, according to The Washington Post, despite the fact that he did — and does — enjoy beer. He specifically said that he never passed out or blacked out from drinking. His Fox News interview also included the claim that he was a virgin in high school and college and remained so for several years afterward.
Those who went to school with Kavanaugh, however, have disputed both of those claims. While none of his classmates are known to have spoken with the FBI under oath, their statements about Kavanaugh are at least on the record — and here's what they said.