Peter Has The Same Job As So Many Other 'Bachelorette' Stars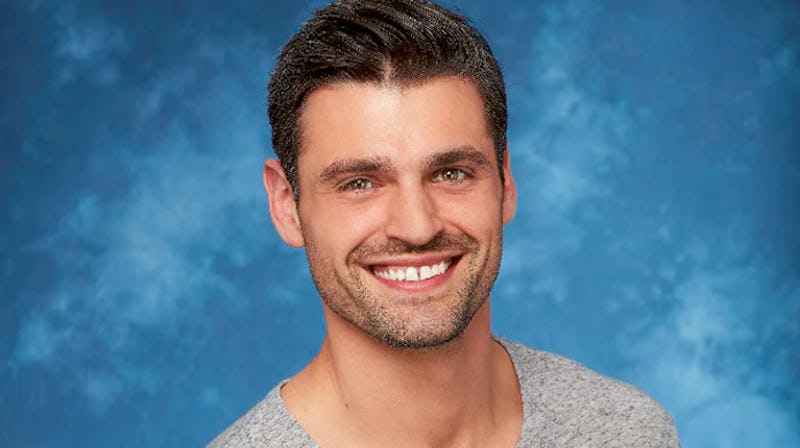 Craig Sjodin/ABC
While some job titles listed by Bachelor contestants are bizarre — like "Free Spirit," "Jumbotron Operator," and "Chicken Enthusiast" — others are just vague. Seriously, how many entrepreneurs and business owners has the Bachelor franchise seen (yes, including the pantsapreneur) over the years? Peter Kraus is proving to be a standout contestant on Rachel Lindsay's current season of The Bachelorette, but his vague job title has fans scratching their heads. What business does Peter from The Bachelorette own?
According to Peter's Instagram bio, he's the owner of WORTH Personal Training in his hometown of Madison, Wisconsin. And, if you visit the business' Instagram account, you'll discover the company's on-the-nose tagline: "Because you are WORTH it!"
According to the 31-year-old's LinkedIn profile, he's been at this job for seven years and has also held positions at places like I.D. Gym and Fitness Management Group. It's clear that fitness and health has long been a passion of Peter's, as he graduated Madison Area Technical College with an associates degree in deictics/dietitian, which makes him an expert on diet and nutrition. It's possible that The Bachelor franchise, which is known for having a lot of personal trainers compete, maybe just wanted to switch things up and give Peter the more vague Corinne-style chyron of Business Owner. Especially since there was another personal trainer on Rachel's season already in Eric.
Of course, when googling Peter and researching his career, it doesn't take long to discover that he is also a male model — this detail is even included in his bio on ABC's website. In the question and answer portion of Peter's bio, he states the "best trip" he ever went on was when modeling brought him to Athens, Greece. He says: "I moved to Athens, Greece for modeling for three months. It was everything! I saw the world, made friends, was forced to grow up and be self-sufficient. Learned a lot!"
His Instagram is also full of modeling pictures like catalog shots, behind-the-scenes moments from shoots, and images from fashion shows. While Peter has been open about his modeling online and in his bio, some fans may find Peter's motives to be a little suspicious after discovering he has a modeling career. After all, there is always gossip in Bachelor Nation about contestants doing the show for the "right reasons" and not for the connections. While these doubts are understandable, Romper's Caralynn Lippo attempted to put fans at ease in an article about Peter's job. Lippo wrote:
Viewers have a tendency to become immediately suspicious when ever it's revealed that a contestant is either a model or an actor. Pretty much any career in the entertainment industry seems like a red flag that they might be there for "the wrong reasons." But Peter genuinely seemed smitten with Rachel, so unless he's also secretly an actor, I buy the fact that he's into her. And evidently, Rachel buys it too — he was the first name called out in the rose ceremony [in the premiere].
So, I guess fans will just have to wait and see if Rachel and Peter continue to have a genuine connection. And, they can also rest easy knowing that, in this instance, "business owner" turned out to be a real job.