How You Can Help Puerto Rico, Because Trump's Response Isn't Enough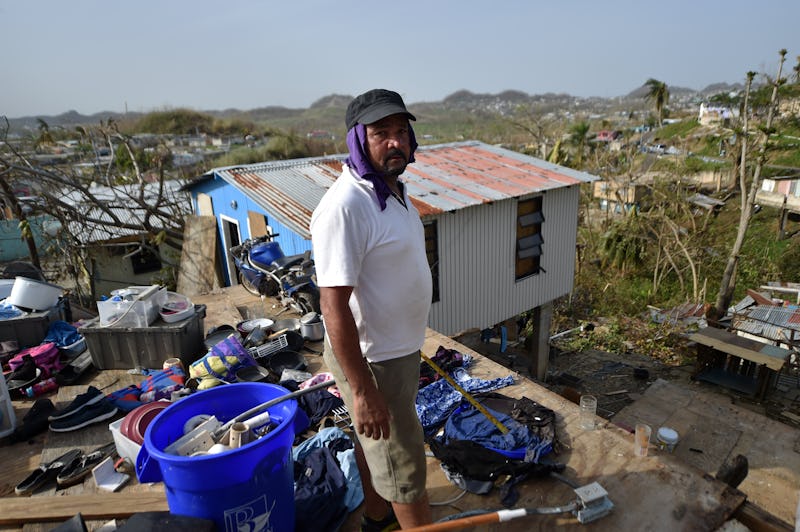 HECTOR RETAMAL/AFP/Getty Images
The U.S. territory of Puerto Rico suffered a direct hit from Hurricane Maria last week, and it's caused catastrophic damage on the island. While FEMA is on the ground in Puerto Rico, President Trump's response to the disaster has come across as unsympathetic — and many Puerto Ricans say that much more assistance is needed than that which FEMA is providing.
If you are equally frustrated with Trump's insufficient Puerto Rico response and you want to help Puerto Rico as its residents try to recover from Maria, there are many ways to donate your time and resources.
Many have characterized Trump's response to the devastation in Puerto Rico as not doing enough to help the island. As Vox reported, while Trump has authorized the minimal FEMA response to allow federal fund to be used in hurricane recovery, he could certainly do much more to direct federal resources to the island. The president could ask Congress to pass a Puerto Rico relief package, which would direct more funds to the U.S. territory. He could also send more U.S. military resources to the island.
Moreover, Trump has not even visited Puerto Rico yet, saying he is unable to do so until Tuesday of next week. The president has also been decried for his recent insensitive remarks about Puerto Rico on Twitter, in which he chastised the island for its debt and what he feels is its inferior infrastructure as opposed to offering support and further assistance.
Puerto Rico's governor, Ricardo Rossello, has begged the Trump administration and Congress for further aid, describing the complete devastation in the territory, with many residents facing very limited access to food, water, medicine, power, and other basic necessities.
Puerto Rico desperately needs assistance, particularly in light of Trump's seemingly lackluster response to the disaster. If you wish to help, there are certainly many ways to assist the island's residents in post-Maria recovery.
First, cash donations constitute one of the best ways to help post-natural disaster. Cash donations allow organizations on the ground or those with expertise in disaster recovery to allocate resources in the most effective way. If you are able to provide a cash donation, there are many organizations which are accepting funds to further recovery efforts. If you wish to donate to a local organization, two (of many) options consist of Unidos, by the Hispanic Federation, and Unidos por Puerto Rico, run by the first lady of Puerto Rico.
There are also many global organizations working on the recovery efforts in Puerto Rico. Charity Navigator, a site which vets charities for financial health and accountability, has a dedicated Hurricane Maria page with organizations it describes as "highly-rated" in "responding in the aftermath of the hurricane and providing assistance to the communities affected." Some of these organizations include Save the Children, the American Red Cross, and Americares, among many others.
If you wish to donate funds to an organization that will distribute them to several charities, based on needs and priorities, consider donating to Global Giving's Puerto Rico and Hurricane Maria Relief Fund. Finally, if you would like to fund more individually-oriented campaigns, you can visit GoFundMe's Hurricane Maria page, which lists all of the various individual campaigns for those affected by the storm to which you can donate.
In addition to monetary assistance, you can also help those in Puerto Rico in other ways. If you wish to volunteer your time on-the-ground in the territory, consider signing up for the National Voluntary Organizations Active in Disaster's (National VOAD) Puerto Rico volunteer team.
You can also consider donating blood, which is perpetually needed in the wake of disaster, by making an appointment on the Red Cross' website or by using the Red Cross Blood Donor App.
Finally, if you wish to donate supplies to Puerto Rico, there are several organizations coordinating collection and delivery of goods, including the Friends of Puerto Rico for Maria Hurricane Relief — which has set up an Amazon wish list — and Airways, which is coordinating supply flights to Puerto Rico.
Overall, helping Puerto Rico is more imperative than ever, especially considering the Trump administration's insufficient response to the post-disaster crisis on the island. You too can absolutely make a difference for the people of Puerto Rico by donating your time and resources to help them with recovery.