Ulta Rewards Points Can Now Be Used Toward Services, So Book That Blowout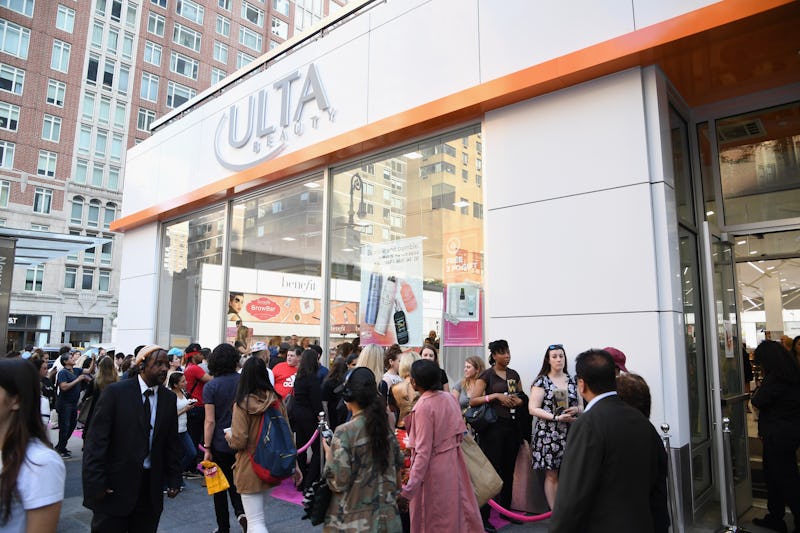 Dimitrios Kambouris/Getty Images Entertainment/Getty Images
If you're a frequent makeup buyer then you know just how beneficial reward programs are, and Ulta is vamping up its own loyalty program to help shoppers make the most of their purchases. Ulta's membership program has new perks for 2019, where being an Ultamate Ulta Beauty Loyalty Member will help you nab more freebies and cheaper services. Effective now, members will be able to redeem points on all of Ulta Beauty's services, including their salon, Skin Bar, and makeup counters like MAC and Benefit's Brow Bar.
Ultamate Rewards is a free membership program, where you earn one point for every dollar you spend. Different tiers earn points at different rates, where Platinum members earn 1.25 points for every dollar, and Diamond members earn 1.5 points for ever dollar spent. (You become a Platinum member if you spend $450 in a calendar year, and a Diamond member if you spend $1200 annually.) While you could earn points when purchasing beauty services like highlights or brow waxes, before you weren't able to spend your point balances to get them. Now all of that has changed.
You can now put your points towards a haircut, highlights, or up-do at The Salon at Ulta Beauty, helping you save a little money at your quarterly salon visit (or not feel so guilty about splurging on a blowout for fun.) Once there, you will get a one-on-one style consultation, and after your appointment you will also get at-home styling tips from your stylist, where they will provide you with personalized tips, hair hacks, and product recommendations so you can look salon ready every day from home.
You can also visit the Dermalogica Skin Bar with your points, where you can book an appointment for a facial, microzone skin treatment, facial peel, or microdermabrasion. If your skin is already glowing and you want to focus on your brows instead, you can take your points over to Benefit's Brow Bar for lash and arch touch-ups. There you can have everything from a brow wax, to tinting, to makeup application, to "brow mapping," which finds the most flattering eyebrow shape for your face. Afterwards, you can also pick up some brow makeup on your way out to ensure your fresh new arches stay professional looking well after the appointment.
You can also allocate your points towards makeup applications at Ulta Beauty's many cosmetic counters, including MAC. So if you have a big event coming up and want a professionally worked smokey eye or expert contouring, you can use your points towards your makeup appointment.
Allocating 100 points will get you $3 off, gathering 250 points will get you $8 off, 500 points will get you $17.50 off, and so on. So if you're a frequent beauty shopper, buying your favorite products can get you some major discounts. And if you get the Ultimate Rewards credit card, you can earn double the points for every dollar spent. If you want to save on your next beauty appointment, Ulta is here to help you stay on budget.
Did you know that you can find Ulta coupons at the Bustle Coupons page? Bustle Coupons is a service provided by Groupon in collaboration with BDG Media, Inc. Each time you use a coupon or promo code from Bustle Coupons to make a purchase, Groupon and BDG Media, Inc. earn a small commission. This article was created independently from Bustle's sales department.