'Bright Lights' Is The Perfect Tribute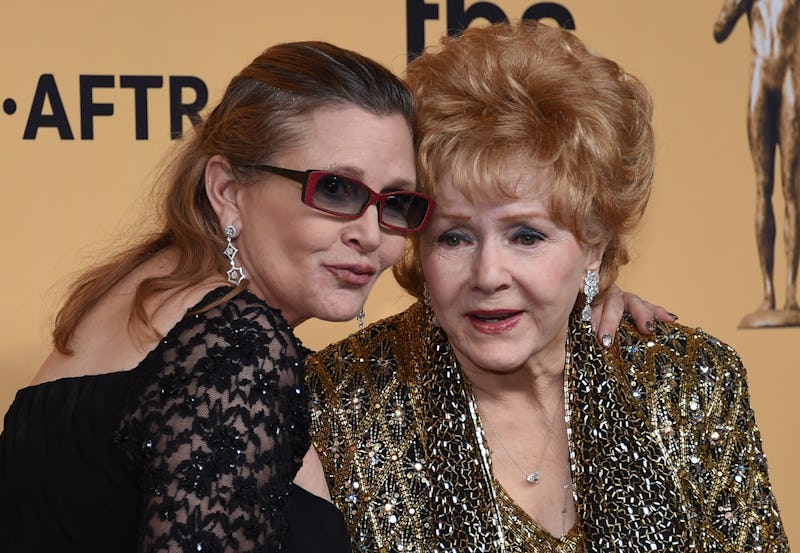 Ethan Miller/Getty Images Entertainment/Getty Images
More than a week after the deaths of both Carrie Fisher and her mother Debbie Reynolds, the tragedies are still hard to process. Both women were talented, original, and loved by so many; their deaths, just one day apart, leave huge holes in Hollywood and in the hearts' of countless fans. Yet the release of Bright Lights, HBO's new documentary chronicling the stars' relationship, is an unexpected comfort for those still grieving Fisher and Reynolds. Co-directed by Fisher Stevens and Alexis Bloom, the film, out Jan. 7, is a touching, if unintentional, tribute to the late actors and their extraordinary bond.
For Bloom, being able to capture the unique dynamic between Reynolds and Fisher on-screen was a pleasure. "They're pretty f*cking cool individually, but together they're just fantastic," she says, speaking to Bustle via phone a week after the stars' deaths. "They had an alchemy together that made them more than the sum of their parts." Although the duo's relationship was far from perfect — "she was sort of exasperated and inspired in equal measure [by her mother]," Bloom recalls of Fisher — the filmmaker says that the bond was, by and large, "tender and loving."
Still, that doesn't mean Bright Lights is easy to watch, for both fans and the filmmakers themselves. "It's all quite fresh," says Bloom, adding that she hasn't seen the film since the stars' deaths. "It's incredibly sad. Devastatingly sad, really."
Bright Lights was originally set to premiere in March, but after Fisher and Reynolds passed away, HBO moved the date up to January. The move may have been a business one (many curious viewers will likely tune in to learn more about the mother-daughter pair's much-talked about relationship), but as it turns out, it was also a blessing for fans. Coming so soon after the stars' deaths, Bright Lights now feels like both a celebration and eulogy of their lives, and will undoubtedly help heal, or at least soften, the heartbreak of the many people who loved Fisher and Reynolds.
By and large, the film succeeds, spectacularly, at capturing the pair's unique mother-daughter relationship, one that was full of love, yes, but also resentment and obligation. Due to its timing, though, Bright Lights also feels, at times, unbearably tragic. Scenes like Fisher helping Reynolds prepare for a Lifetime Achievement Award, or Reynolds requesting Fisher's presence at a Las Vegas performance, are heartbreaking. As the doc shows, the bond these women shared as mother and daughter was complex, full of fierce love and respect, but also pain and frustration.
"They loved to make each other laugh, sometimes in ways that are not always comfortable. They both had biting wit and a very dry sense of humor, and their relationship was feisty, sometimes," Bloom says. "They hadn't settled into a comfortable predictable pattern... they had an incredibly lively relationship, despite having known each other 60 years."
Just take Fisher going to Reynolds' Vegas show, for instance, Bloom says. "Carrie didn't necessarily want to go to Vegas," the director recalls. "She doesn't like singing on stage, she didn't choose to be there, but Debbie asked her. And she obliged, but she didn't oblige quietly... she adored her mother, and when her mother said, help me, or do this, she'd do it. That's why she says, 'I'll never say no to you.' But that doesn't mean that she'll never say no to her quietly, in an obedient or passive way. They pushed and pulled."
Capturing this dynamic was no easy task, though, Bloom says. The two women only allowed the filmmakers to gain access into their lives "intermittently," according to the director; as a result, practically all of the footage Bloom and Stevens shot is used in the final film. Perhaps this reservation was due to Reynolds' health (in the doc, the icon's family discusses her frail state), or just Reynolds and Fisher's desire for privacy. Whatever the reason, though, the lack of full access didn't hurt the film's effectiveness, or its stars' hold on viewers. "They were mesmerizing," says Bloom. "Whenever they gave us access, they were fantastic."
For fans mourning Fisher and Reynolds, the documentary will be difficult to watch, without question, but also a deeply powerful and cathartic experience. Bright Lights may not have intended to be a tribute, but it couldn't have come at a more needed time.