Snapchat Just Introduced A Fun New Feature For Students At These Universities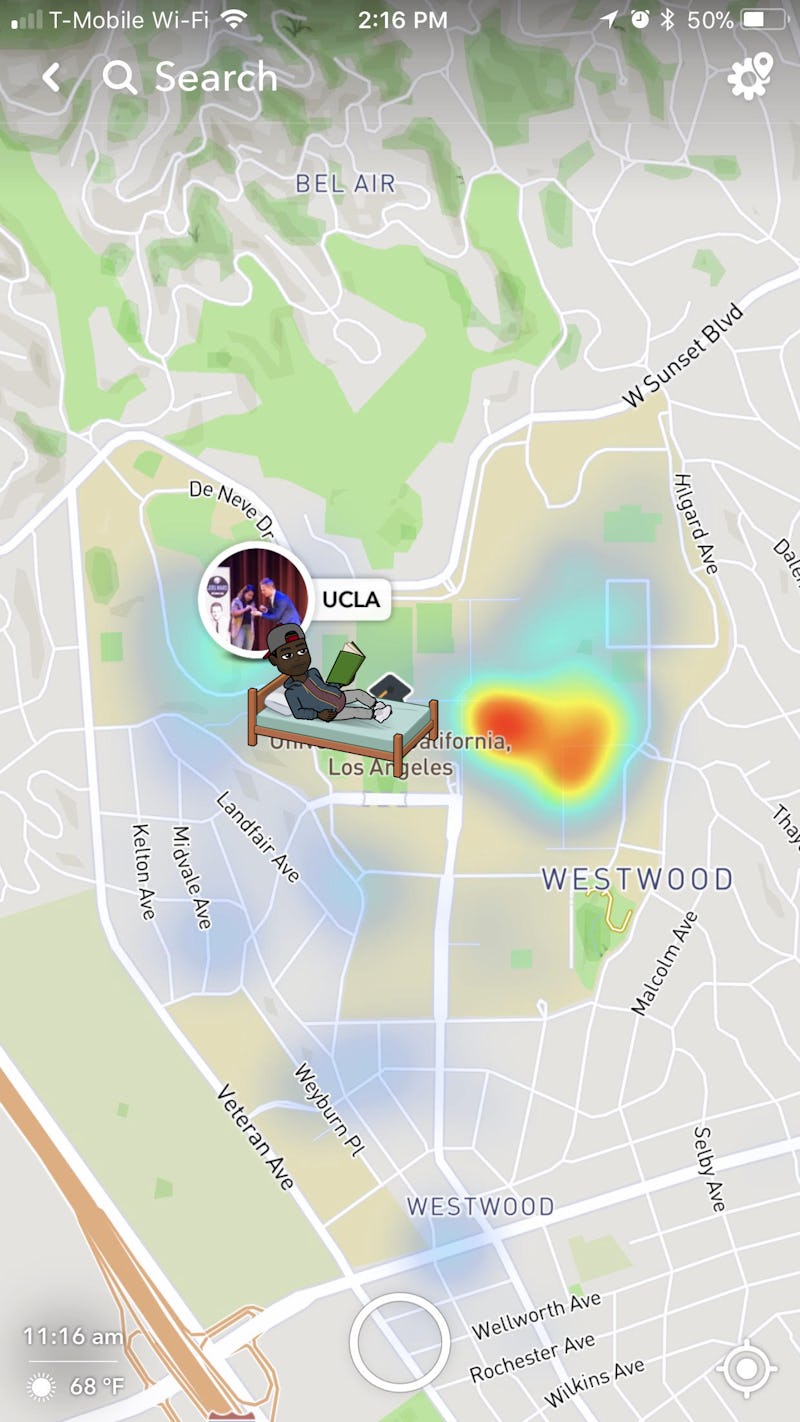 Snap Inc.
Now that your textbooks have accumulated into a tower on your dorm desk and you've settled into the semester, you might be thinking that the only thing you have left to look forward to is fall break. Think again, though: There's something else to look forward to thanks to Snapchat. In news exclusively released to Bustle, the app shared that on Oct. 5, they're introducing new Actionmojis on their Snap Map tailored to college students — and even individualized based on what college the user attends. In light of this new feature, it's worth wondering: what colleges have Snap Map Actionmojis on Snapchat? There are quite a few across the U.S. and Canada, so chances are, you'll see some familiar names on this list.
Snap Maps, of course, allow users to see where their friends are in the world with a little cartoon representation of them — a "Bitmoji" — against a map (granted that friend is sharing their location, of course). Occasionally, the Bitmoji will be performing some sort of action that Snapchat smartly guesses the user is — for instance, partying at a concert if the users location is at a music video, sleeping if the user is at home, etc. — hence, "Actionmojis."
With these new features, checking out where your friends are when you're at school — and what they're doing — is even easier. Need to know where your BFF has disappeared to with the largest coffee you've ever seen and a weighed down bag of books? Open your Snap Map, and with this new update, you may see that she's tucked away in the library, and her Actionmoji depicts her studying. Running late to meet your squad? Open up Snapchat and see where their Bitmojis are in action.
Snapchat has always felt the school spirit, constantly working to engage college life into the app. Earlier in September, they released the Campus Publisher Story which gave your favorite campus news source its very own story. And who can forget the Snapchat love story that swept the University of Wisconsin Madison Campus and every single Snapchat user's hearts? Love is real, you guys. Now with the Actionmoji, you just might find it easier to bump into your soulmate at the treadmills in the recreation center.
Maybe you're feeling a little creeped out that some people might know your whereabouts at all times. Don't worry, it's not like that. As Snapchat shared in a press release to Bustle, "Your Actionmoji is only visible if you have opted-in to share your location on Snap Map and is only visible to your friends on Snapchat. Location sharing on the Map is off by default." Letting people know your business of napping in your dorm or grabbing a slice at the cafeteria is always up to you! Additionally, if you haven't logged onto the platform in a few hours, you'll completely disappear from the map.
These maps are the ultimate way to inspire your squad to get together, to see what's up, and get inspired to cut your library snooze short to join the picnic on the main lawn. Snapchat is elevating the way you experience college, presenting students with a new way to adventure and figure out plans. For now the Actionmoji will roll out to only a few colleges on Oct. 5, with plans to expand to more campuses after its initial launch.
Here are the schools you can expect to see it at first:
Columbia University
Students of Morningside Heights, get ready to see what dorm the party is happening in, or rather, which library the study group is congregating.
Howard University
Heading to the capital this weekend? Students at the Washington D.C. school can now let their Snapchat friends list know where the debate is at.
University Of Southern California
Making plans and getting people together before the big football game just got a lot more interesting.
Loyola Marymount University
Tanning? Let a friend know! As if the students in sunny Los Angeles, CA weren't lucky enough already.
University Of Toronto
There are so many adventures to go on in a city like Toronto with a campus smack dab in the middle of all the sights.
Michigan State
It gets pretty cold in Michigan. Now, you can see where all your friends are warming up on campus!
UCLA
Premiere party or stuck in traffic? Check the map!
University Of Colorado, Boulder
I know you know how to have fun. Now is the time to show others!
Stanford University
What's going on in Silicon Valley?
Ohio State University
Ohio is for sleepovers and study groups and coffee runs between classes. Where can your friends find you the most?
University Of Texas, Austin
If you know where to find the best tacos and queso on or around campus, lead the way for your friends!
University Of Maryland
My parents, former Terps, met in the food hall. Open your Actionmoji to see whose grabbing lunch! They could be ~the one~.
Auburn University
See that your friend is heading to the gym? Tap on their Actionmoji to start and chat and see if they need a running buddy.
University Of Alabama
Looking for something to do around campus? Check out the map to see what's going on around Alabama!
University Of Kentucky
Meet up with your squad and coordinate hates before the Derby parties.
Northwestern University
Want to know who might be heading into Chicago for the weekend? Or maybe who has a Netflix marathon going strong? Find out on your Actionmoji map!
Arizona State University
There are so many adventures to go on around Arizona. What a cool place to go to school. Fill people in on your next one!
University of Illinois At Urbana — Champaign
Back from break and ready to meet up with friends at your favorite spot in town? Alert the squad that you're back!
Harvard University
Is bowing down to Rihanna an appropriate action?
University Of Missouri
If classes have you swamped and you really need to get some sleep, the nap Actionmoji is basically a do not disturb sign.
Texas A&M
At the game? Get your friends in the spirit!
Florida State University
After class beach volleyball? OK! Be there in a minute!
Oregon State University
In Oregon, you have the coast, the mountains, bustling cities, and the desert. There are so many things to do and places to see. Now, Actionmojis will tell you where your friends are!
University Of Michigan
There are so many sports to root for. Lead your best friends to the sign making arts and crafts extravaganza.
University Of Oregon
Catch your friends on the map heading out to the farmer's market!
University Of Tennessee
Actionmoji: strutting out of my dorm room and to the library to conquer this Biology 101 midterm.
Purdue University
See a group of your friends hanging out together on the map? Click their Actionmojis and start a group chat to figure out plans for the night.
University Of Oklahoma
Actionmoji: Dancing in the endzone.
UC Berkeley
Wildlife on campus can always be interesting. Let your friends know what the crazy campus squirrels are up to today.
Princeton University
Whether you're hitting the books or a show on campus, your Actionmoji will fill you in on what other events you can hit up after.
Happy adventuring!