The Quay x Desi Perkins Sahara Aviators Come In Three Colors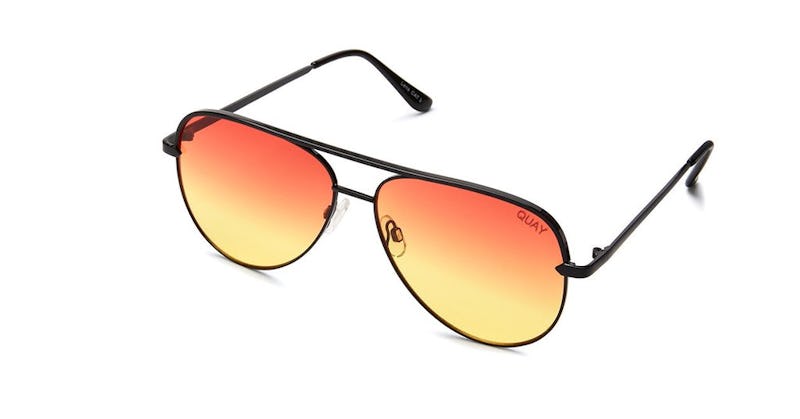 Courtesy of Quay
Accessories fiends are going to be stoked about this spot of good news. Quay and Desi Perkins are extending their partnership and releasing a fresh new sunglasses silhouette with black frames and which comes with three different, unique AF lens hues. Aussie sunglasses brand Quay, which is insanely affordable and always on trend, in addition to being loved and worn by celebs like Kylie Jenner, and the popular beauty vlogger teamed up previously for the insanely Internet-adored High Key aviators. Their newest collab is the Sahara sunglasses, the shape of which is equally fab.
What's the deal with the Saharas? I am so glad you have inquired.
The Sahara shades are oversized, statement aviators that are similar to the High Keys, so much so that Perkins herself called them a "close relative." The new sunnies drop on Monday, Apr. 3. What colors are the new Quay x Desi Sahara shades?
The festival-ready sunnies, which are $65 per pair, come with orange fade, yellow, and olive lenses. Perkins and the brand have been pumping the pair with orange lenses all over Instagram. The frames are thin, black, and wiry, and they are a totally fun take on a classic, never-goes-out-of-style shape.
The Saharas are pretty much the perfect aviator for the summer season.
The Quay x Desi Sahara shades drop on Monday, Apr. 3. You can grab them at the Quay site... before they sell out, which is highly likely.
These babies will keep the sun out of your eyes, will protect the delicate and sensitive skin around your peepers from the harsh rays of the sun, and will ensure that you are the most stylish girl at the festival, the beach, or walking down the street.
The Sahara is such a fun and festival-friendly take on the classic Aviator silhouette.
These lenses totally mimic a desert sunset, don't they? They are fest AF!