Wet N' Wild Is Joining The Cushion Game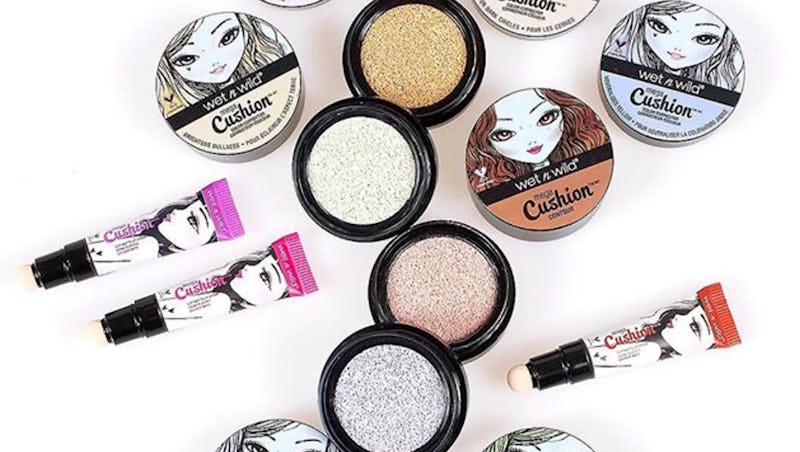 Cushions are getting a revamp this spring, with high-duty formulas giving a spin to the conventionally lighter-than-light category. Maybelline's Dream Cushion Luminous Liquid Foundation has the drugstore cushion foundation category nailed, and Wet N Wild's new Mega Cushions introduce a new-to-the-drugstore take on the trend.
The MegaCushion line comes in six colors, including a highlight, contour, and four color correctors. A rainbow of aesthetically pleasing little pillows, they're familiar hues to anyone who rode the color-correcting tidal wave this past year. At $5.99, the color correctors come in pistachio green, mango yellow, peach, and lavender, but the cushion delivery and super low price set these newcomers apart.
Beyond creating an even canvas via color-correcting, highlight and contour cushions keep up the fingerprint-style application game for sculpting out your features. The highlight is a cool-toned, silvery gleaming pink (pretty similar to Cover FX's Custom Enhancing Drops in Celestial) and the contour cushion is a warm-leaning sepia brown. The pigment is no joke on these guys — check out these swatches for evidence that cushion delivery doesn't have to mean watered-down color.
Cover FX Custom Enhancing Drops, $42, Sephora
The MegaCushions are in pursuit of that impossible goal, creating a contoured face without the heavyweight product look. The cushions have a dewy finish that keeps skin texture fresher than more traditional creams and powders, without any sacrifice in the sculpted look.
MegaCushion Color Corrector, $6, WetnWildBeauty
Fittingly mega-cute illustrations adorn the packaging, playing up the genre's Korean roots with the youthful-leaning look.
MegaCushion Highlight, $6, Walgreens
The MegaCushion line is currently available for the shopping online, joining the brand's MegaCushion Matte Lip Cream on their website. People have reported spotting the line in Walgreens, though, so keep your eyes peeled.
MegaCushion Matte Lip Cream, $5, Walgreens
Images: Courtesy of Brand