Here's The Fun Colors The New iPhone X Comes In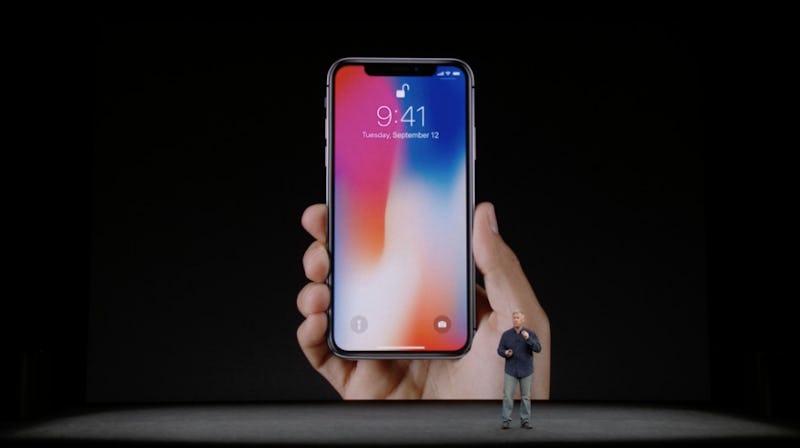 After the latest iPhones were announced on Tuesday, one of the big questions from Apple lovers focused — of course — on what colors the iPhone X would come in. While those interested in the top-tier smartphone's hues might already have had a hint about what the colors may be, considering the leaks and rumors surrounding the event, Apple finally gave confirmation on the options for its latest model.
The highly anticipated Apple product will be presented in two colors. And there's a small but significant note to bear in mind here: The iPhone X doesn't have a white faceplate option, only a black one. So, the new phone will be introduced in the market in silver and space gray, Apple confirmed, but the colors will still have black on the front, not white, like the silver iterations of earlier models have.
The reason for the black faceplate is pretty interesting. KGI Securities expert Ming-Chi Kuo told Business Insider, "This is in order to conceal the structured light transmitter and receiver, proximity sensor and ambient light sensor for better aesthetic design." In simpler words, the iPhone X will have a front-screen better equipped to provide improved three-dimensional sensors without impairing style and also offer richer images without carrying a jarring impact on the user's vision. That is because the screen, as Kuo noted, offers an OLED display.
Such a display is one of the phone's great features as technical experts note that OLED screens offer accurate images, refined colors, and more flexible design options. Not only that, but iPhone X boasts different bezels, which means the screen is longer and wider compared to its previous narrations, allowing users to view photos and videos in more dynamic renderings.
The iPhone X also offers a better front and rear camera experience, which could be a great thing for the pro-selfie and pro-Instagram millennial generation. The phone's rear camera is vertical, compared to its previous horizontal position; this could be great for photographers seeking to have a different and more enhanced experience with portrait and landscape shots. For those who love a good selfie, iPhone X's front camera is your best bet as the front screen carries 3D sensors that Kuo claimed will result in "better selfie user experience."
Apart from the visuals and the lovely colors, iPhone X's software offers a chance for users to experience augmented reality much closer and more personal than ever before. The front camera is able to manipulate data mined from photos and videos, which can be used later on to provide some pretty awesome adventures in augmented reality. Think of 3D emojis. Now that is exciting.
So, there you have it. Named in a bout of nostalgia by marking the tenth year anniversary of Apple launching its first iPhone in 2007, iPhone X is one of the most anticipated products of 2017. The phone will run on the operating system of iOS 11, which promises to offer users a better control center, a different option for screenshots, and a more efficient Siri. For those concerned about their virtual safety and online identity, iPhone X claims to provide more a robust facial identification protocol so that personal authentication into one's phone is not an issue.
People who want to grab the latest iPhone (in whichever sleek color they please) will have to wait patiently till early October as analysts speculate that that is the time when the smartphone will hit the bigger market. The phone is set to be priced at $999, but hey, it comes in space gray, so you might want to start saving.