The iPhone XS Will Come In Three Sleek Colors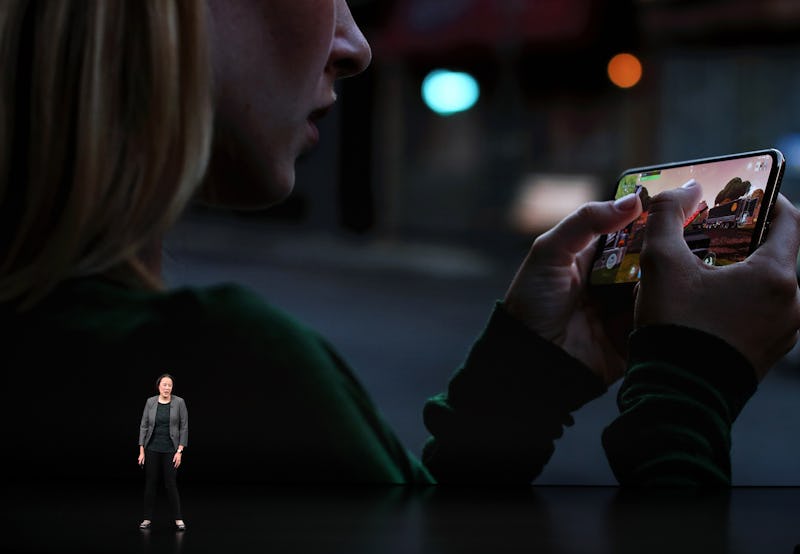 Justin Sullivan/Getty Images News/Getty Images
On Wednesday, during what tech fanatics easily deem the most exciting Apple event of the year — the September Apple keynote — Apple revealed its biggest iPhone release history. If you already thought the iPhone X was all that and a bag of chips, you're going to want to know everything about the iPhone XS and iPhone XS Max — like what colors do the iPhone XS and XS Max come in, and just how jealous should you be if you've recently upgraded your phone game?
The new iPhone X will come in two new models: XS and XS Max (there is also a third option, the iPhone XR, which will be a more affordable version of the phone, albeit with less capabilities). The XS model will have an 5.8-inch (458 ppi) full body screen, and the XS Max will have a 6.5-inch (458 ppi) full body screen, with OLED HDR display — aka, super retina display, aka, high definition with supremely vibrant colors and depth perception. So at first glance, the most obvious upgrades will be that the phones are larger and have intensely accurate and impressive screen capabilities.
As for what the actual phone will look like beyond its big shiny screen, both versions of the new X family phone will come in gold, silver and space grey. If you're wondering where the rose gold and pink phones have gone, you're not alone. It seems like Apple is taking their X series phones just a tad more seriously, keeping the colors handsome and business-like.
That said, considering the fact that you're going to want to protect your phone with a case anyway, it doesn't really matter what color the back is. Upon hearing this news, I actually had to take the case off my iPhone X to see what color it was because I literally never see it in the nude. So unless you're a clear phone case kind of person, the phone's backing won't be a big part of your experience with it. You'll be too busy being in awe of the screen that's better than your television and the sound that's better than your stereo.
Internally, both phones will have massively improved photography capabilities, an updated processor that will launch apps and content up to 30 percent faster than phones with chips manufactured in 2017. Oh, that's not all. Both models will also have increased water resistance, extra battery life (the XS Max will have an hour and a half more battery life than the iPhone X and the XS will have 30 minutes more battery life than the iPhone X). So to answer my own thesis: yes, you should be jealous if you just recently upgraded your phone. The new X series phones are bigger and better than ever. But let's be honest, we kind of knew this would happen, didn't we? Every time we upgrade our phones we know there's an very high chance that a new phone will come out that will somehow trump the goods of the phone we just got. It's just a game of seesaw forever — one year you have the newest and nicest iPhone, the next year someone else does, and so on and so forth.