Netflix's New Mystery 'Brain On Fire' Puts A Spotlight On A Rare, Terrifying Disease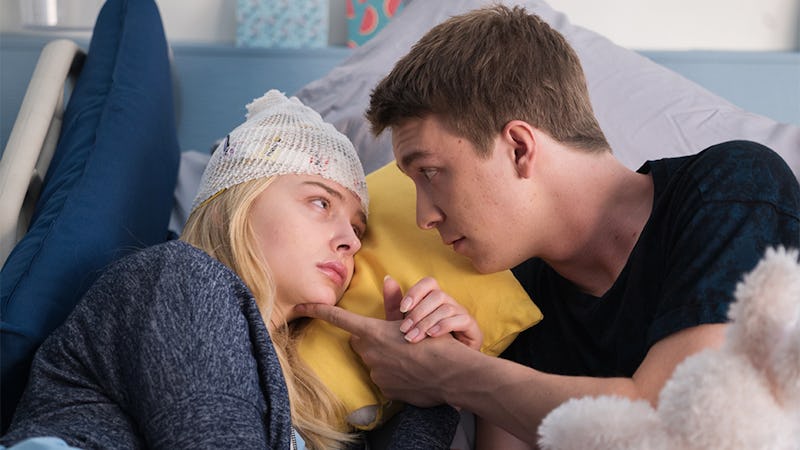 Netflix
Coming to Netflix on Friday is Brain on Fire, a film about a 24-year-old who, armed with a new job and relationship, begins to exhibit odd behavior. Bouts of paranoia, seizures and memory loss plague Susannah Cahalan (Chloe Grace Moretz), while doctors struggle to diagnose her. As nightmarish as this scenario sounds, it's actually based on a true story and subsequent 2013 novel by the real-life Susannah. What condition she had in Brain on Fire isn't discovered until the end of the story, and the path to identifying her medical mystery was one fraught with anxiety and uncertainty.
"Something happened to me that was out of my control, that was something other than me, that took over my life, and robbed me of a good portion of my 24- and 25-year-old self," Cahalan said in a 2013 interview with The Guardian. After a month in the hospital, on a cycle of various tests that brought more questions than answers, she was diagnosed by Dr. Souhel Najjar with anti-NMDA receptor encephalitis. An autoimmune disease that wages war on one's immune system and the NMDA receptors within the body, encephalitis can affect each person who's diagnosed differently, as Cahalan explained in an interview with Oprah.com.
"NMDA receptors are concentrated in the areas that control learning and memory, higher functions like multitasking, and some of the more subtle aspects of personality. When the immune system makes antibodies that attack these receptors, people may have seizures and violent fits. They might act psychotic and paranoid, like I did, or become hypersexual and lewd. How you respond depends on the area of the brain that's most affected and the number of receptors damaged. "
The disease and its origins has also been tied to "demonic possession" throughout history. Cahalan herself could identify a connection between her early symptoms and an otherworldly invasion, writing in her book that about her first seizure, "My arms suddenly whipped straight out in front of me, like a mummy, as my eyes rolled back and my body stiffened. I was gasping for air... Blood and foam began to spurt out of my mouth through clenched teeth."
Anti-NMDA receptor encephalitis is rare, and Cahalan revealed to Oprah.com that she was only the 217th person in the world to receive treatment for it. In fact, the disease didn't get its name until two years after Cahalan was diagnosed. For her, treatment and a diagnosis came after doctors had performed several inconclusive tests and told her that her condition was the result of alcohol withdrawal or that she might be schizophrenic.
However, Najjar administered a "Draw a Clock" test, a practice usually reserved for those with Alzheimers or dementia, as Cahalan explained to the Psychiatric Times. She was asked to draw a clock on a piece of paper, except that when she did so, she crammed all of the numbers onto the right side of the circle. According to Cahalan, this confirmed for Najjar that her ailment was not psychiatric, but neurological. She was soon on a path to recovery that involved several immune therapies, steroids and months of adjustment.
After her 2009 diagnosis, Cahalan penned The New York Times best-selling book, Brain on Fire: My Month of Madness. Now adapted into a Netflix movie, Cahalan has, against all medical odds, managed to not only pick up the pieces of her illness but also retain the life developments that occurred just prior to her descent into disease. And today, still a writer at The New York Post, Cahalan is married to her then-boyfriend at the time of the diagnosis, Stephen Grywalksi. She also continues to speak out about her condition at college campuses across the country, shedding light on a complex and fairly young disease.