Trump's Frederick Douglass Remark Missed The Mark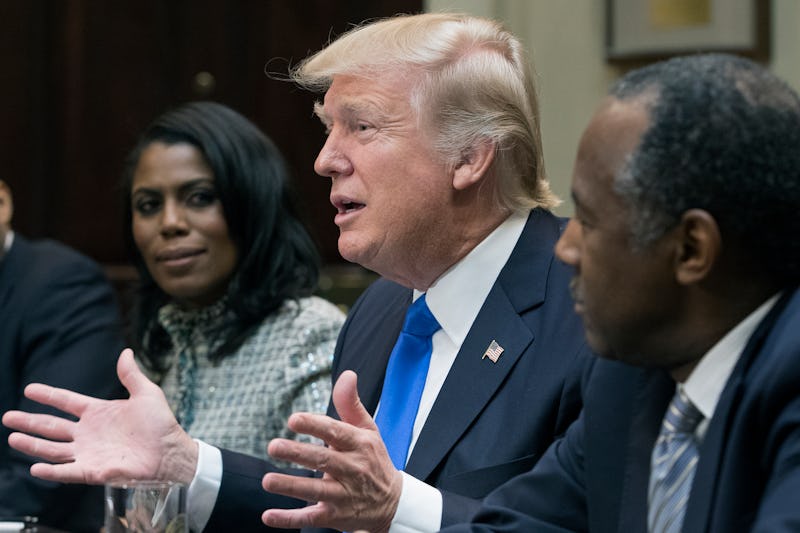 Pool/Getty Images News/Getty Images
It's customary for the U.S. president to acknowledge Black History Month in a speech, but it's never been done in quite this way before. Along with mentions of "fake news," President Donald Trump had plenty of vague things to say on the topic of black history. But what did Trump say about Frederick Douglass that rubbed many people the wrong way? His statement, overall, was disappointing for more reasons than one.
It wouldn't seem like there's anything wrong with recognizing Douglass as "an example of somebody who has done an amazing job and is being recognized more and more, I notice," as Trump did during a Feb. 1 event. However, Trump's statement made it seem as though he thought that Douglass, an influential abolitionist leader, could still be alive. Newsflash: Douglass died in 1895. On top of that, Trump failed to elaborate on Douglass' contributions to America.
Trump also name-dropped "Harriet Tubman, Rosa Parks and millions more black Americans who made America what it is today." But rather than describing the actual accomplishments of any of the few black Americans he recognized by name, Trump chose to say that they had made "a big impact."
He barely said anything remotely descriptive about any of the accomplishments of America's black community. His sympathizers might try to argue that he was pressed for time. However, he spent several minutes talking about himself and "fake news" while he could have been further honoring Black History Month.
In the beginning, when Trump mentioned Dr. Martin Luther King Jr. after praising his HUD pick Ben Carson, it seemed like he might actually stay on topic. Except of course, in typical Trump fashion, the president started complaining about news outlets. Someone had reported that Trump had had King's statue removed from his office, which was not true, Trump said. (Unmentioned by Trump: the reporter in question, Zeke Miller from TIME, had retracted the story and apologized to Press Secretary Sean Spicer.)
After briefly mentioning Douglass, Parks, and Tubman, Trump continued bashing the press, including a "very hostile CNN community." But of course, not all of Trump's comments about the press were negative. He actually thanked Fox for treating him "very nice." But this is besides the point; it's Black History Month, and instead of honoring the under-recognized black people who have made history, Trump quickly mentioned a couple (without actually saying anything specific about their accomplishments), complained about the press, and praised Carson and his other black surrogates.
Equipped with #TrumpBlackHistory tag on Twitter, people have been skewering Trump for how he described Douglass and ultimately failed to give Black History Month the attention it deserves.
I know former President Barack Obama is still on vacation, but can we at least bring him back for Black History Month? Maybe he can show Trump how to properly recognize black Americans and their achievements.