Kylie Jenner's Baby Name Is Currently A Mystery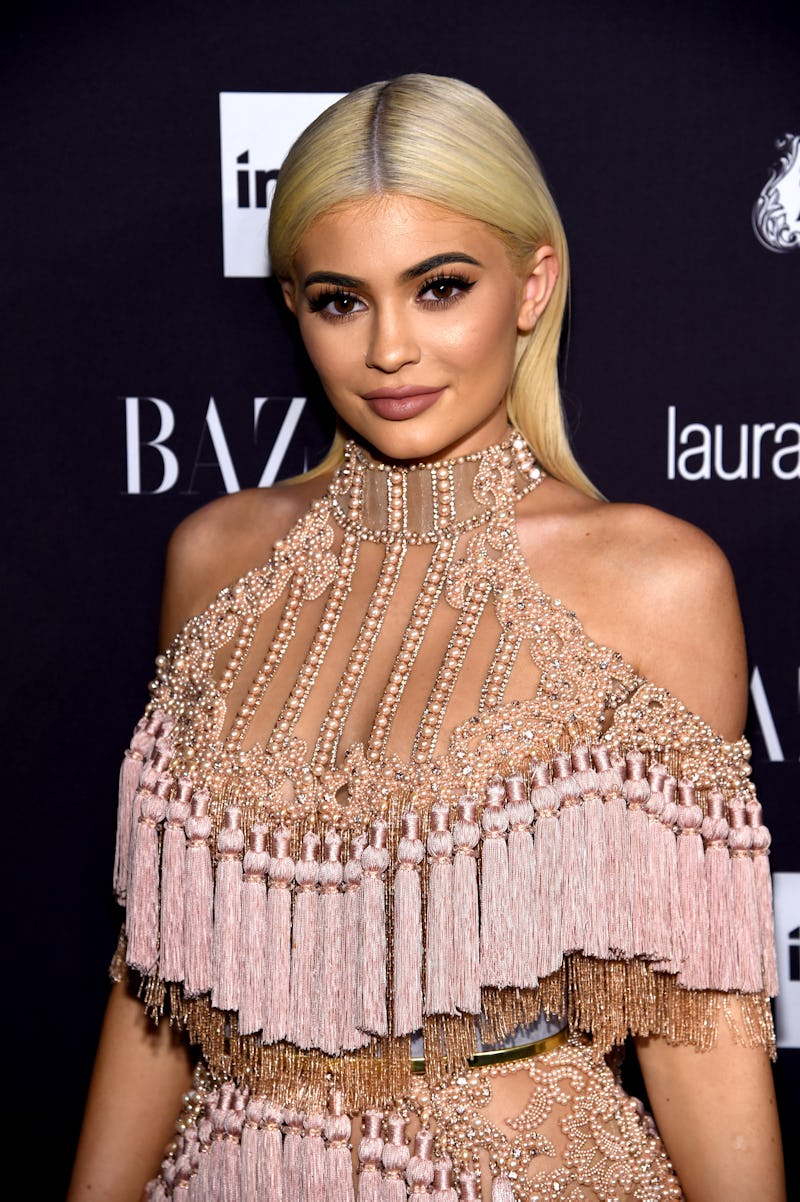 Jamie McCarthy/Getty Images Entertainment/Getty Images
It's not the typical Kardashian-Jenner reveal, but Kylie Jenner announced her daughter's birth in a statement posted to Instagram on Sunday. The star also posted a video documenting the last nine-months, but what Kylie Jenner named her baby has yet to be announced. Even though the pregnancy was finally confirmed for fans, the star will likely continue to fly under the radar. For this reason, fans might have to wait to find out the baby name. In the announcement, Kylie explained why she chose to maintain her privacy during this delicate time. "I understand you're used to me bringing you along on all my journeys. my pregnancy was one I chose not to do in front of the world," she wrote. "I knew for myself I needed to prepare for this role of a lifetime in the most positive, stress free, and healthy way I knew how."
UPDATE: On Tuesday, Kylie announced her baby name is Stormi in an Instagram post with an angel emoji.
EARLIER: It's clear that Kylie needed this privacy to stay centered, and she may continue to evade the public eye during the first months of motherhood. This could be why she's chosen not to reveal her daughter's name just yet. On Thursday, People reported that Kylie had chosen a name but wasn't planning to release baby pictures or make a major return to the spotlight anytime soon. "She very much enjoys being out of the spotlight and can't wait to spend quiet time with the baby," an unnamed source told the magazine. "She doesn't seem in any rush to get back to a more public life." It's not yet clear what this will mean as far as the star's participation in Keeping Up With The Kardashians or her spin-off series, Life With Kylie. For now, it seems like she's keeping this period of her life more private, and this includes the baby's name.
Kylie did offer fans a small look into the last nine months, posting a 10-minute long video titled "To Our Daughter" on YouTube. The documentary-style video featured Kylie's friends and family discussing how excited they were for her, and also showed footage of the mom-to-be. It featured a few moments from significant Kardashian-Jenner events where the star was notably missing, such as the family holiday party. In most of the scenes, Kylie appears with the baby's father, Travis Scott. The two are both clearly excited to be parents, and seem to have spent plenty of time together over the past few months.
The final scene of the video is sound from the delivery room, and then it reveals the baby's birthday, height, and weight. Instead of a baby-name announcement, the video simply reads: "To Our Daughter, February 1, 2018, 8lbs 9oz, 4:43 pm". Kylie can be seen for a small moment post-delivery holding the baby, but she hasn't yet shared any pics.
Rumors that the reality-star might be pregnant began back in September, but remained unconfirmed. While fans hunted for proof that Kylie was expecting, she managed to stay out of the public-eye. In the past, Kylie has been candid on social media over the years, and the makeup mogul often shared much of her personal and professional life online. It's not yet clear if and when she'll return to social media or the reality-television screen. "Being out of the spotlight has helped Kylie prepare for the baby, but she is also thinking about her life after giving birth," another anonymous source told People. "She will take things as they come, but she's excited to get back out there and have fun again."
It's been a big year in Kardashian-Jenner baby news. Kim Kardashian recently revealed the name of her newborn baby, Chicago West. Khloe K is also expecting with her boyfriend Tristan Thompson, and is due in April. While Kylie's sisters have been more open, the whole fam is respecting her decision to stay away from the spotlight. For fans, this could mean a bit of a wait to find out the baby's name.