Trump Wishes He Had Left UCLA Players In Jail Because They Weren't Grateful Enough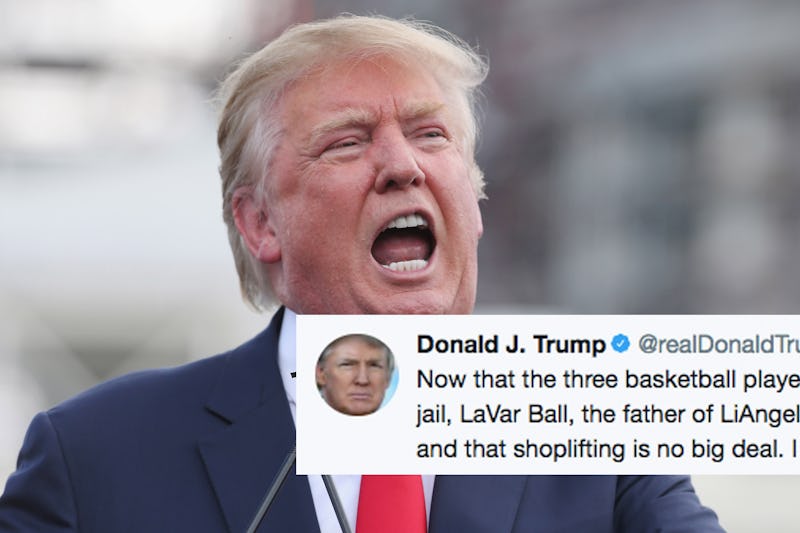 Chip Somodevilla/Getty Images
In a rare foreign policy victory for President Trump, three American college basketball players were released from a Chinese prison and sent back home after Trump reportedly spoke with Chinese President Xi Jinping during his 12-day tour of Asia last week. Yet on Sunday, Trump publicly stated that he regrets his interference in the situation. In an angry tweet directed at one of the player's fathers, Trump said he should have left the UCLA basketball players in jail.
"Now that the three basketball players are out of China and saved from years in jail, LaVar Ball, the father of LiAngelo, is unaccepting of what I did for his son and that shoplifting is no big deal," Trump's tweet reads. "I should have left them in jail!"
Trump's tweet is a direct response to Ball's skepticism about how much influence Trump really had on the Chinese government. In an interview with ESPN on Friday, Ball, the father of UCLA freshman LiAngelo Ball, said that he had no gratitude for Trump.
"Who?" Ball said when asked about Trump's involvement in the matter. "What was he over there for? Don't tell me nothing. Everybody wants to make it seem like he helped me out."
This is just the latest development in the ongoing saga between Trump and the players. On Wednesday, Trump publicly solicited praise from the players for his actions. He mused on Twitter, "Do you think the three UCLA Basketball Players will say thank you President Trump? They were headed for 10 years in jail!"
After the three freshmen thanked him just hours later, Trump told them via tweet, "You're welcome," and "HAVE A GREAT LIFE!"
The players, LiAngelo Ball, Cody Riley and Jalen Hill, were arrested and questioned on suspicion of shoplifting in Hangzhou, China on Nov. 7. They were accused of stealing from a number of high-end stores, including sunglasses from a Louis Vuitton near the hotel they were staying at as they prepared for their team's season-opening game in Shanghai against Georgia Tech.
The players returned to the United States on Tuesday after spending a week under house arrest, and have since been suspended indefinitely from UCLA.
Over the past few weeks, President Trump has repeatedly feuded with high-profile athletes, increasingly politicizing sporting events and athletic associations. In October, after a number of National Football League players began taking a knee during the pre-game singing of the national anthem following San Francisco 49ers' quarterback Colin Kaepernick's silent protest against police brutality, Trump criticized the "sons of bitches" for "disrespecting" the flag, and urged fans to boycott the league if the NFL didn't change its leadership or policies.
Trump also had a very public spat with NBA star Steph Curry after Curry publicly declined a routine celebratory offer to visit the White House after his team, the Golden State Warriors, won the 2017 NBA Championship. Trump snapped back at Curry on Twitter, stating, "Going to the White House is considered a great honor for a championship team.Stephen Curry is hesitating, therefore invitation is withdrawn!"
A number of NBA players weighed in on the controversy, including Cleveland Cavaliers point guard LeBron James.
"U bum @StephenCurry30 already said he ain't going! So therefore ain't no invite," James tweeted in response to Trump. "Going to White House was a great honor until you showed up!
Even after all of these recent public controversies, President Trump's latest sporting feud seems to have really struck a nerve with citizens, particularly because Trump seems to have admitted that he would deny diplomatic aid to American citizens abroad if they criticize him or refuse to show him gratitude.
Ball has not yet responded to Trump's latest remarks.