Remember When Mike Pence Used The Bible To Argue Against Funding Katrina Relief?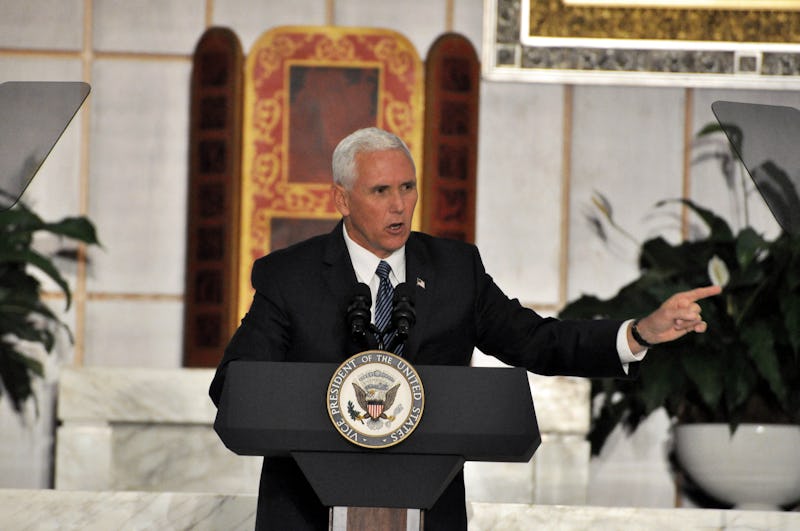 JOSE CARUCI/AFP/Getty Images
On Thursday, Vice President Mike Pence is heading to Texas to meet with victims of Hurricane Harvey to improve the administration's image in the wake of the natural disaster. President Trump had been criticized for not meeting with any victims and claiming to see the destruction "first hand [sic]," when he hadn't. But the vice president may not be the person to send as a surrogate for a hurricane, given that Pence used the Bible to argue against Katrina relief back in 2005.
His comments were pointed out by Adam Best on Twitter Wednesday. The comments hinged on a quote from the Bible. "When I consider its tragic aftermath, the ancient parable comes to mind: 'And the rains descended and the flood came and the winds blew and beat against the house and it fell with a great crash,'" Pence said in the House chamber, quoting Matthew 7:25. Pence served as a representative in D.C. for 12 years before becoming governor.
Then Pence moved from the Bible quotes to far-right ideology that put the national debt above recovering from the hurricane:
For most American families, when a tree falls on your house, you tend to the wounded, you rebuild, and then you figure out how you're going to pay for it. Later today, Congress will continue the work of funding the relief and recovery from Hurricane Katrina. And, well, we should, by spending more than $50 billion to FEMA and other agencies.
But as we tend to the wounded, as we begin to rebuild, let us also do what every other American family would do in like circumstances and expects this congress to do. Let's figure out how we're going to pay for it. Congress must ensure that a catastrophe of nature does not become a catastrophe of debt for our children and grandchildren.
Of course, Katrina was the most expensive natural disaster the United States had ever seen at that time (now it's likely to be Harvey). The average American family can recover from a tree falling, but a $108 billion bill from a hurricane compounded with government failures is not at all on the same level.
Now that Harvey is expected to cost some $190 billion, Pence has the opportunity to change course, by working to protect the most vulnerable from the flooding, those with the least. Based on his radio appearances, that seems likely. Pence has spoken on a number of shows about what is being done to help for Harvey, but they've all been hosted by right-wing pundits.
He may still change course and support federal help after this natural disaster — even Trump seems to be open to the costs. But until a bill passes, Pence's past remarks should make anybody suffering in Houston wary.