Here's Every Single Order That Obama Passed, But Trump Overturned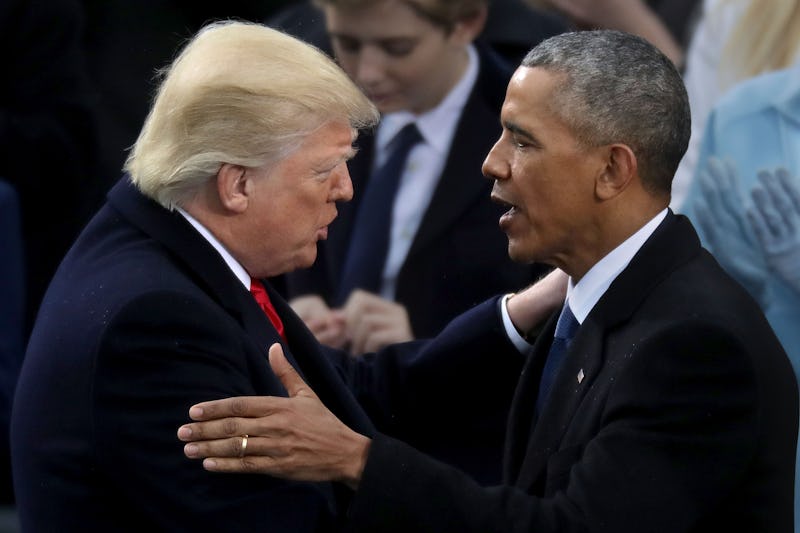 Chip Somodevilla/Getty Images News/Getty Images
One year ago, Donald Trump prevailed in the 2016 presidential election ― at least, in the electoral college, which is the only part that matters ― and ensured that the former Apprentice host would take over from former president Barack Obama. Despite having offered some complimentary words about his predecessor during the transition, Trump has frequently attacked Obama since becoming president, and has worked to undo his legacy on a number of fronts. Here's what Obama achieved and Trump has overturned through his first year in office.
Several high-profile failures mean this list is not nearly as bad for Democrats as it could have been. The familiar theme here is legislation versus executive action: Trump has had a pretty abysmal record so far when it comes to passing legislation ― especially major, marquee legislation like the GOP's attempted repeal of the Affordable Care Act ― despite having Republican majorities in both the House and Senate.
Because many of Obama's achievements came by way of executive orders or cabinet-level directives, Trump has been able to easily reverse those with the stroke of a pen, and there's a whole lot of things he's reversed, reviewed, or changed.
Trans-Pacific Partnership
The Trans-Pacific Partnership was a controversial topic during the 2016 presidential campaign, owing to the fact that Obama had supported it strongly. It was opposed strongly by Vermont senator and presidential candidate Bernie Sanders during the Democratic primaries, however, which ultimately led eventual nominee Hillary Clinton to oppose it, and try to distance herself from past supportive statements.
Trump lambasted the deal regularly, and upon entering office signed an executive order abandoning it.
Transgender Service In The U.S. Military
In August, following an abrupt and inflammatory tweet announcing the change, Trump officially issued a directive ordering the U.S. military to disallow transgender soldiers from serving.
The move reversed the Obama administration's 2016 announcement that transgender soldiers were free to serve openly. The change has not yet taken full effect, however, as it's being fought over in the courts.
American Policy Towards Cuba
The Trump administration has undone some of the progress the Obama administration made in warming relations between the U.S. and Cuba.
In June, in a speech in Miami, Florida's Little Havana, Trump announced and signed a directive re-imposing some restrictions on commerce and travel with Cuba.
The Paris Climate Accords
Perhaps one of the biggest and most controversial reversals since the Obama era, Trump ― who has a long personal history of outright climate change denial ― has announced his intention to pull the U.S. out of the landmark international climate agreement.
A withdrawal would once have made the U.S. one of only two countries in the world not signed onto the deal, alongside Syria. However, Syria agreed to join this month, meaning the U.S. would be going it alone.
Protections For Transgender Students
Just one month after his inauguration, Trump reversed Obama-era federal protections for transgender students, yet another anti-trans culture war gesture from the administration to the Republican far-right base.
The change undid federal protections permitting transgender students to use school bathrooms that correspond correctly with their gender identity.
Ending Health Care Subsidies Crucial To Low-Income Americans
In October, Trump announced his intention to end cost-sharing reduction subsidies that are vital to the long-term health and survival of the Affordable Care Act, also know as Obamacare.
Halting the payments would destabilize the individual insurance markets, and is one way Trump's critics claim he's attempting to sabotage his predecessor's landmark legislative achievement at cost to millions of Americans.
The Employer Birth Control Mandate
The Trump administration has critically undermined the Obama-era mandate that free birth control be provided through employer-based health insurance, a program that's used and relied upon by millions of women.
The new rules enable employers to refuse to cover birth control citing religious or moral objections.
Sexual Assault On College Campuses
Trump administration secretary of education Betsy DeVos has reversed Obama-era federal guidelines on sexual assault on college campuses, giving universities more latitude to choose how they arbitrate and investigate allegations, and shifting the burden of proof back towards a more favorable definition for alleged abusers.
Advertising For Obamacare Enrollment
In late August, it was reported that the Trump administration was positively gutting the advertising budget for the Affordable Care Act's open enrollment period, cutting it by 90 percent.
This is a move which could have a deleterious effect on enrollment rates. Like the stripping of subsidies, this is one way Trump critics have accused the president of deliberately undermining the health care system.
The Deferred Action For Childhood Arrivals (DACA) Program
Trump announced in September that he wanted to end DACA, an Obama program that granted undocumented immigrants brought into the U.S. as children some basic protections from the threat of deportation.
He set a March 2018 deadline for Congress to act to save the program ― it was first launched under executive authority, and is not backed by law ― and said that if it doesn't, the government will begin phasing out the program.
Gender Pay Reporting By Companies
One requirement the Obama administration imposed on American companies employing more than 100 workers was reporting wage statistics by gender and race, so the federal government could better assess the extent of the gender pay gap.
The Trump administration undid this requirement in August, with White House adviser and ostensible equal pay supporter Ivanka Trump speaking in support of the move.
Reversing Environmental Regulations
There's a long list of actions taken by the Trump administration's Environmental Protection Agency that environmentalists are none too happy about.
Under the leadership of agency chief Scott Pruitt, a climate change denier who'd sued the EPA multiple times before being nominated to run it, the EPA has cancelled methane emissions reporting requirements, stripped regulations on greenhouse gases, and revoked a ban on an insecticide scientifically linked to fetal brain and nervous system disabilities.
Re-Militarizing Local Police Departments
Under Obama, local police departments were cut off from acquiring military-grade equipment, a response to scenes of hyper-militarized police responses to protests in places like Ferguson, Missouri. The Trump administration reversed this policy, once again enabling police departments to stock themselves with weapons and equipment of war.
Plastic Bottle Ban In National Parks
The Trump administration also reversed a ban on plastic water bottles in national parks, an Obama policy that had been a wild success from the perspective of cutting plastic waste. According to The Guardian, the ban had saved more than two million such bottles, but that didn't stop the Trump administration from rescinding it.
The Refugee Resettlement Program
While some refugees are still being admitted into the country, the situation is now far more fraught and controversial than ever thanks to the Trump administration's ban on immigrants and refugees from eight countries, most of them predominantly Muslim.
Originally, the ban applied to seven countries, all of them majority Muslim, which led to a string of court rulings against it. During the 2016 presidential campaign, Trump called for a ban on all Muslims entering the U.S. "until we figure out what the hell is going on," a proposal which served as the basis for these later, more diplomatically phrased bans.
Temporary Legal Residence For Central American Children
In 2014, in response to a rush of Central American children fleeing brutal gang and drug-related violence in countries like El Salvador and Guatemala, the Obama administration launched a program to provide such kids with refugee status. The Trump administration reportedly plans to phase out the program in 2018, however, leaving thousands of vulnerable children in its wake.
The Dakota Access Pipeline
Although the Obama administration delayed and dragged its feet on the Keystone XL pipeline for years, amid tireless protest from indigenous and Native tribes whose land the Dakota Access stretch of the project was slated to run through, it ultimately denied the required permit in December 2016.
However, the Trump administration promptly revived the project mere days after the inauguration, and on Thursday, Nov. 16, a massive leak spewed more than 200,000 gallons of oil into South Dakota, validating the warnings activists have been making for years.
Aggressive Guidelines For Federal Prosecutors
One of the most significant and distressing changes to federal policy under Trump for criminal justice reform advocates comes in the form of Attorney General Jeff Sessions.
A longtime opponent of criminal justice reform, Sessions in May instructed federal prosecutors to pursue the most strident, severe penalties possible in criminal prosecutions, a marked departure from the approach his predecessor, former attorney general Eric Holder, had embraced under Obama.
Religious Freedom
The Obama administration was regularly locked in contentious battles and court challenges against proponents of so-called "religious freedom" initiatives, especially regarding the application of the Affordable Care Act, and over social issues like same-sex marriage and transgender rights. But Trump made it very clear which side of this debate he stands on in May, signing an executive order championing the rights of religious individuals, companies, and institutions.
The move was met with concern and condemnation by many LGBTQ rights groups, fearful it will embolden discrimination by conservative and faith-oriented institutions.
Expanding Oil Drilling In The Atlantic & Arctic Oceans
In April, Trump announced his plan to reverse Obama's ban on oil drilling in parts of the Atlantic and Arctic oceans, a move the oil industry was no doubt appreciative of. Obama had blocked drilling in those areas shortly following the outcome of the 2016 election, in a move viewed as an effort to curtail Trump's ability to expand offshore drilling.
But despite Trump's order, it could reportedly take years for such operations to really begin in earnest.
State Control Over Federal Funding For Clinics That Perform Abortions
In April, Trump signed a bill into law changing the power states have over disbursing federal funds to health clinics, enabling them to refuse to provide funds to clinics that perform abortions. This abolished a rule implemented under Obama, and could reportedly cost abortion providers like Planned Parenthood millions of dollars per year.
The Justice Department's Forensic Science Commission
In April, Sessions announced that the Justice Department was ending its collaboration with the National Commission on Forensic Science. The commission was a group of independent scientists who consulted with the department, to review controversial law enforcement tactics that have been called into question by the advancement of scientific knowledge. The commission was first established by the Obama administration in 2013.
Food Safety Rules
According to The Washington Post, a set of new rules aimed at enhancing consumer food safety protections for ready-to-eat meals was scrapped by the Trump administration in July, part of a slew of regulation-slashing the administration embarked upon. Trump himself has long voiced controversial views on food safety standards, once insisting that fast food is preferable because of the food safety standards they must meet.
Police Department Reform Reviews
In April, Sessions ordered the Justice Department to review all the reform agreements in effect with police departments throughout the nation, one of the foremost ways the Obama DOJ sought to improve policing and reduce civil rights violations in troubled departments. The reason, according to Sessions, was to ensure that the reforms did not hinder the Trump administrations desire for more aggressive criminal enforcement.
Criminal justice reform advocates have been harshly critical of the move, arguing it undermines essential reforms against racism and brutality in policing.
Tracking Of Workplace Injuries & Deaths
Trump has particularly run roughshod over Obama's rules regarding workplace safety, and the ability of the federal government to gather data on the matter. In April, Trump signed a bill gutting the Occupational Safety and Health Administration's ability to issue citations against companies that neglect or choose not to keep track of workplace-related injuries and deaths.
Gun Background Check Database For Certain Mental Health Sufferers
One of the more high-profile Trump policy changes from the Obama era came in February, when he signed a bill making it easier for a select group of Americans with severe mental health afflictions to purchase and own guns.
This gained a lot of scrutiny, owing to the fact that Trump and various elected Republicans have cited mental health as the real culprit in mass shootings rather than lack of gun safety regulations. As TIME detailed, the rule would have added about 75,000 people, with severe enough mental illnesses that they couldn't manage their own affairs, to the background check database.
Federal Use Of Private Prisons
The Obama administration had sought to lessen the extent of the federal government's use of private prisons, instructing the Bureau of Prisons in late 2016 not to accept any new contracts with such institutions. The Trump administration has totally reversed this effort, however, instructing the bureau to return to its previous procedures in cutting deals with private prisons.
Wall Street Regulations
The Trump administration has shown an apparent eagerness to cater to the desires of major financial institutions, as evidenced by its efforts to undermine and reverse the regulations set forth by the 2010 Dodd-Frank reform bill.
In fact, in April, Trump signed orders empowering Treasury Secretary Steve Mnuchin to review a raft of currently existing financial regulations.
"Mexico City" Abortion Policy
This one isn't unique to the Trump administration or the Obama administration ― federal policy historically tends to change whenever a new party takes over the executive branch. The so-called "Mexico City" rule bans federal funding to non-governmental organizations that counsel, advise, or encourage countries or individuals to expand access to abortion; Trump reinstated it upon taking office, after it was suspended for eight years under Obama.