The Name Serena Williams Will Give Her Daughter Will No Doubt Be As Iconic As Her Mother's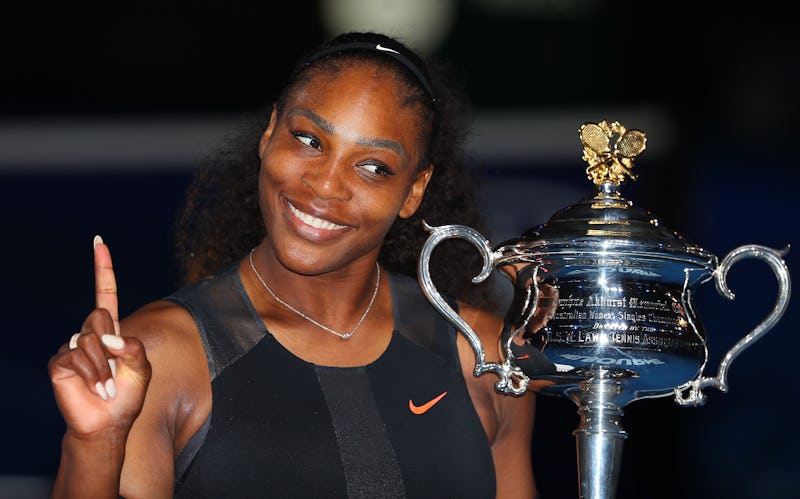 Scott Barbour/Getty Images Sport/Getty Images
On Friday afternoon, tennis pro Serena Williams reportedly gave birth to her first child, which, according to E! News, is a baby girl. What did Serena Williams name her baby? There's still no word at the time of reporting as to what Williams and her fiancé, Alexis Ohanian, have named their daughter. However, there's no doubt that whatever they chose, it will most certainly be as iconic as her mother's name. E! News additionally reported through an external source that Williams gave "'birth to a baby girl weighing 6 pounds, 13 ounces. Mom and baby doing well.'" (Bustle reached out to Williams' rep, but did not receive an immediate response.) UPDATE: In a video posted to her Instagram story on Sept. 13, Williams revealed that her daughter's name is Alexis Olympia Ohanian Jr. She is named after her father; although his middle name is Kerry.
EARLIER: The tennis champ reportedly went into labor early on Friday, Sept. 1. According to E!, Williams' sister, Venus, told reporters, "Obviously I'm super excited. Words can't describe," when asked how she was feeling about her sister going into labor.
As they become first-time parents, it will be exciting to see what name the couple chose for their daughter, especially since great names run in the family. With one aunt named Venus, a mother named Serena, and one grandmother named Oracene, Williams' daughter will most certainly have an equally iconic name that we'll all become fond of in the coming years.
This is no doubt an incredibly happy time for Williams and Ohanian, who have both said that they were excited for their child's arrival, even if it was a total emotional roller coaster and life adjustment. The athlete even said at one point during a June Vanity Fair interview that if you had told her she would be pregnant just a year ago, she "would have thought you were the biggest liar in the world."
It's wild to think how much can change in just one year, isn't it? Or even just a few days for that matter, as is the case here. On Aug. 27, Williams jokingly tweeted that she fell asleep for the much-hyped Conor McGregor-Floyd Mayweather fight, but it felt like her child had stayed up to watch because it was kicking something fierce.
All in all, a hearty congratulations are in order for Williams and Ohanian on this happy occasion. This is truly wonderful news.