Spike Lee Was Not About To Be Played Off The Stage After Winning His First Oscar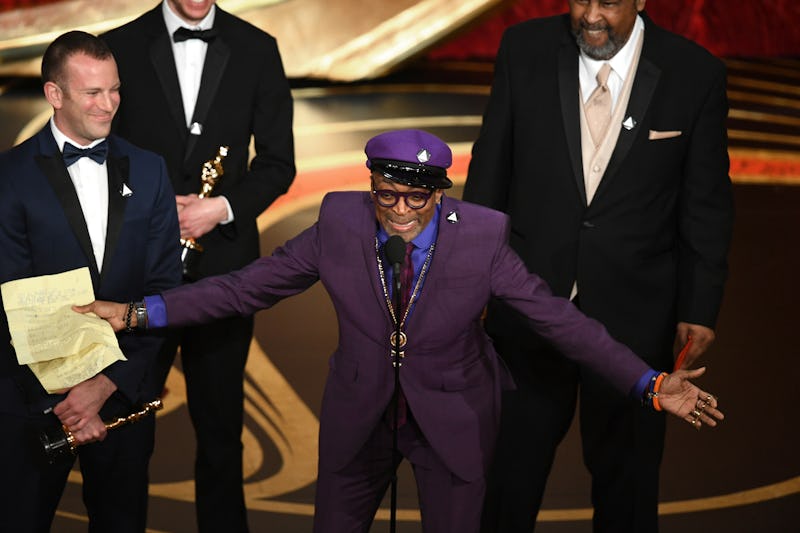 Kevin Winter/Getty Images Entertainment/Getty Images
Spike Lee won his very first Oscar for co-writing the adapted screenplay for BlacKkKlansman, and he also earned his first Oscar-acceptance speech bleep. But what did Spike Lee say at the 2019 Oscars? Well, it turns out, what the writer-director was saying that got bleeped out wasn't nearly as impactful as the rest of his speech. According to Twitter user @xeni, Lee kicked off his speech by saying, "You better not start that motherf*cking clock!" Reporter Kyle Buchanan tweeted something similar, writing that Lee said, "Do not turn that motherf*cking clock on!"
Lee may have shared the award for Best Adapted Screenplay with co-writers Charlie Wachtel, David Rabinowitz, and Kevin Willmott, but it's not hard to see why he got control of the microphone. After all, fans of the legendary director have been waiting for his Oscar acceptance speech since 1990, when he was nominated for Best Screenplay for Do the Right Thing. And now, almost 30 years later, when Lee finally took the stage to accept an Academy Award, he wasn't about to let the orchestra play him off with some vaguely sympathetic music. No, he wanted to make his entire speech, and he wanted to be free of a countdown clock while doing it.
Lucky for Lee, and for us all, he did not fall victim to the dreaded musical send off. Instead, he was given time to bask in his well-deserved standing ovation before delving into his speech. His very first personal shoutout was to his grandmother, who he said "lived to be 100 years young" and was "a Spelman college graduate even though her mother was a slave." He went on to honor her, saying that she saved social security checks to put him through undergraduate and graduate studies — "she called me Spikey-poo," Lee said. The director called on everyone to connect with their ancestors, adding, "we will have love, we will regain our humanity, it will be a powerful moment."
Lee then used the remainder of his speech to make an important political statement. "The 2020 presidential election is around the corner," he said to applause. "Let's all mobilize, let's all be on the right side of history. Make the moral choice between love versus hate." Lee ended his speech with a reference to his beloved 1989 film, calling out, "Let's do the right thing! You know I had to get that in there!" to thunderous applause.
Of course, Lee getting bleeped wasn't the only memorable moment of his speech. Seeing the way he jumped up into presenter Samuel L. Jackson's arms was quite endearing. The moment immediately became a subject of Twitter love.
And, of course, fans at home loved his shoutout to Do The Right Thing. Not only did he name drop the movie in his speech, but he also repped the film with his outfit on the big night. The director wore the famous "Love" and "Hate" knuckle rings from the film to the Oscars, proving that the movie that launched his career is never far from his heart. And now, it's part of his Oscar win, even though it wasn't the movie he won for.