Twitter Has Like 31,290,120 Theories About Why Trump Fired Bannon & These Are The Best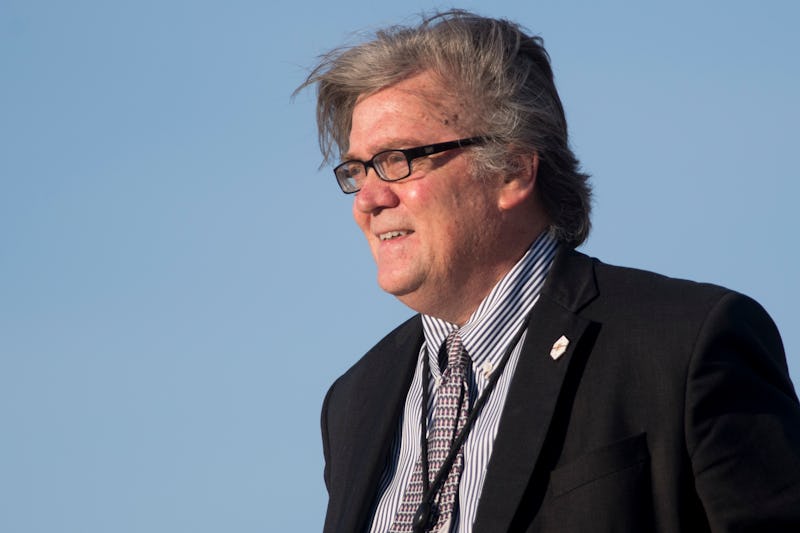 JIM WATSON/AFP/Getty Images
A Trump loyalist since the outset of the president's campaign, Steve Bannon was a trusted and long-term member of the president's inner circle. That all changed Friday, when a New York Times scoop revealed that the president had made the decision to fire Bannon — a claim that Bannon's team says is fabricated, as Bannon reportedly resigned — with the White House confirming the news shortly afterward. So: What did Steve Bannon do during his time in the Trump administration that led to his eventual exit?
As Trump's chief adviser, Bannon acted as spokesperson and representative for the right-wing faction that helped get Trump elected. This, along with his combative leadership style and opinions in conflict with Trump's other advisers and members of the press corps, made waves during his time in the administration.
For most of his time there, reports that Bannon was at odds with some of the closest members of Trump's inner circle painted a tumultuous White House. Bannon reportedly butted heads often with Jared Kushner and Ivanka Trump, who had tried to steer the president toward a more moderate stance, often to no avail. When news broke on Friday of his departure, a source close to him told journalists that the White House was now a "Democrat White House."
Many argued that Trump's anti-immigrant, anti-globalist policies were largely Bannon's doing. Take the Paris climate accord for example: Trump was reportedly on the fence about whether the United States would stay in the historic agreement, but ultimately caved to Bannon and Scott Pruitt (Environmental Protection Agency head), and pulled out of the deal. According to Politico, Ivanka and Kushner were hoping that Trump would be swayed by the international pressure persuading the United States to stay.
The news of his departure on Friday was followed by a brief period of uncertainty over what the final straw might have been for Trump. But many speculated that it was Bannon's wild, on-the-record phone conversation with American Prospect journalist Robert Kuttner on Tuesday.
Bannon had called Kuttner suddenly and let loose his thoughts on North Korea, white supremacists, and Democrats. Among other things, he called white supremacists "a collection of clowns," said that the Democrats' fixation on identity politics would help him "crush them," and appeared to offer no military solution on North Korea — the opposite of what Trump threatened to do for weeks.
So, perhaps that was it for Trump. Bannon not only clashed with other White House aides, he also appeared to defy Trump and make his "fire and fury" threats seem hollow. And if we know anything about the president, it's that he has zero tolerance for disloyalty.