What Trump Said About O'Reilly Caused An Uproar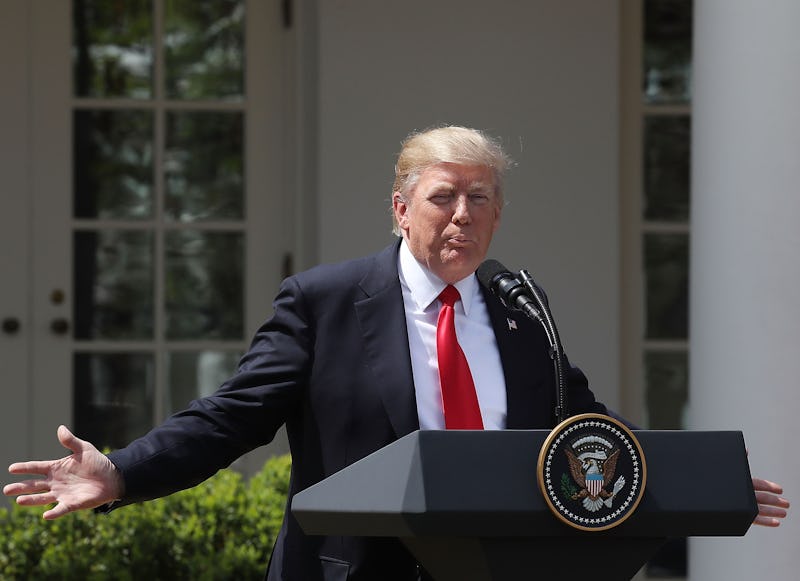 Mark Wilson/Getty Images News/Getty Images
Less than a week after declaring April Sexual Assault Awareness Month, President Donald Trump spoke out in support of conservative talk show host Bill O'Reilly. The comments appeared in a New York Times article about Trump's suggestion, without offering evidence, that Susan Rice has committed a crime. By contrast, what Trump said about O'Reilly was largely praising.
From the April 5 New York Times article, Trump's statements about O'Reilly were:
"I think he's a person I know well — he is a good person."
and
"I think he shouldn't have settled; personally I think he shouldn't have settled. Because you should have taken it all the way. I don't think Bill did anything wrong."
The comments come following an April 1 New York Times report that revealed O'Reilly has been accused of sexual harassment a number of times. 21st Century Fox said in a statement that O'Reilly denied "the merits of the claims." Five women have received settlements from both O'Reilly and Fox News.
In 2016, Trump made similar comments about former Fox News CEO Roger Ailes, who had just resigned from the company following a sexual harassment lawsuit filed against him by news anchor Gretchen Carlson. One of Ailes' representatives released a statement calling the allegations false, and the lawsuit was later settled between Fox and Carlson. When Ailes was first accused, Trump spoke out and said, "Some of the women that are complaining, I know how much he's helped them... now all of a sudden, they are saying these horrible things about him. It's very sad because he's a very good person."
Despite Trump's reputation for being brash and making sexist comments, many are still finding the timing and substance of his support for O'Reilly shocking.
Aside from social media, people are also reacting negatively to Trump's statements about O'Reilly on the airwaves. While speaking on a CNN panel on Wednesday, political correspondent Dana Bash said about Trump:
Don't talk about Bill O'Reilly and sexual harassment suits or suits when you know nothing about the context and the content of what those suits are. OK, it's nice that he's a loyal friend. It's nice that they've known each other for years and years and he's coming to his defense. But he's the president of the United States. And to say that, no matter how nice he's been, is completely inappropriate.
Several companies have acted on the latest reports about O'Reilly and pulled their advertising from the O'Reilly Factor. At least 22 companies all count themselves as former O'Reilly Factor advertisers now.
Even so, the show is one of the most popular cable news television shows in the country. Can Trump's comments save it from demise? Only time will tell.