Here's What 6 Olympic Athletes Eat Before Competing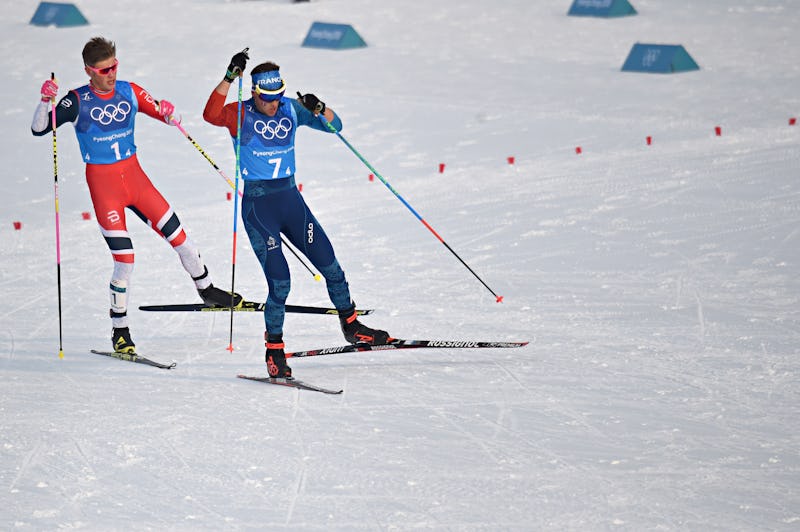 Michel Cottin/Agence Zoom/Getty Images Sport/Getty Images
The Olympic experience in PyeongChang looks intense — huge pressure, very cold temperatures, and uncertain weather conditions. And athletes are coping with the demands of their events not only through high-octane training but through what they eat before competing. If you're curious about what Olympians eat, though, you should know that the variety of sports and body types competing at the Winter Olympics means that their nutrition needs before competition vary hugely. What does an Olympian eat before stepping out to get gold? As it turns out, the answer is hugely varied.
Winter Olympians in sports that require them to be very aerodynamic, like aerial skiers and figure skaters, often report eating pre-competition meals that provide energy and carbohydrates, but that aren't too heavy. Sports that require a lot of movement in the air favor athletes who are compact, so what they eat needs to fuel them without being too rich. Adam Rippon, the American figure skater, told Bon Appetit that his usual pre-competition breakfast is "overnight oats with almond milk" and a coffee. And Madison Chock, the ice dancer, eats flaxseed oatmeal with chia seeds and raisins, according to an interview with Delish. Figure skating at the Olympics is actually being held in the mornings rather than the evenings, so breakfast is truly the most important meal of these athletes' days.
For athletes who require a bit more muscle mass, however, larger amounts of carbohydrates and protein are key. USOC sport dietician Jennifer Gibson told E! News that ice hockey players, whose matches consist of three 20-minute periods, need to prioritize carbohydrates that are digestible and give energy at a high level. The typical pre-competition or training breakfast, she explained, was an egg-white omelet with vegetables, plus a bowl of Rice Krispies with fruit and milk. They also need to keep up their energy during long games, so ice hockey players will snack on protein and chocolate during their breaks off the ice.
For sports where speed in the legs is a priority, protein features heavily in pre-event diets. The luger Chris Mazdzer told Bon Appetit that his breakfast of choice before a competition usually needs to be eaten at least two hours beforehand so that he digests it properly. He uses eggs for a protein hit: "scrambled, over medium, in omelettes with onions, peppers, mushrooms and spinach. I also love smoked salmon and a side of avocado, but can substitute with granola or muesli, plain yogurt, and honey." And speed skater Jessica Kooreman, who's skating in PyeongChang, told Shape back in 2014 that for the Sochi Olympics she snacked on protein snacks like hard-boiled eggs while competing.
For athletes whose sport is requires endurance, what they eat needs to reflect that. The cross-country skiers perform what may be the most exhausting event at the Winter Olympics: It's not unknown for cross-country competitors to compete at 95 percent of the maximum possible heart rate, according to the Montreal Gazette. American skier Jessie Diggins, who just came fifth in the cross-country skiing event at PyeongChang, eats a breakfast of champions before she gets out onto the snow: either French toast, pancakes with peanut butter, bananas and nuts, or oatmeal, berries, and yogurt with nuts and honey, according to Bon Appetit. The diet of U.S. skier Kris Freeman, who's at his fifth Winter Olympics, is restricted by the fact that he has type 1 diabetes, but his pre-race breakfast is toast, eggs, cucumber, and tomatoes, according to Diabetes Health.
What these athletes eat must sustain their bodies throughout their training and into their competition — not unlike how the oatmeal you whip together for breakfast has to last you through your morning meetings. We all need fuel to get through the day, no matter if you're competing in front of the entire world stage, or finally giving that board presentation.