This Lifetime Movie About An Infamous Murder Already Has The Victim's Family Furious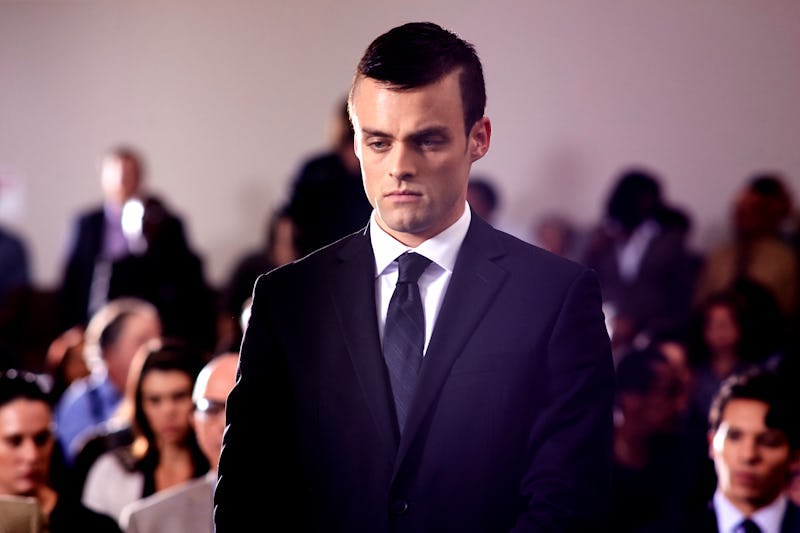 Derek White/Lifetime
This Saturday, Lifetime will debut its controversial film, Oscar Pistorius: Blade Runner Killer. It will dramatize the events of Valentine's Day 2013, when, according to CNN, Pistorius shot four bullets through his locked bathroom door and killed his girlfriend, Reeva Steenkamp; he later pled not guilty to the murder. The trial of the former Olympian and Paralympic gold medalist transfixed South Africa for years, until Pistorius was finally sentenced in summer 2016 to six years in prison for the murder. It's a compelling story about a terrible tragedy, to be sure, and now that Lifetime is dramatizing the event in Oscar Pistorius: Blade Runner Killer, Pistorius' and Steenkamp's families are understandably upset.
Apparently there aren't going to be many, if any, firsthand accounts going into the production. The film does not have the blessings of either the Pistorius family or the Steenkamp family, according to South Africa's Eyewitness News. Steenkamp's family even released a statement condemning the film, and especially condemning the apparently false reports that the narrative would be told from the perspectives of Steenkamp and her mother June:
"They are horrified and upset to read a report that 'the movie is told from Steenkamp and her mother's perspective'. June Steenkamp was not approached by Lifetime to participate, comment or be part of the making of the film, and did not give the producers any assistance. Any impression that is created that this is June's view, or that the movie is endorsed by the Steenkamp family, is untrue and incorrect."
The Pistorius family is also apparently not happy with Oscar's portrayal in the film. According to his website, the family still maintains that the events of that day were a "tragic accident," so they were predictably unhappy with anything that deems Pistorius a "Blade Runner Killer." According to another Eyewitness News report, Oscar's brother Carl said in a statement that "the 'film' was made with blatant disregard of both the Steenkamp and Pistorius families, as well as complete disregard for Reeva and Oscar. Neither Oscar, the defence or the family were involved in the production of this 'film' in any way."
The Lifetime trailer claims that Pistorius had "the mind of a killer," which his family also disputes, adding in the statement that at no time during the trial "was Oscar found to have the mind of a killer." The statement also vowed legal action against Lifetime. Bustle has reached out to representatives from Lifetime for a response to the statements made by the families.
Given the highly publicized case's infamy, the controversy around the television adaptation of events isn't much of a surprise. Pistorius claimed that he didn't know it was Steenkamp behind the door when he shot, and claimed he mistook her for an intruder, according to a 2013 story from Vanity Fair. As his defense, Pistorius pointed to the high crime rates in South African neighborhoods.
"It filled me with horror and fear of an intruder or intruders being inside the toilet. I thought he or they must have entered through the unprotected window," Pistorius said in his affidavit, according to the article. "As I did not have my prosthetic legs on and felt extremely vulnerable, I knew I had to protect Reeva and myself I felt trapped as my bedroom door was locked and I have limited mobility on my stumps. I fired shots at the toilet door and shouted to Reeva to phone the police. She did not respond." But Vanity Fair also reports that Pistorius had a reported history of aggression, and that multiple witnesses heard people arguing near Pistorius' home before shots were fired and a woman screamed.
Eventually, after first being charged with manslaughter, a charge that was later changed to murder, Pistorius was sentenced to six years in prison, and prosecutors are still working to extend that sentence, CBS News reports. Mirroring the real-life case, the Lifetime film is proving to have its own share of controversy.